Many homeowners choose aluminum dog fence over other styles of fence when it comes to containing their dogs. And with good reason.
Aluminum dog fence is attractive, functional, meets the requirements of most homeowners associations and most importantly, it's safe! All reasons for its wide spread popularity.
Because of the many style options and color choices, there is an aluminum fence to meet the needs of every pet owner. Furthermore, they add instant curb appeal and class to any landscape.
But as a pet a concerned pet owner, you probably have questions regarding aluminum dog fence. Is it strong enough? Can my dog fit between the uprights? Will it take abuse? All valid questions.
So in this article, I'll answer the most commonly asked questions I receive when customers are shopping for an aluminum dog fence.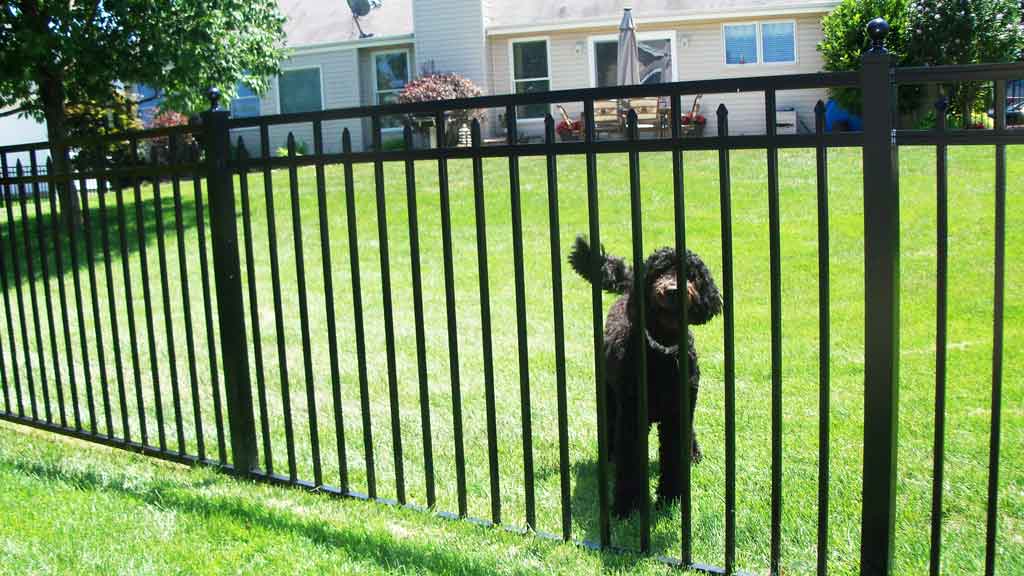 Aluminum Dog Fence Pros and Cons
Aluminum dog fence isn't for every pet owner. It does have many advantages other types of fences like wood dog fence or split rail dog fence. However, it also has some disadvantages too.
Below I'll list some advantages and disadvantages of aluminum fence. Some points I feel are advantages may not be of concern to you. On the contrary, some things I feel that are disadvantages you may not mind.
Some of these topics I've learned afield. Others have come from feedback from my customers. The goal for me is to take what I've learned over 25 years of fence installation and sales experience and put it in a list of pros and cons.
As result, helping you become a more educated consumer to purchase the best dog fence for your needs.
Aluminum Dog Fence Pros
Elegant and Classy – One of the best looking types of fence on the market. Ads curb appeal.
Lifetime Warranty – Maintenance free! No need to worry about painting, staining or sealing.
HOA Approvals – Meets almost every Homeowners Associations approved fence styles.
No Bad Side – Fence looks the same from either side. No need to worry about who gets the pretty side.
Hard to Climb – Some dogs learn to climb other types of fence. Rail spacing makes it difficult for dogs to climb.
Aluminum Dog Fence Cons
Cost – Aluminum fence is expensive. Not in everyones budget.
Small Dogs Fit Through – Standard spacing is too wide. adding puppy picket options increase cost even more.
Long Lead Times – Allow weeks or months for custom styles of puppy picket fence options.
Zero Privacy – Very open and transparent design. If you live in a busy neighborhood and your dog is a barker, other fence types may be better.
Is Aluminum Dog Fence Strong?
The number one question I get is how strong is it? Or…..will my dog bend the vertical pickets? Let's face it. It is a big investment to fence in a yard. The last thing you want it for your dog to escape!
However, the answer is………Yes! Aluminum dog fence is strong enough to contain almost every dog.
Yes, there is some flex between the pickets. But most dogs will never push hard enough, or have the strength for that matter, to bend the pickets.
For dog owners that are concerned about larger dogs jumping on or against the fence…..we've got you covered. Aluminum fence comes in heavier grades that include thicker rails and pickets on the fence sections. As well as heavier wall thicknesses for added strength in the posts.
However, even the most aggressive dogs tend to try and climb over or dig under the fence before pushing through it. Which leads me to my next point………..Aluminum dog fence is hard for dogs to climb!
Because of the distance between the horizontal rails, there are no footholds for dogs to climb. This makes it very appealing to many dog owners.
What About the Spacing Between Pickets?
The vertical uprights of an aluminum fence are know as the pickets. Because this style of fence is also very popular for enclosing swimming pools, manufacturers assemble the panels with the widest spacing allowed.
For most midsized to large dog breeds, this isn't a problem. For those of you with smaller dog breeds, the standard spacing will allow your pet to slip through the fence.
However, manufactures are aware of this problem. As a result, offering aluminum dog fence with optional picket spacings.
Standard Aluminum Dog Fence Spacing
The standard spacing offered by most manufacturers is 3-3/4″ between pickets. This provides an open and transparent looking fence, while still meeting pool codes.
Therefore, allowing one fence panel design fills the needs of many. The wider spacing of the standard panel also helps to reduce the cost of the fence.
Most of the aluminum dog fence I sell is standard spacing. As I mentioned before, for most dogs, it will work just fine. However, to just to be certain I ask my customers to bring their dogs to my showroom.
Here I have an aluminum fence display setup with a variety of the available styles. I have the pet owner actually try to bribe their dog through the fence with a treat as a test.
As a result, providing visual confirmation that the standard spacing of aluminum dog fence will or won't do the job of containing the size of the dog it will be purchased for.
Pro Tip: Most outdoor deck railings and indoor stair railings have spacing between the balusters close to that of the aluminum fence. If your fence contractor does not have a showroom for testing the spacing of the pickets, one of these options may provide you with the answer.
Puppy Picket Fence Spacing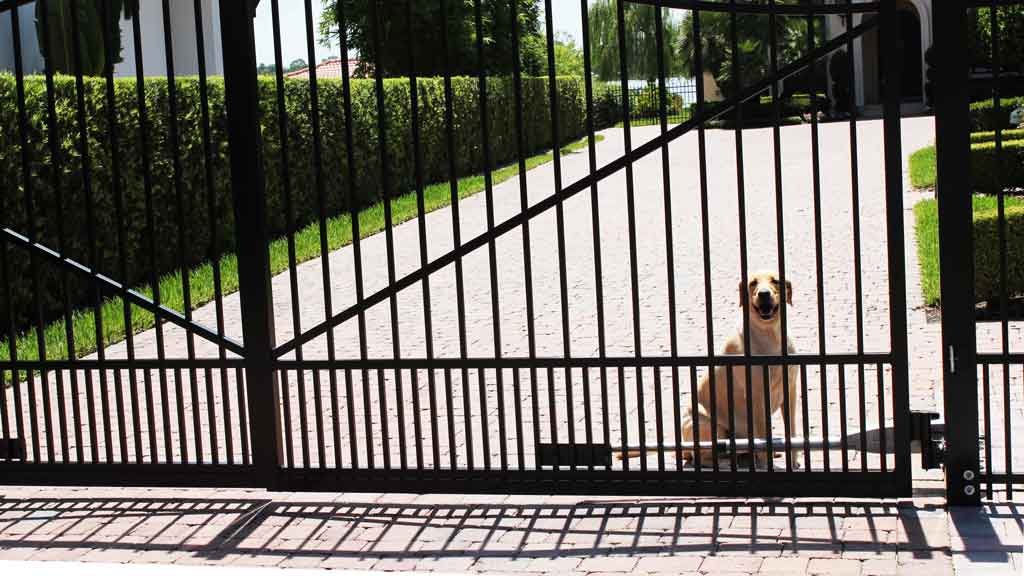 Puppy picket fence is aluminum dog fence containing extra pickets per section. Therefore, reducing the space between each picket. The spacing between puppy picket verticals is usually 2″ or less.
However, most puppy picket fence styles only offer the additional pickets up to 18″ from the bottom of the fence panel. Perfect height for a puppy or a small dog that is not a jumper.
An extra horizontal rail is required in order to fasten the additional pickets. The combined cost of the extra rail and pickets substantially increases the cost of puppy picket aluminum dog fence.
As a result, often times pricing this style of fence out of budget for many. Therefore, requiring some pet owners to choose an alternative fence type or style.
Conclusion
As I mentioned at the beginning of this article. Aluminum dog fence is a very popular choice. Offering many positive attributes other styles of fence don't.
If it falls into your budget, I have no doubt that you will be extremely pleased choosing one.
Furthermore, I know your four legged friend will also be extremely please to have a yard they can safely run around in, play and exert energy in.