Almost every swimming pool needs a fence. Aluminum pool fence is not only safe and secure, it is also good looking.
Style and height options, combined with color choices allow aluminum pool fence to be customize to fit every need and situation. Making it a very popular choice for pool fencing.
Once installed, there is no need to worry about it ever again. With lifetime warranties and durable finishes, there is no maintenance or upkeep required to keep it looking good.
It's not only safe, but it's also secure. Therefore, providing peace of mind to homeowners.
In this article, we'll take a look at all of the features and options that aluminum pool fence has to offer. I'll cover everything you need to know. From the different styles to the types of gates.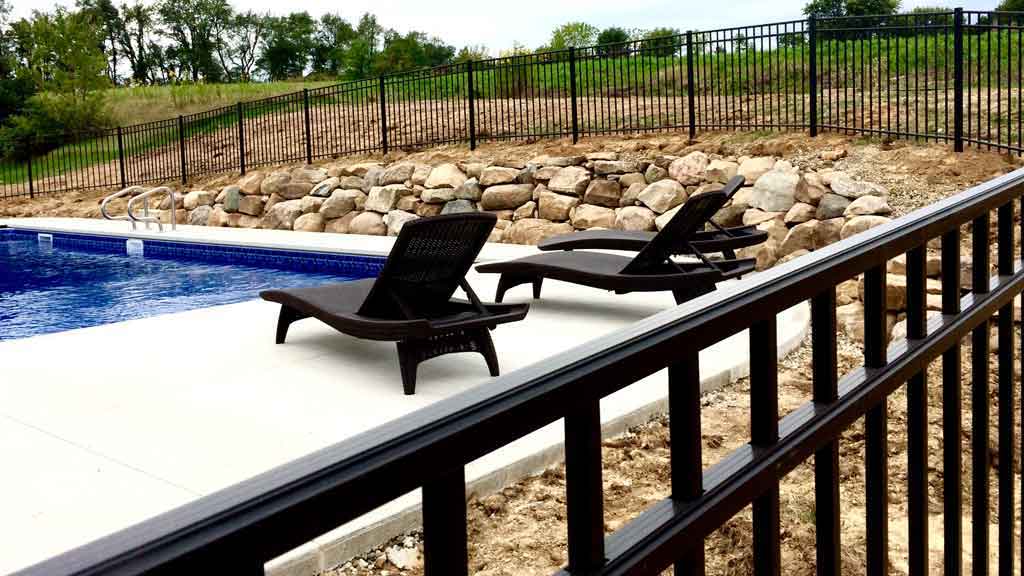 Aluminum Pool Fence Pros and Cons
Aluminum pool fence has many advantages over other types of pool fences. In my opinion, it is the best looking of all. A classy design that is both elegant and unobtrusive.
They also come with lifetime warranties. Yes, you pay a premium upfront for this. But never having to worry about painting or staining your fence is a plus.
Never having to worry about it rotting or rusting is another. Especially in high moistures areas such as swimming pools.
The ability to see through it in order to do visible sight checks is a huge safety factor when small children are present. Only glass pool fencing and mesh temporary pool fencing are more transparent.
There are many choices for self closing and self latching aluminum gate hardware. A must in order to meet pool codes.
But aluminum pool fence doesn't fit everyones need. As mention before, it is pricey. Not everyone can, or is willing to spend the extra money for one.
It also offers nothing in the way a privacy. Therefore, customers who want seclusion while enjoying their swimming pool would benefit from another style of pool fence such as a wood or vinyl pool fence.
Advantages
Appearance – Classic look that adds elegance and style to any pool.
No Maintenance – Lifetime warranties offered from almost every manufacturer.
Customizable – Color, height and grade options are all available.
Safe – Keeps pool secure while allowing for visual checks.
HOA Approved – Most styles get easy approval from homeowners associations.
Disadvantages
Cost – Aluminum pool fence is on the upper end when compared to other types of fence.
No Privacy – A very transparent fence. Open to light and air.
Aluminum Pool Fence Styles
There are many styles of aluminum pool fence. However, most of them will fit into one of two categories. That is a flat top style or a picket top style.
Over my career, I have installed a countless number of fences around swimming pools. I can tell you for certain, that the flat top aluminum pool fence designs are defiantly more popular.
However, I have done a number of picket style pool fences too. Below, I'll discuss both styles and explain why you may or may not want to choose one style over the other.
Flat Top Style Aluminum Pool Fence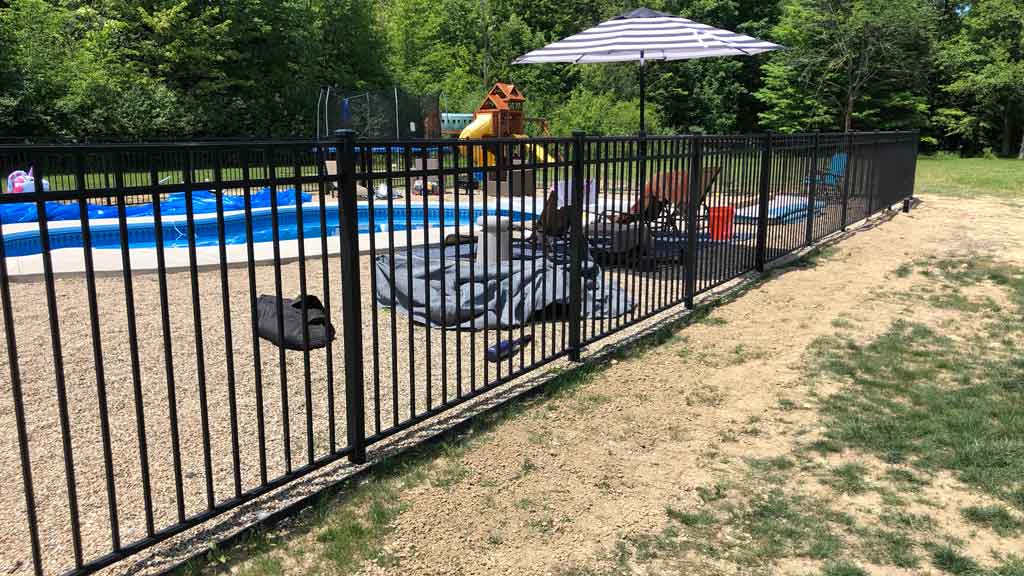 Aluminum pool fence styles with a flat rail on top are the most popular. Especially when the fence is installed either on top or near the edge of the concrete pool decking. Or in very close proximity.
The flat rails catch the eye. The hard horizontal lines of the fence line up well with the shape of most pools and concrete decking. The fence adds to the symmetry of the backyard. As a result, everything flows together nicely.
But looks aren't the only reason for to choose the flat top style. There is some function to it as well.
The flat top design provides a great place to hang things over. Such as beach towels and or rafts. The open design of aluminum pool fence allows for air to easily circulate and dry wet towels quickly.
One downside to the flat top style fences is that they are much easier to climb. For most residential applications, this isn't a factor.
However, public places that choose aluminum pool fence to secure swimming pools would benefit from a picket style design.
Places like apartment complexes, country clubs, and hotels often times require a key or passcode to enter the pool. Picket top styles help to prevent unauthorized access.
Picket Style Aluminum Pool Fence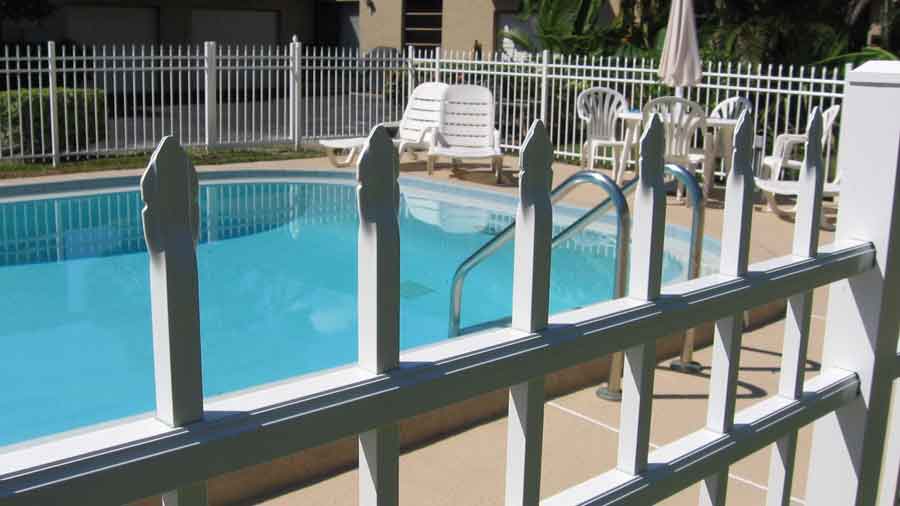 As mentioned above, many pool fences are installed to keep unwanted or unauthorized people out. In these situations, picket style aluminum pool fence works best.
Sometimes, it's just a personal preference. You may simply like the look of a picket top style fence better. And for good reason. There are actually more design options available.
Most aluminum fences with exposed points have what is known as a pressed spear. This is a method of flattening the square stock aluminum picket and then cutting the shape of a point into it.
The shape of most manufactures resembles the ace of spades from a playing card deck. The fence design will have pickets that are all the same height throughout the section or staggered.
For those wanting an even more ornate looking picket style aluminum pool fence, finials are an option. Finials are a type of adornment added to the top of each picket.
There are various designs to choose from. From a simple arrowhead looking design to very ornate Fleur-de-Lis designs.
Colors Options
Almost no other type of fence offers more choices when it comes to color. However, black aluminum pool fence is still the most popular color choice.
Other colors like dark bronze, beige, white and green are also available. Check with the manufacturer of your aluminum pool fence for available color choices.
Many of the colors are also available in standard and or matte colors. The matte finish has a duller finish than the traditional finish.
Most manufacturers use a baked on enamel or powder coated finish to coat the fence. Both are very durable and will provide years of service without cracking or chipping.
Height Options
Aluminum pool fence is offered in many heights. Heights start from 36′ tall and go all the way up to 96″ tall.
I can say with great certainty that most cities and municipalities require at least 48″ tall fence when enclosing a swimming pool.
However, it is important to check with your building or zoning department for specifics on pool fence regulations and inspections.
Some public pool fences are required to meet BOCA Pool Standards. This is a set of rules designed around pool safety. There is a section related to pool fence height and the distance between horizontal rails.
Again, a quick call to the building or zoning department will let you know if you are required to meet BOCA standards for your swimming pool.
Aluminum Pool Fence Gates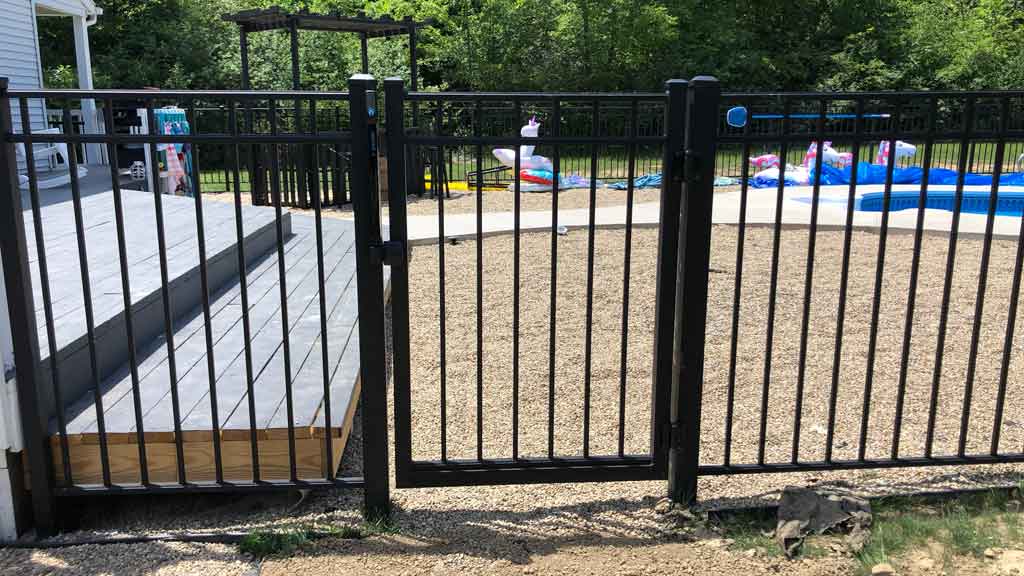 In order to access you aluminum pool fence you will need a gate. Gates come in many different widths and designs. However, two designs are the most popular.
Single gates, sometimes referred to as man gates, use one single gate panel, called a gate leaf. Single gates widths range in size from 36″ wide up tp 72″ wide.
Most single gates are for pedestrian use only. Therefore, 36″ and 48″ wide gates are the most popular.
For larger openings, use a double gate. Essentially, double gates are just to single gates that meet in the middle. However, there is no need for a center latch post. As a result, the full width of a double gate is accessible.
Double gates are perfect for larger items like patio and pool furniture. They are also good for getting equipment through such as larger lawn tractors, trailers or small excavators.
One side of a double gate remains stationary most of the time. Held in place by a drop rod or cane bolt. This allows only one leaf to function like a man gate.
When more access is required, the drop rod is removed from the ground allowing the second gate to open. Therefore, providing the entire width offered by the double gate.
No matter what type of gates you choose for you fence, one thing is certain. All gates on pool fences must include self closing hinges and self latching latches.
Self Closing – Self Latching Gates
Almost every pool code in every city will require the gates on your aluminum pool fence to have self closing and self latching hardware.
This means once a person walks through the gate, not only is it required to shut automatically, it must also latch itself. The good news, is there are plenty of hardware options to choose from.
The square gate posts and uprights on aluminum pool fence gates makes it easy to mount hardware. Not to mention the light weight of aluminum is easy to move.
As a result, there are many manufacturers offering hardware specifically for pool gates. This isn't true for other styles of gates such as chain link pool fence with round posts and uprights. Or wood pool fence where the gate weigh a lot more.
Many of the hinges used for aluminum pool fence have adjustable tension. This allows different widths gates to self close without slamming.
Many of the gate latches for pools also have a keyed locking system. This allows the gate to be locked when the pool is not in use. Or when homeowners will be away for extended periods of time.
Conclusion
Aluminum pool fence is maintenance free and safe. Perfect for fencing around swimming pools. Options on style, color and height allow you to customize the look of the fence to meet your needs.
A classy, unobtrusive design that adds a touch of elegance to your backyard pool and landscape. It is also one of the go to choices for homeowners associations.
With countless options for safe and secure self closing hinges and self latching latches, it's no wonder why many homeowners choose aluminum pool fence for the choice of swimming pool fence.