Aluminum privacy fence is rapidly growing in popularity. The advantages aluminum materials offers over wood fence is a primary factor.
Lifetime warranties, no maintenance and powder coated color options are all appealing to consumers. However, that all comes with a cost. As a result, preventing it from taking over the wood privacy fence market.
Furthermore, when it comes to following grade changes, wood is far more accommodating. But, if low maintenance contemporary look is what you desire, then an aluminum privacy fence is for you.
Aluminum Privacy Fence Panels
Most manufacturers sell aluminum privacy fence by the panel or section. Some panels come preassembled, while others require assembling in the field.
Standard heights range from 4′ tall to 8′ tall. Standard panel widths are 6′ wide. Manufacturers offer a variety of color choices to fit any setting. Some even offer color choices that resemble wood.
Panels come in many styles. Solid, shadow box, louvered and slat style are all popular designs. However, most designs require the panels to run level when installed.
Fence projects with grade changes will require the panels to step. As a result, they are better suited for flat terrain or shorter length fence lines.
Solid Aluminum Privacy Fence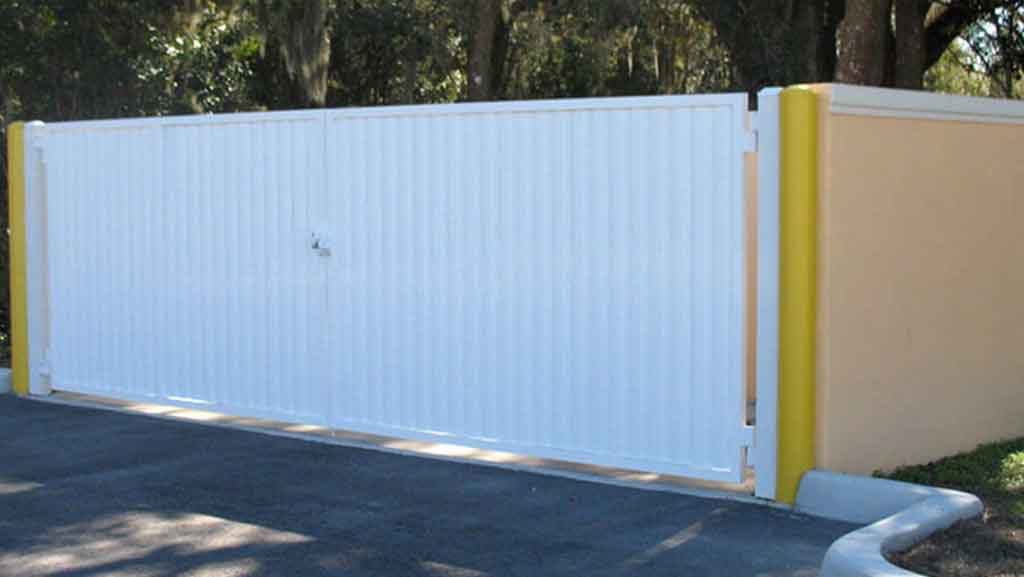 For maximum privacy, choose solid fence panels. With this style, each picket touches the next. Some solid styles even have interlocking tongue and groove pickets.
As a result, a solid panel provides the most privacy. They do not allow light or air to leak through.
Shadow Box Aluminum Privacy Fence
Aluminum shadow box panels have spaced pickets that alternate on each side of the horizontal rails. However, because the pickets are wider than the spaces between them, they create an overlapping effect.
Therefore, when looking straight on, you cannot see though a shadow box fence panel. Although, on a hard angle, light and air is visible.
Louvered Aluminum Fence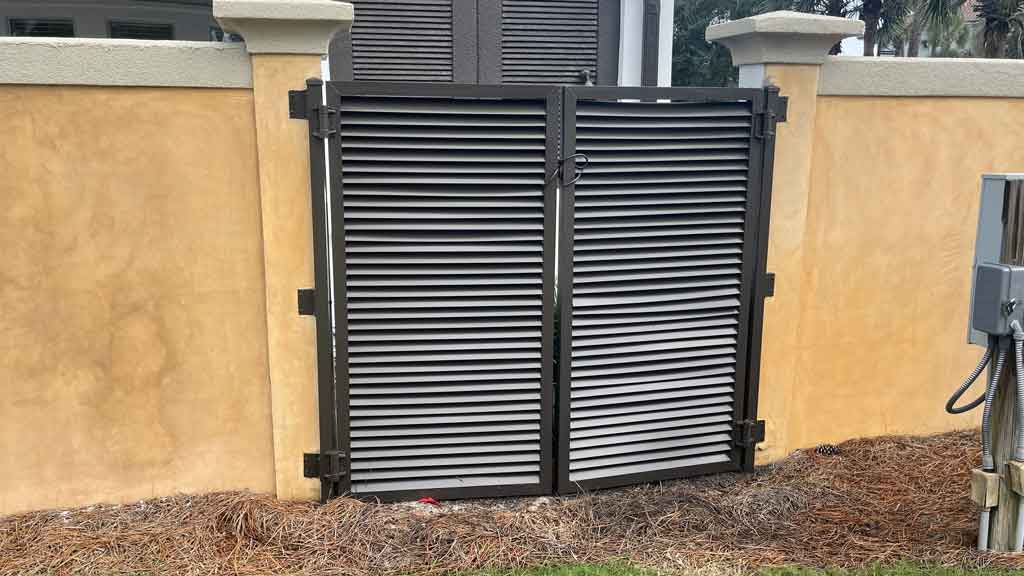 Louvered aluminum fence comes in two designs. Horizontal and vertical. Slats for louvered fence fasten to the rails on angles.
Each picket overlaps the next. As a result, you cannot see through a louvered section. However, the design does allow for light and air to pass through.
Aluminum Slat Fencing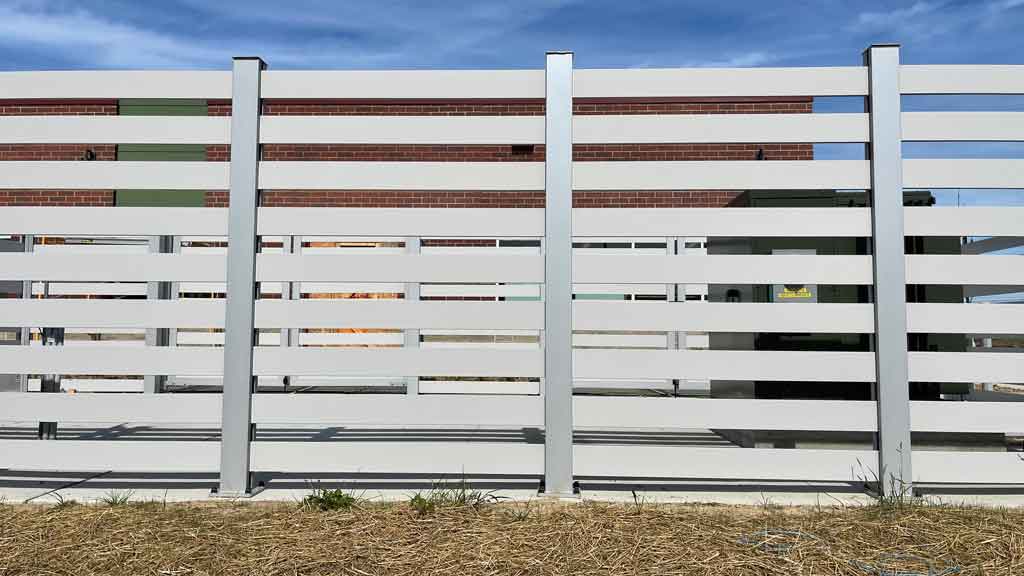 Aluminum Slat fencing uses horizontal pieces of aluminum to form a modern, contemporary fence design. The spacing between each slat determines how much privacy each panel provides.
Horizontal slats without any spaces between them result in a solid privacy fence. Semi private designs use slats with spaces. Therefore, allowing light and air to pass through.
Fence Posts
The posts for aluminum privacy fence have to be strong. Not because aluminum is heavy, but because a solid panel or section creates wind drag.
Long lines of privacy fence act like a sails in windy conditions. Therefore, strong posts are required for support. Furthermore, the posts must be concreted into the ground in order to remain straight and plumb.
Posts are usually 3″ or 4″ square in size. They have heavier wall thicknesses than most other aluminum fence posts.
The depth of the post will be specified by the manufacturer. However, from my many years of experience, it is recommended to concrete posts at least 36″ deep. In areas where the frost line is deeper, use linger posts.
Gates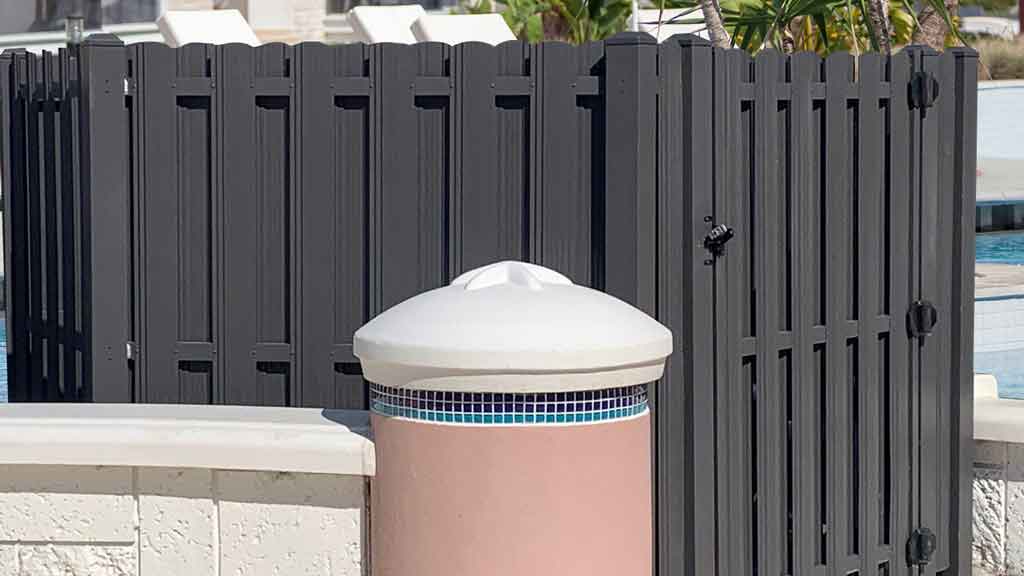 Gates are available in multiple sizes. Single man gates are best for pedestrian access and where space is limited. Double gates are better for later opening. Allowing access to larger equipment and vehicles.
Standard gate width are 3′, 4′, 5′ and 6′ wide. Double gates use two single gates in order accommodate the wider openings.
Conclusion
Aluminum privacy fence is another option for consumers looking for a alternative to wood and vinyl privacy. Its modern look and feel is perfect for both commercial applications and contemporary home designs. Color and height options make it to accommodating for many types of applications.