The growing trend in fence design is the horizontal board look. Aluminum slat fence falls right in line with this trend. Combining the horizontal look with maintenance free aluminum makes it a popular choice.
As a result, it is in high demand. However, horizontal slats are not the only available option. Vertical slat configurations are also available. With multiple height choices and color options, there is a slat fence style for everyone.
Furthermore, they easy to assemble. Only a few basic tools are required for installation. Allowing homeowners looking to take on a summer project the ability to install their own fence.
Therefore, making it a popular choice for privacy fence and screening. Did we mention they look gorgeous?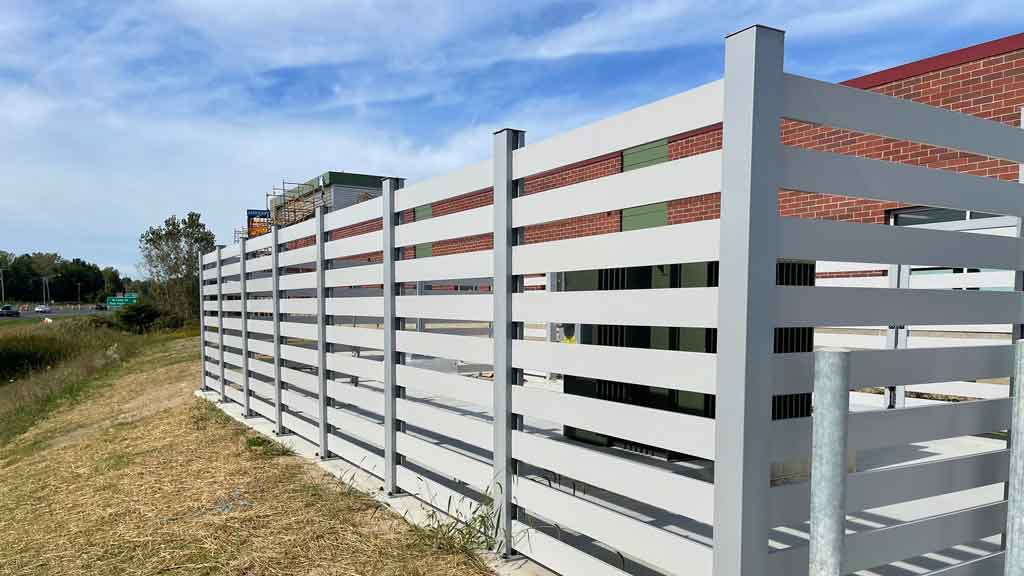 Aluminum Slat Fence Panel Styles
Slat fencing Panels come in unassembled in kits. Most horizontal slat fencing systems are 6′ wide in length. However, some styles also come in 8′ long panels. The framework of the panel consists of a top and bottom rail.
Some manufacturers of aluminum slat fencing also include side channels that mount to the posts. Slats are hollow pieces of extruded aluminum. Therefore, they are rigid and strong while remaining lightweight.
Referred to as infill, slats are available in many widths deepening on the design of the fence. This allows the customer to design a custom look and design for their slat fencing.
Aluminum Slat Fence Designs
The position of the slats determines the design of the fence. Horizontal and vertical are both popular options. The size of the slats can be uniform or vary in width.
Spacers separate the slats on designs with gaps. As a result, giving light and air the ability to pass through the fence. Both the size of the slats and the spacers are customizable. Allowing for a truly custom looking fence.
Solid aluminum slat fencing designs do not have spacers. Each slat butts up to one another. Therefore, creating a solid panel that does not allow light or air to pass through.
Aluminum Slat Fence Panel Heights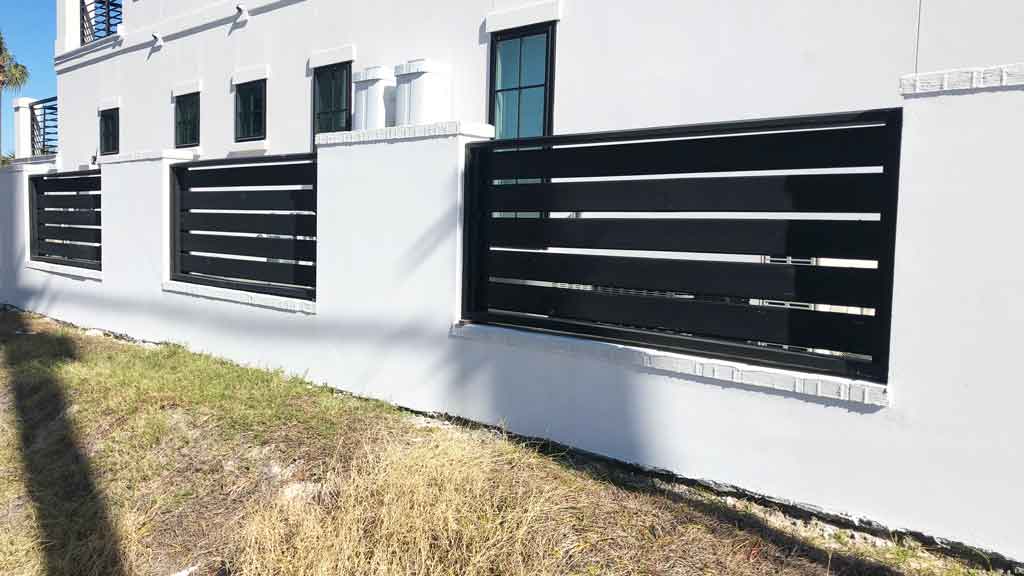 Aluminum slat fence panels come in a variety of heights. Shorter heights are great for header accents on top of walls. Taller heights are perfect for privacy and screening.
Standard heights range from 4′ tall to 8′ tall in height. However, the most common height is 6′ tall. The height of each panel is customized by simply reducing the amount of slats installed.
Posts for Aluminum Slat Fences
There are two main styles of posts. The first style is a blank square post. Side channels in the shape of a "U" screw to the blank posts in order to accept the slats.
The second style is an extruded post with channels built in. The manufacturer of the slat fencing purchased will determine which type of post is used.
Fences installed in dirt have posts that are concreted into the ground. Surface mounted posts for mounting fence to concrete have welded plates on the bottom.
Large diameter tap-cons anchor the surface mounted posts to concrete. With either method of post installation, meeting the manufactures specifications for distance between the posts is crucial.
Aluminum Slat Fencing Colors
This is where shopping for your fence gets fun! Manufactures offer a wide variety of color choices. Solid colors are standard. However, many manufacturers offer wood grain looking colors.
These patterns blend in with surroundings and look very natural. As result, turning your fence into a work of art. Furthermore, there are even colors that resemble rusted steel and concrete.
Choosing the color of your slat fencing is a personal choice. One that should reflect person style as well as accent its surroundings. It is very common for two tone fences. Choosing one color for the posts and rails and the other another color for the slats.
This two toned combination results in a beautiful custom looking fence design.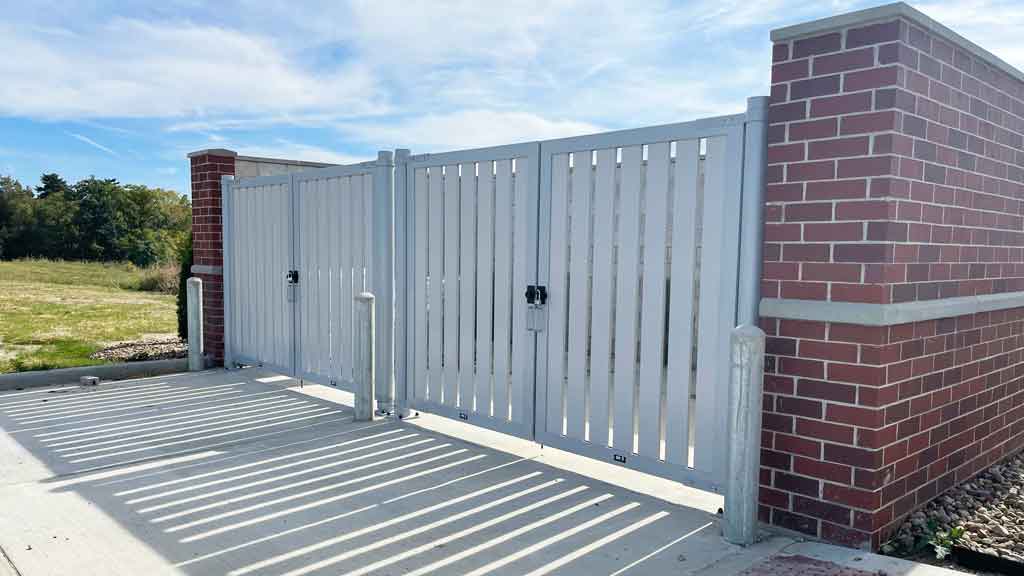 Aluminum Slat Fence Installation
Installing a horizontal slat fencing system or vertical system isn't hard to do. However, there are a couple things to keep in mind.
The most important tip is that slat fencing should run level. Wether you choose a horizontal slat fencing system or vertical, make sure the sections run level.
The hard lines produces by slat fencing catches the eye. Avoid slopes in the fence where there are changes in grade. As a result, you may be required to step the fence panels to keep them level and plumb.
Don't be afraid to install your fence up to the property line. Because aluminum fences require no maintenance, there is no need to worry about access to the other side of the fence for maintenance.
Another advantage of slat fencing wether horizontal or vertical is that they both look the same on both sides. No need to worry about who gets the "good side" of the fence.
Slat fencing looks the same from both sides.
Slat Fencing Gates Options
The gates for slat fencing normally match the style or design of the fence. Gates come in two configurations.
Single gate or man gates are made up from one single panel called a gate leaf. Single gates for slat fencing are great for pedestrian use. Common widths are 3 feet to 5 feet wide. Allowing for smaller items such as BBQ grills and wheel barrels to pass through.
When a larger opening id require in your slat fencing, a double gate is requires. Double gates are just just two single gates that meet in the middle. There is no need for a center post or support.
This allows double gates for slat fencing to accommodate twice the opening of single gates. Common widths I of double gates are 8′ to 10′ wide.
Conclusion
Aluminum slat fence is an elegant addition to both residential and commercial properties. Its beautiful design is sure to be the focal point of any landscape.
With multiple height and color options, the applications for slat fencing are endless. Furthermore, aluminum fences require little maintenance and most manufacturers offer limited lifetime warranties. As a result, making one a wise investment for your home or business.