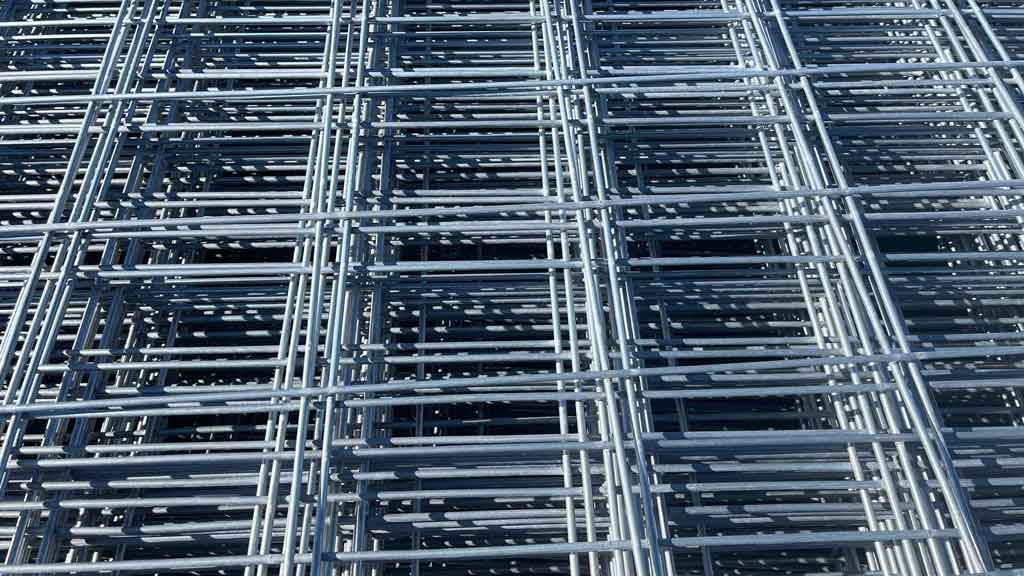 Cattle panels are a type of rigid welded wire fence panels. Made from horizontal and vertical strands of galvanized wire. Welded together where they intersect. Sometimes, they are referred to as feedlot panels.
Cattle panels come in a variety of sizes. However, the most common size is 50″ tall x 16′ long. Different lengths and mesh patterns are also available.
Because they are constructed from rigid galvanized wire, they are able to support themselves. As a result, they are easy to setup and install. Creating a paddock or pen with a perimeter of several hundred feet is easy done in a day.
Cattle panels are perfect for temporary fence solutions. Their lightweight design makes them easy to setup or remove. They are easy to relocated and stack neatly and flat when not in use. However, they are also suitable for long term fencing projects and permanent fence installations.
Most manufactures use heavy gauge galvanized wire for constructing. Common wire diameter ranges between 4 – 6 gauge in thickness.
Posts for Cattle Panels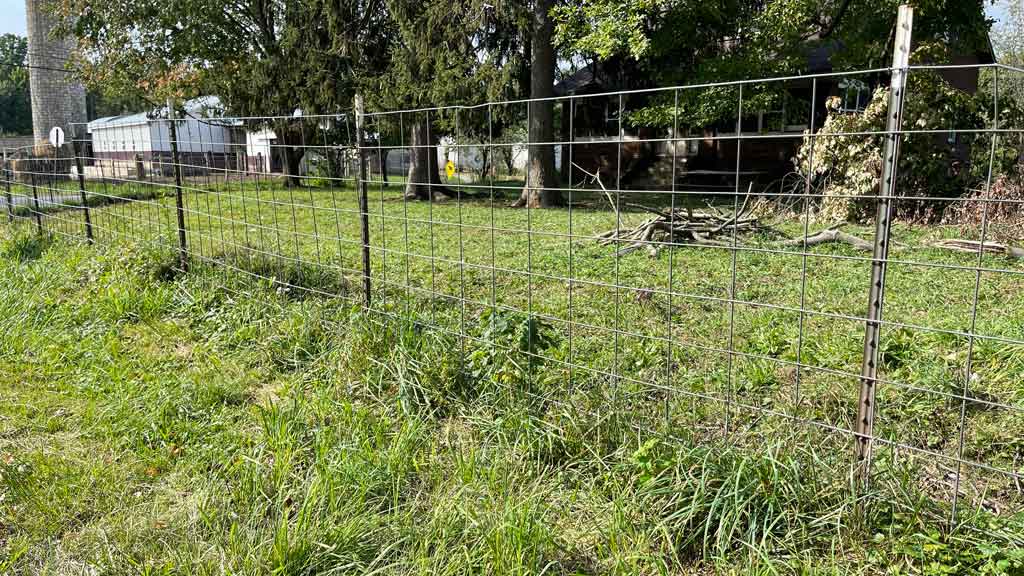 There are two popular types of posts for supporting cattle panels. The first is a metal T – Post or Star Picket. The second is a wood post. The intended purpose for your fence will determine what post is best for your application.
T- posts are easy to install. They simply drive into the ground. As a result, installing several hundred feet of them in a day is no problem. Furthermore, they are removable. Making them the go to choice for temporary fence locations.
It takes a tractor or skid steer with a post driver to drive wood posts into the ground. Depending on the project, setting them in concrete is another option.
Therefore, wood posts are for more permanent fence enclosures. When the fence will remain in place for long periods of time.
Assembling a Cattle Panel Fence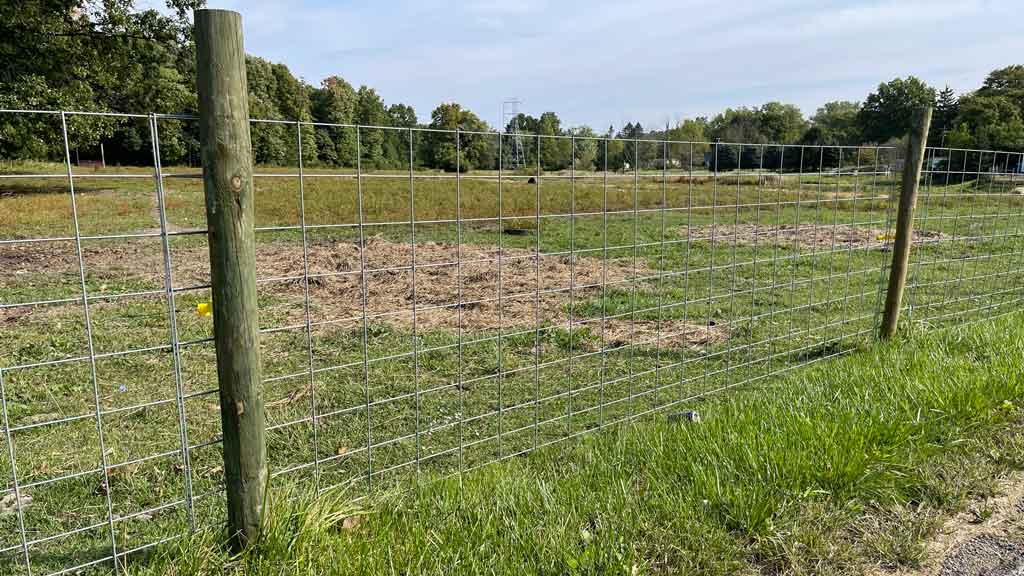 As discussed earlier, assembling and installing a cattle panel fence is easy. The posts and the panels are really the only two components. With the addition of a way to attach the panels to the posts.
Even better, because they are rigid wire panels, setting post spacing isn't as crucial as other types of cattle fence. Panels can overlap if needed. Or land exactly on center depending on their length.
Installing the posts is the hardest part of building a cattle panel fence. Once the post are in, attaching the panels to the to the posts and connecting the panels to each other is all that's left.
Connecting Cattle Panels Together
When panels are installed in a way where they don't overlap, connecting the ends of each panel together will add strength. The strength of the connection reflects what you are containing with the panels.
For smaller animals, simply tying the panels together with wire is fine. A hog ring also works. Commercially fabricated clips are also available.
However, for larger animals such as cattle, wire panel hinges provide the most strength.
A wire panel hinge is a strand of wire that weaves two panels together.
They are easy to install and add lots of strength.
When panels overlap each other, wire tire and hog rings work well. When overlapping on the post, the fastener used for attaching the panel to the post will work.
Attaching Cattle Panels to Posts
In order to prevent the panels from falling over, they have to attach to posts. There are many ways to do this. However, for the sake of this article, we'll only cover a couple.
When using a metal T- Post, general wire or a T- Post fence clip works well. In situations where strength is not a concern, a plastic zip tie will work.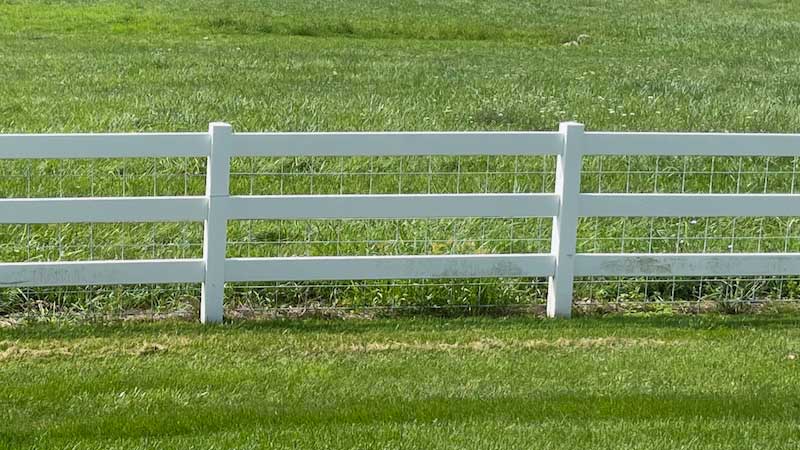 There are a few options for attaching cattle fence panels to wood posts. Just like metal T – Posts tying the panel to the post with wire will work. A long horseshoe nail or fence staple also works well.
There are even fasteners designed specifically for attaching rigid wire fence panels to wood posts.
These fasteners have a wood screw with a special bracket that grabs onto the wire strands of the panel. Providing a secure connection.
Other Uses for Cattle Panels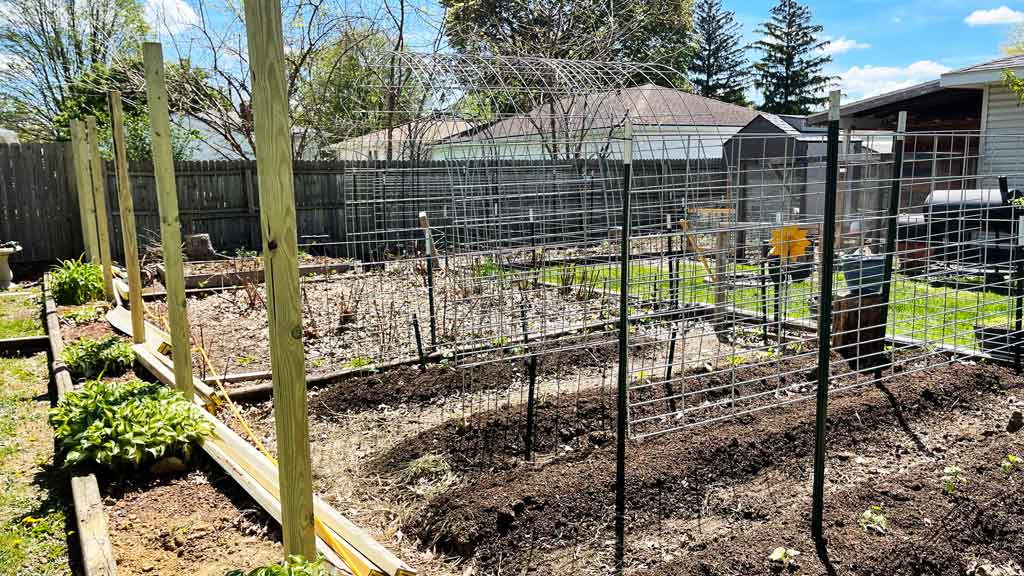 People have gotten creative with their use of cattle panels. Once designed for farmers and ranchers to fence in cattle, today they are used for many applications.
Gardeners use them in many ways. From simple trellises and baskets. To laying them on the ground providing grid work for planting at equal spacing.
Homeowners have come up with countless designs for cattle panels incorporated into residential fence applications. Wood and wire fence designs are extremely popular. The rigid wire fence panel creates and excellent infill panel between the wooden framework of these types of fences.
Furthermore, there are even plans for makeshift deer hunting blinds. Where the panels are bent in a way to provide the framework of the blind. Allowing the hunter to use whatever the natural cover is their area to make the blind blend.
Other Types of Rigid Wire Fence Panels
Cattle panels aren't the only type of rigid wire panel. There are taller panels for containing horses. There are panels with shorter heights for containing hogs and pigs.
Mesh patterns are available with tighter spacings. As a result, containing smaller farm animals. People even use panels for temporary dog fences.
Conclusion
Cattle panels are a versatile and affordable option for fence. Originally designed for farm and ranch use, their practical design and functionality has spread throughout the fencing industry.
Ease of installation allows anyone to quickly install a fence without special tools or construction knowledge. Making them a popular solution for the largest of ranches down to the smallest urban farmer or gardener.
To learn about other styles of farm and cattle fence, view our article on Wood Farm Fence Designs and Styles.