Choosing cedar fence pickets for a fence makes sense for many reasons. From an aesthetic point of view they have beautiful natural color and smell.
In regards to durability, cedar fence pickets are long lasting. Natural oils found in cedar lumber help to fight off insects and repel the elements.
These are just two reasons to choose cedar over other types of lumber. There are many more.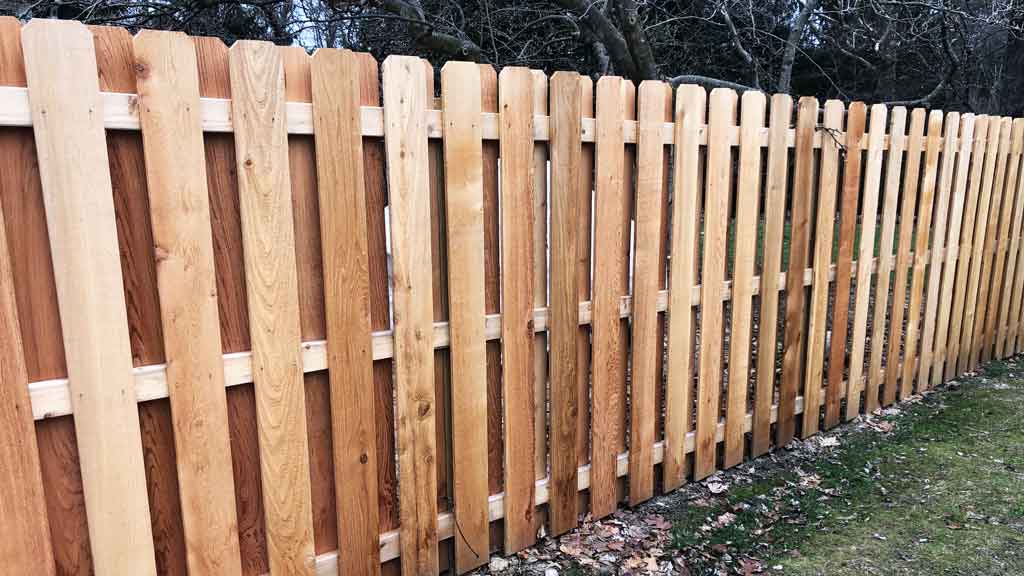 Advantages of Using Cedar Fence Pickets
Below is a list of advantages of using cedar lumber to build a fence.
Cedar fence pickets stay straight. Other types of lumber, especially pressure treated lumber, have a tendency to twist and warp. To help fight the elements pressure treated lumber has a chemical pressurized into it. Considered wet when nailed up. When it dries, it can warp or twist. Cedar will stay true and straight.
Another advantage of using cedar lumber to build your fence is that it requires little to no maintenance. As mentioned earlier, natural oils in cedar help repel elements and fight off insects. As a result, you won't need to stain or seal your cedar fence. Under normal conditions, it is not uncommon for a cedar fence to last over 20 years without maintenance.
A rustic, natural look is another advantage of cedar fence pickets. The natural browns and reds associated with cedar lumber give a cedar fence a look like no other. Even as is weathers, cedar will "silver" or turn grey when left untouched. This is a desired look by many homeowners.
You can stain or seal cedar fence right away. Unlike treated lumber that requires a drying period before staining or sealing. Cedar is ready to go as soon as it is installed, even though we just discussed that it is not required. Some homeowners still like the extra insurance of sealing their fence. While others want to stain it a particular color. Cedar allows either option right away.
Disadvantages of Using Cedar Fence Pickets
Using cedar for a fence doesn't have many disadvantages. However, consider the following factors when planning on building a fence using cedar fence pickets.
Cedar cost more. Cedar trees don't grow as fast as southern yellow pine trees do. So it takes longer for them to become mature. Furthermore, they only grow in certain parts of the United States and Canada. As result, it cost more to harvest the tree, take it to the mill, and then ship to other parts of the country. The difference between using treated fence pickets and cedar fence pickets can be up to $10.00 per foot more.
You must use aluminum or stainless steel nails to attach cedar fence pickets. The oils found in cedar lumber can have a chemical reaction with galvanized nails. This will result in bleed marks of a dark color starting at the nail holes and moving down the face of the picket. Aluminum and stainless steel nails also add to the cost of the fence.
Cedar fence pickets will rot or decay faster in the wrong conditions. Cedar does not do well when in contact with the ground. Make sure to install your fence with a couple inches of space between the bottom of the picket and the ground. Furthermore, flower beds and landscaped areas with mulch or topsoil can promote rotting. Adding mulch and topsoil every year will bury the bottom of the fence. Both materials have high moisture content, especially when plants and flowers require frequent watering. Cedar fence pickets in contact with the ground wick in moisture. Therefore, expediting the rotting or decaying process.
What Sizes Do Cedar Fence Pickets Come In?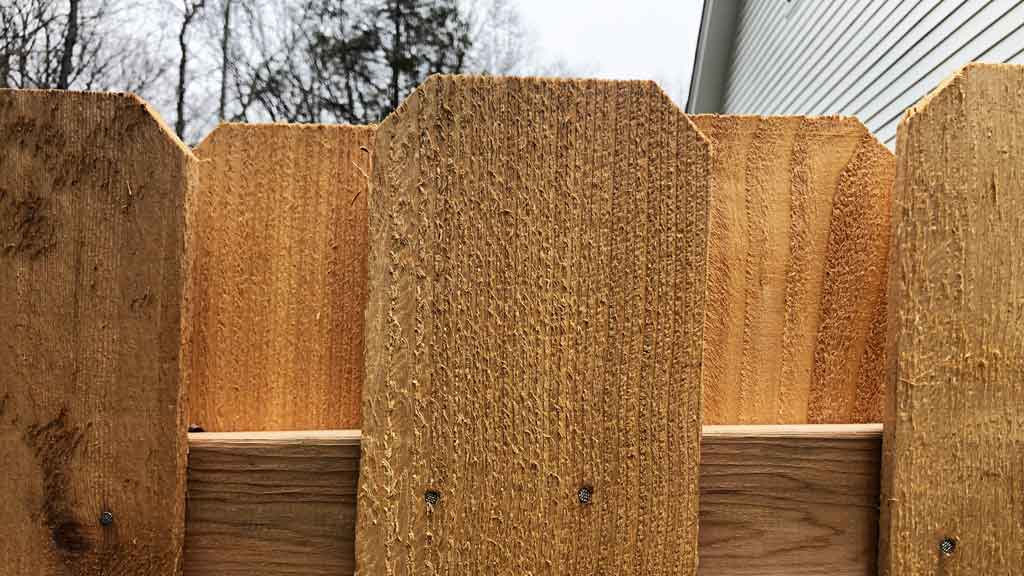 Most lumber used for the fence pickets come in a 1×4 or 1×6 size. However, depending on the type of cedar used and how the supplier cuts it, the exact measurements will vary.
Some manufactures offer full width boards. This means a 1×4 will measure 4″ wide and a 1×6 will measure a true 6″ wide. However, many manufactures that sell 1×4 and 1×6 boards that have actual measurements one half inch less.
Meaning a 1×4 will measure 3.5″ wide and a 1×6 will measure 5.5″ wide. Unless your heart is set on one or the other for a particular reason, the actual width really means nothing.
1×4 pickets are popular for picket style fences. Wider 1×6 boards are commonly used for privacy fence styles such as shadow box fence.
However, when figuring out how many cedar fence pickets are needed for the job, make sure to use the actual width of the picket.
The height of the pickets are measured in one foot increments starting at 3′ tall and stopping at 8′ tall. Custom lengths are available. Check building codes before purchasing materials. Make sure the height of the fence you want is permitted first.
Types of Cedar Fence Pickets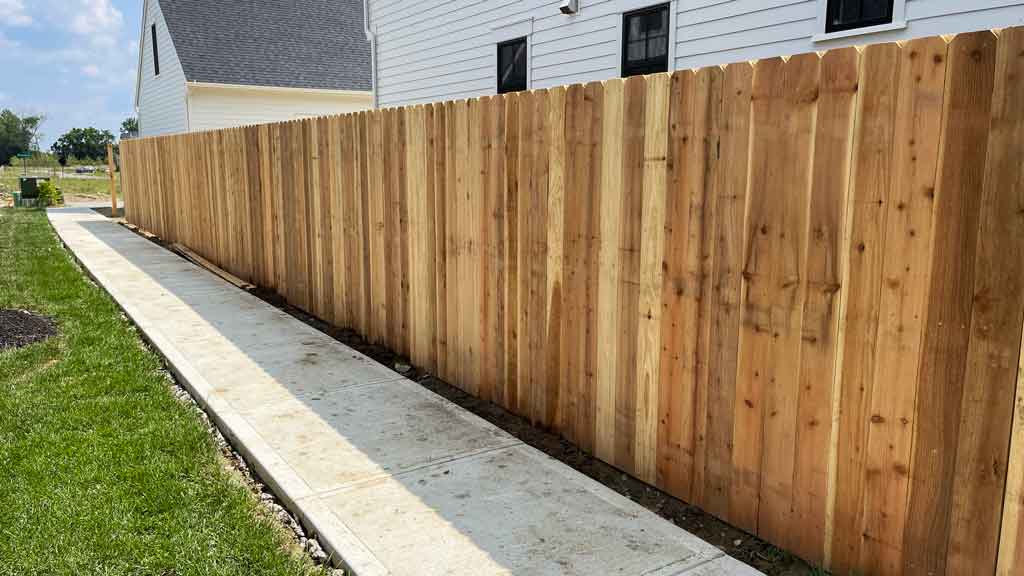 There are two common types of cedar fence pickets. Western Red Cedar (sometimes referred to as Costal Cedar) and Inland cedar.
Believe it or not, they are actual the same tree. However, because of their habitat and where they grow, they have different traits.
Western Red
Western Red Cedar grows faster and taller. Because of this the branches are spaced farther apart. As a result, there are less knots in the lumber.
The grain is also longer and straighter. This is what makes western red cedar fence pickets such a great choice for building fences.
Western red cedar is darker in color when compared to the inland version. Consistency in climate also promotes even color within the grain.
Inland Cedar
Just as its name suggests, inland cedar grows off the coast. Ranging as far as the western edge of the Rocky Mountain range.
It grows at a slower rate than it's counterpart. This means there are more branches per foot, resulting in more knots per board. Inland cedar fence pickets also have a lighter color tone than western red do.
The Grade of the Board Matters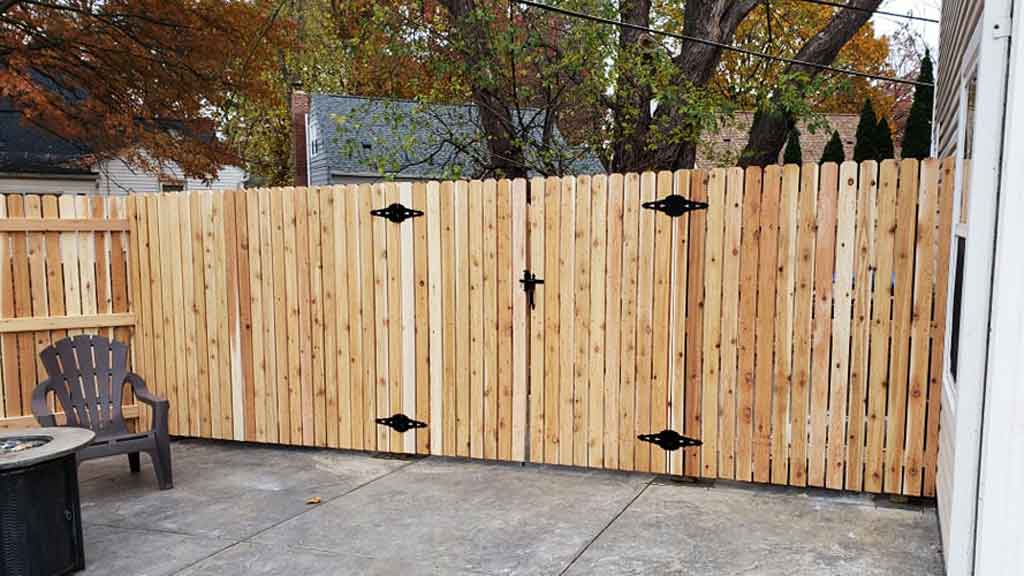 Just like any other type of lumber, cedar lumber also gets graded as to how many knots or imperfections are in it. This is know as the "grade" of the board. Clear cedar won't have any knots.
However, it also cost's more. And when it comes to buying pre-cut cedar fence pickets from a supplier, you may not even have an option of choosing the grade. If you do, here are some things to consider.
The highest grade will look the best, but cost the most. Depending on where your fence is located and what its purpose is, it could be a waste of money. Especially if you plan on painting it. Because the grain will never be visible.
The lowest grade (sometimes called #3) is the bottom of the barrel. It is the least expensive, however some boards will be unsuitable for use. Buy extra material so you can weed out the bad boards is recommended.
The middle grade (or #2) is pretty standard for fence boards. A good compromise between the two others. But like I mentioned before, you may not have the option of grade.
Fence suppliers that only have one option usually use a #1 or #2 for their cedar fence pickets. Rarely are #3's ever used.