Chain link fence has been around forever. It's strong, easy to install, very customizable and follows uneven terrain well. It's no wonder chain link dog fence is a popular choice for pet owners.
Affordability is another plus. Compared to most other fence types, chain link fence is one of the most affordable. Perfect when fencing in larger yards or play areas.
The standard 2″ mesh size of the fabric is universal. Often used on split rail dog fence. It is small enough to contain even the smallest of dog breeds. However, smaller mini mesh sizes are available.
Its proven itself to be strong, safe and secure for over a 150 years.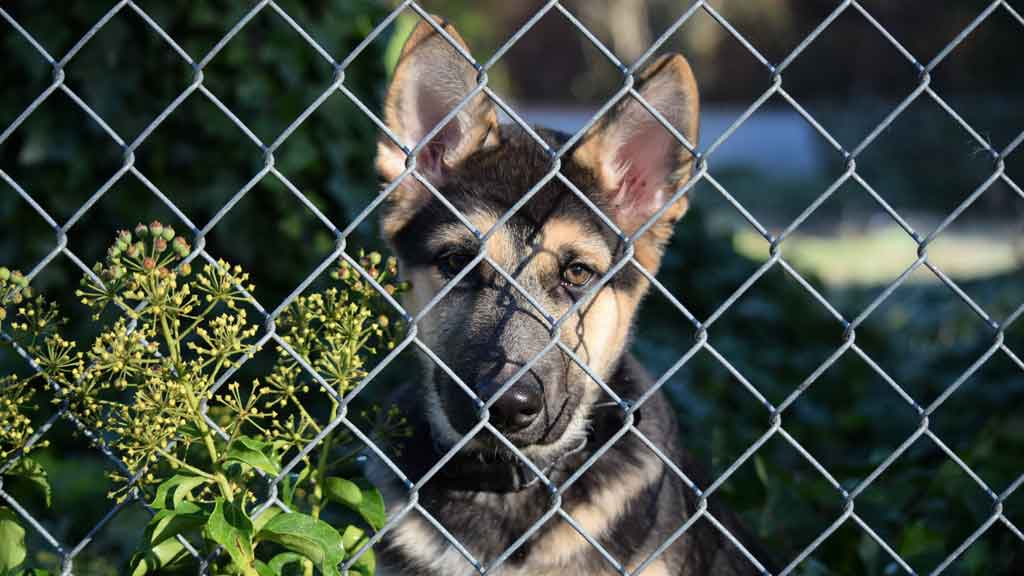 Chain Link Dog Fence Pros and Cons
Where I grew up many years ago, when someone in the neighborhood had a dog, they had a chain link fence. I know I've climbed many as a child. Usually to retrieve a ball or frisbee. Chances are you have too.
But chain link fence is not as popular as it once was in residential settings. Especially galvanized ones. Mainly because the silver color of a galvanized fence tends to have a commercial look and feel.
Furthermore, homeowners associations have pretty much universally banned chain link dog fence in developments or subdivisions. Even some cites and municipalities will not approve it in a residential setting.
However, vinyl coated color options are available. These colors blend in better than the tradition silver looking galvanized fences. As a result, making them more eye appealing.
Not to mention, chain link dog fence is still one of the most functional and affordable types of fences. Especially when compared to other options like aluminum dog fence or vinyl dog fence.
I've assembled a short list of the pros and cons below in order to sum up all of the positive attributes and some of the negative ones about chain link dog fence.
Chain Link Dog Fence Pros
Affordable – One of the most inexpensive types of fence.
No Maintenance – 15 – 25 year life expectancy without and maintenance.
Universal – Works well to contain dogs of all sizes.
Customizable – Color, height and grade options are all available.
Readily Available – Almost always in stock. No long wait times for materials.
Chain Link Dog Fence Cons
Appearance – Can sometimes give a yard a commercialized look.
Climbable – Some dogs learn to climb chain link fence no matter the height.
No Privacy – A very transparent fence. Privacy solutions are available but are costly.
No Go for HOA's – Most homeowners associations will not approve chain link fences.
Is Chain Link Dog Fence Strong?
In order for any fence to safety contain your dog, it has to be strong. Chain link fence is. Furthermore, homeowners have many options when it comes to the overall strength of a chain link dog fence.
Options for the gauge, or thickness- of the wire mesh, as well as the pipe used for the framework are available. Although for most dogs, the standard residential grade will suffice.
However, if you have a large or aggressive dog, upgrading to a heavier option may prove beneficial. The addition of bottom rail helps prevent dogs from push under a fence.
Gauge of Wire
The wire mesh on a chain link dog fence is called fabric. Don't let the name fool you. It is definitely made from steel wire. The thickness of each strand of wire is known as the gauge.
The smaller the gauge number, the larger the diameter of the wire. Therefore, producing a stronger mesh. So 9 gauge fabric will be stronger than an 11 gauge fabric.
Your fence contractor will help you determine what gauge of fabric is best for the breed of dog you own.
Size of Framework
The metal pipes used for the posts and top rail is known as the framework. There are two ways in which strength is added to chain link dog fence framework. Increasing the diameter of the pipe or increasing the wall thickness of the pipe.
As mentioned before, in the majority of fence installations, residential grade framework is more than enough to contain a dog. Just know there are options for those special occasions when added strength is required.
Does Chain Link Dog Fence Come in Colors?
When you think of chain link fence, you probably in-vision a silver looking metal fence. Or worse, a rusted out old fence. However, chain link fence is available in colors.
Black, Green and Brown colors are standard. Offered by most fence contractors. Even custom colors are available for additional setup costs.
These color options help the fence blend in better if residential surroundings. Therefore, helping to remove the commercialized look. Black chain link fence is the most popular color.
There are two configurations to the fence in which color can be added. The first option only has colored fabric. The second method uses both colored fabric and framework.
Vinyl Coated Fabric on Galvanized Framework
In this option, the the posts and top rails of the fence are still the silver galvanized color. Only the wire mesh will have one of the colors.
While this does blend in better than the all galvanized chain link dog fence, it does not blend as well as the all vinyl coated option.
Many cites require at least the fabric to be colored in order to approve the fence permit. However, the main reason homeowners choose this option is price. It's less expensive than the all vinyl coated option.
Adding the vinyl coated mesh to the galvanized framework does not add a significant amount to the overall cost of the fence. So, most customers upgrade to this option at the minimum.
All Vinyl Coated Chain Link Dog Fence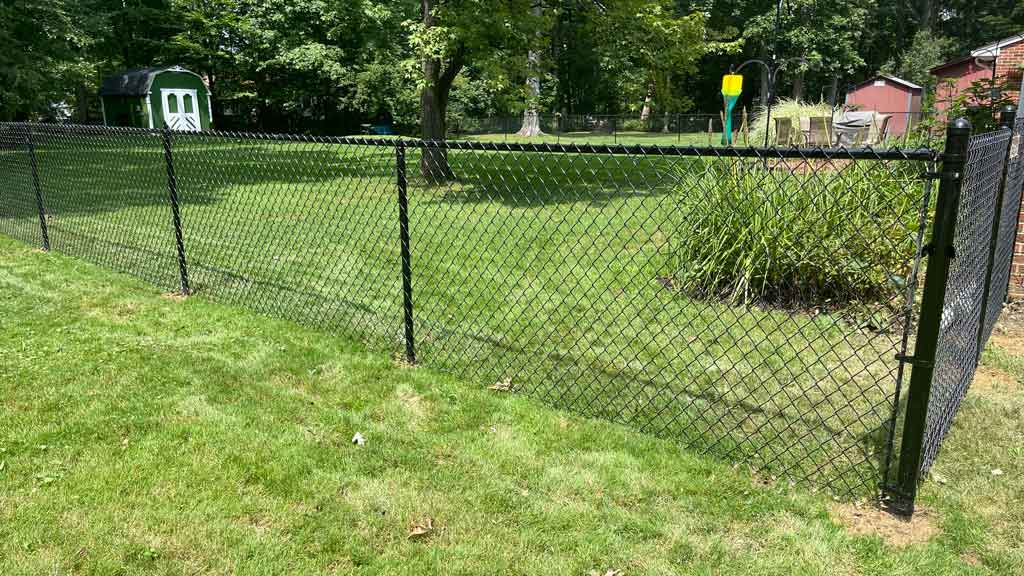 Homeowners concerned about the look of chain link fence choose the all vinyl coated option. With this option, the fabric, framework, fittings and gates all have color.
As a result, the fence blends in better. Many times almost disappearing. Especially in yards that are wooded or have lots of shadows casted by trees.
Black is definitely the most popular color. Blending well with the landscape no matter the season or time of year. It also fits well with most house colors.
Conclusion
Chain link dog fence isn't for everyone. Some homeowners just can't get over the look. Choosing other types of fence that are more decorative.
However, it does have more height, color and grades options when compared to other types of fence. Chain link is functional. It's affordable and most fence contractors always have it in stock.
So if you need a time tested fence in a hurry. Or have a big yard and need to fence a large area without breaking the bank, then chain link fence is the way to go.
To learn about other styles of dog fences, read our blog post on the Best Dog Fence Options for All Dog Types.