Anytime a chain link fence crosses a driveway a gate opening is required to maintain and allow access of vehicles to come and go.
The overall gate opening and how often it is used will determine the type and style of chain link fence gate that will work best for your application.
Many of the styles discussed in this article work well for both residential and commercial chain link fencing.
Often times it is price and personal taste that have the final say as to which type of driveway gate you choose for your fence.
Chain Link Swing Gates
There are two types of swing gates used for chain link fence gates. The first uses a single gate panel or leaf.
The second type has two panels or leafs. Often referred to as double gates. Swing gates are simple in design and operate easily. They are the most popular choice for residential use.
Single Swing Chain Link Driveway Gates
Single chain link driveway gates only have one gate leaf. As a result, they are better suited for smaller openings and narrow driveways.
Single gates are less expensive to purchase. However, they require more room to open and close.
Furthermore, because there is only one gate to cover the width of the driveway, extra weight is put on the chain link fence hinge post and hinges.
It is recommend to install a stronger hinge post and hinges for single chain link fence gates.
Double Swing Chain Link Driveway Gates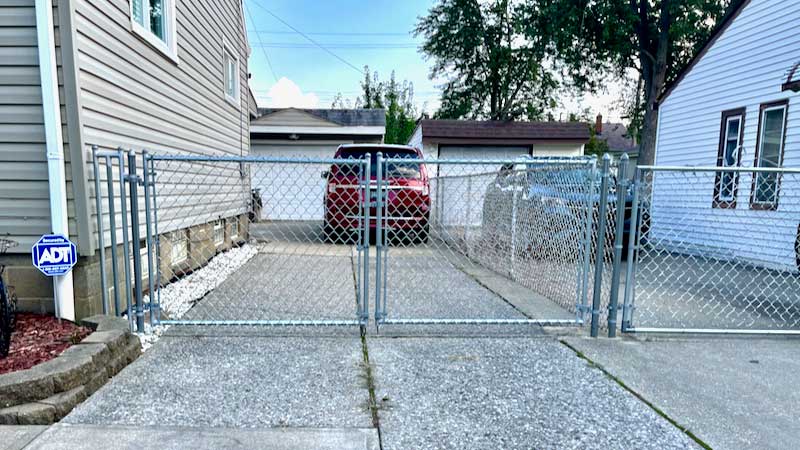 A double swing gate for chain link fences divide the gate opening into two. Therefore, they have the ability to cover twice the width of a single gate.
They are commonly installed for residential driveway gates. The shorter widths of the two gate leafs are easy to open and close and take up less room than a large single leaf.
Double chain link driveway gates are also half the weight of single gates. Therefore, the size of the gate posts and hinges required to support the gates do not have to be as strong.
However, double chain link fence gates are also commonly used in commercial settings. Larger driveway openings on commercial properties require installing much wider gates.
Commercial grade chain link fencing gates hang from much stronger gate posts.
There are also more choices for commercial gate hinges. These oversized hinges are designed to hold heavier weights and take more abuse.
Rolling and Sliding Chain Link Driveway Gates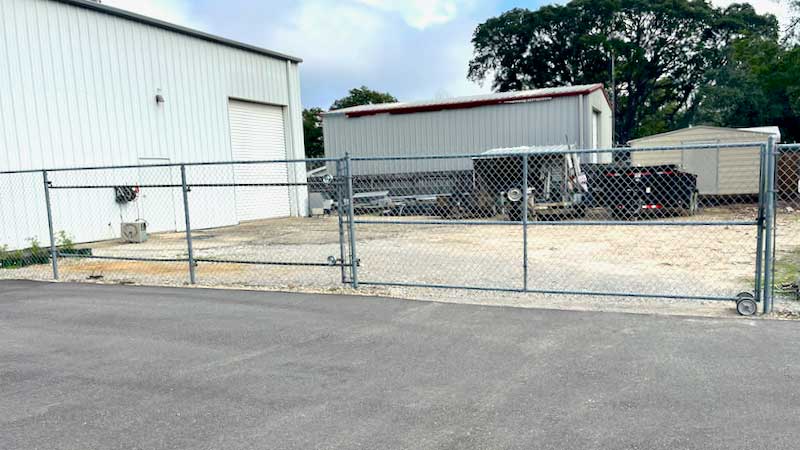 Rolling gates and slide chain link fence gates roll parallel to the fence line. Therefore, the gate does not require extra space to open as long as there is enough room either to the left or right of the driveway.
Chain link fence rolling and sliding driveway gates are a perfect solution when a swing gate won't work. They also work well for covering driveways requiring wider openings
Because the leading edge of these types of chain link fence gates are supported by wheels or a roller, the weight of the gate does not become a problem.
However, a semi flat surface is required. Concrete or asphalt driveways are best for rolling gates. But they can be pulled open and closed through dirt or gravel driveways as well.
Furthermore, installing a rolling gate does not require heavy duty gate posts due to the gate being supported by a wheel in the front and a track system at the rear.
Cantilever Chain Link Driveway Gates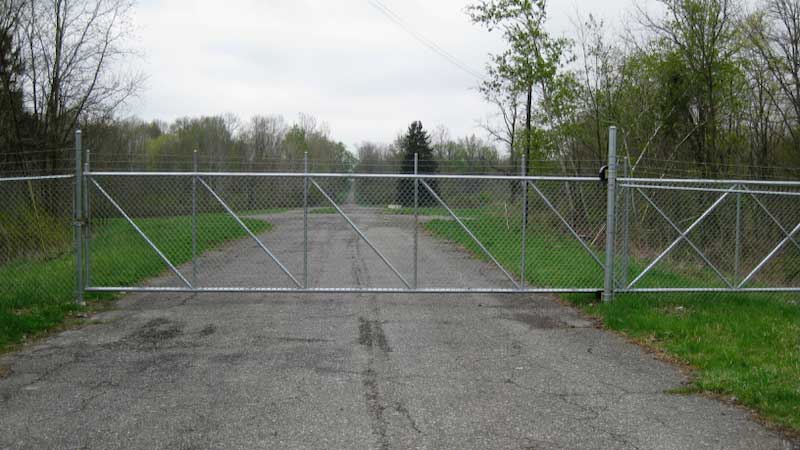 A cantilever gate is another type of rolling gate used for commercial chain link fence driveways. Unlike a sliding or rolling gate, there is no wheel to support the leading edge of a cantilever gate.
A counter balance helps to hold the gate upright when it is in the closed position covering the driveway. As a result, much stronger gate posts are required in order to support the gate.
Heavy gate rollers at the top and bottom of the gate frame prevent the gate from dropping downwards when closed.
Cantilever gates are perfect for driveways that are uneven, preventing a sliding gate from operating correctly. They also work better in northern climates where snow and ice can cover the driveway.
Vertical Lift Chain Link Driveway Gates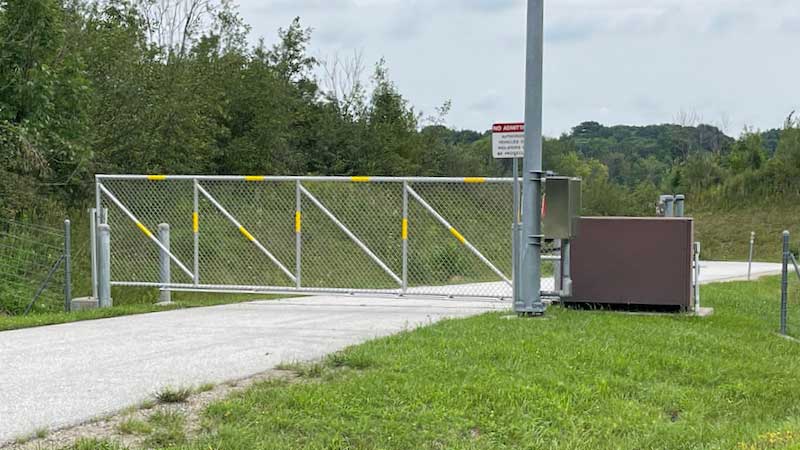 A vertical lift gate is a type of automated chain link gate used for driveways with high amounts of traffic.
Often found at storage facilities and large businesses, a vertical lift gate operates much faster than other types of automated gates.
Simple in design, the gate pivots upward to allow access through the fencing.
Prices of vertical lift gates are expensive. As a result of already including the gate operator in a stand alone unit.
Barrier Gates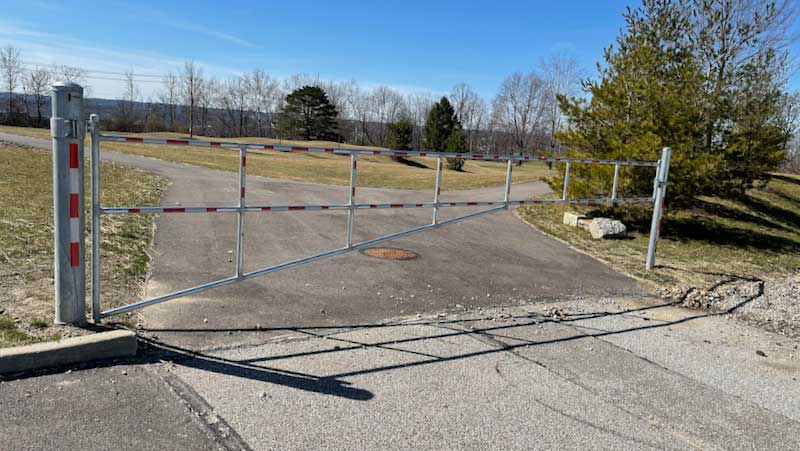 Barrier gates are a type of pipe framed driveway gate often installed in chain link fences. However, the open design of a barrier gate does not prevent pedestrian access.
Commonly used to block the openings of larger commercial driveways, barrier gates are better suited for preventing vehicle access.
Lightweight in design, a double barrier gate can cover openings of 40′ or wider and remain easy to operate.
Conclusion
Chain link fence gates for driveways come in a variety of designs and widths. Deciding on what type to install across your driveway is a personal preference.
The width of the driveway, the amount of space available for the gate to open and close, how often the gate is used and the price of the gate will all be factors in choosing the perfect gate for your needs.