Every chain link fence with gates will also include chain link fence gate latches of some sort. In order to hold the gate in the closed position, it must be secured to a latch post or in the case of a double gate, another gate frame.
As a result, a latch is required. Just like hinge options for chain link fence, there are many options for chain link fence gate latches. In this article, we'll take a look at the most commonly installed types of latches.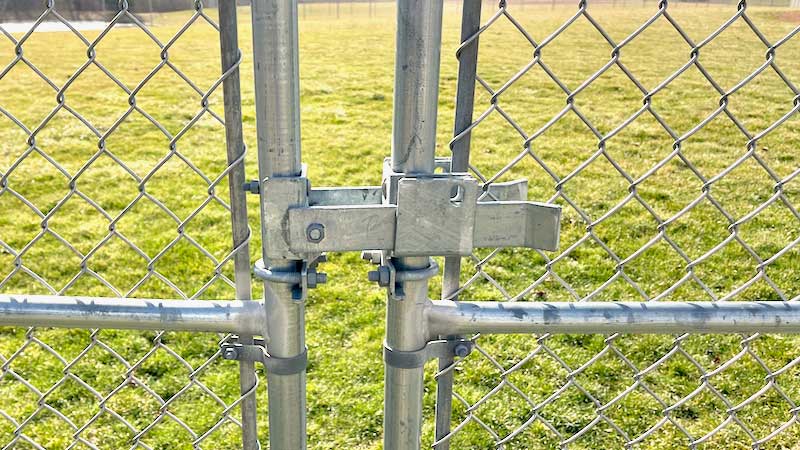 Determining What Type of Gate Latch You Need
Choosing the correct type of chain link fence gate latches for your fence can be confusing. However, your search can be narrowed down by first determining what type of gate you have.
Gates for chain link fencing fall into three main categories. Single gates, double gates and rolling or sliding gates. Each type requires a different type of latch.
Below we'll go over the most popular styles for each type.
Chain Link Fence Gate Latches for Single Gates
When purchasing chain link fence gate latches for a single gate, it important to know two specific measurements. The first is the diameter of the upright on the gate frame. The second is the diameter of the latch post.
For most residential gates, the frame will measure 1-3/8″ 0r 1-5/8″ in diameter. Gates used for commercial chain link fencing with have frames measuring 1-5/8″ or 1-7/8″ in diameter.
The latch posts can range between 1-7/8″, 2-3/8″, 2-7/8″ or 4″ in diameter.
Fork Latch
Butterfly Latch
Strongarm Latch
Auto Latch
Dog Kennel Latch
Locinox Latch
Magna Latch for Chain Link Fence
Chain Link Gate Latches for Double Gates
Double chain link fence gate latches are different than single latches in the way they do not have a post to secure to. Latches for double gates must attach to one gate leaf and latch to the opposing leaf.
While there are many types of double latches for chain link fencing on the market, we will cover the three most popular styles.
Drop Fork Latch
Double Gate Strongarm
Cargo Latch or Positive Chain link Gate Latch
Rolling, Sliding and Cantilever Chain Link Gate Latches
Rolling and cantilever chain link fence gate latches are different from swing gate latches due to the horizontal movement of the gates. Many styles of rolling and sliding latches are designed the prevent gates from rolling past the latch post.
While some of these latches do include holes for padlocks, a good old fashion chain in many cases, is still the best solution for locking rolling and sliding gates.
Slide Gate Receiver
Rolling Gate Latch
Rollo Latch
Visit our article on chain link fence gate hinges to learn about the different types of hinges for your gate.