Chain link fence parts are the components used to connect the posts, rails and wire mesh together. They are also referred to as "fittings" or "hardware".
There are many types of chain link fittings. Furthermore, most fittings are manufactured using different materials in order to add to or reduce strength. This is referred to as the "grade" of chain link fence parts.
If that wasn't confusing enough, each part is offered with coating options. Galvanized is the most common and gives the hardware a silver color.
Vinyl coated options add color to chain link fence parts. Found on all vinyl coated chain link fence systems. Popular colors are black, green and brown.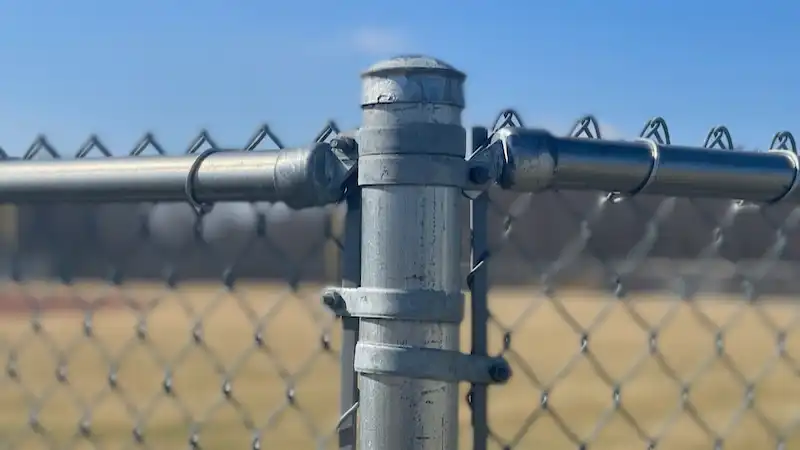 What are the Parts of a Chain Link Fence Called?
No matter the height or grade of the fence, the parts are almost always the same. The framework is made from posts and rails. The wire mesh, also called "fabric" is then attached to the framework.
In this article, we will focus on all of the chain link fence parts that connect the post and rails together as well as the ones that attach the fabric to the framework.
Not every fence will contain every part from the following list. However, there are some parts that every fence will include. Those are, post caps, loop caps, rail ends, tension bars, tension bands, brace bands, fence ties and of course nuts and bolts.
Let's take a closer look at the most popular fence parts and what they are used for.
Chain Link Fence Post Caps
Chain Link Fence Brace Bands
Tension Bands for Chain Link Fences
Chain Link Fence Rail Ends
Tension Bars
Fence Bolts for Chain Link Fencing
Tension Wire for Chain Link Fence
Hog Rings
Chain Link Fence Loop Caps
Barbed Wire Arms
Line Rail Clamps
Chain Link Fence Truss Rods
Truss Rod Tighteners
Fence Ties
Chain Link Top Rail Sleeve
Gate Hardware and Parts
There are just as many chain link hinge and gate latch combinations as there is chain link fence parts. As a result, I have written separate articles for each component of the gate hardware.
Click HERE for more information on gate hinges.
Click HERE for more information on gate latches.