Choosing the right chain link gate hinges for your chain link fence gate is crucial in order for it to open and close freely and with little effort. Chances are, if you're having a fence professionally installed, your fencing contractor will have their favorite hinges already on hand.
And, unless the gate is required to preform a specific task, they won't even give you the option of choosing any other than the ones they prefer. There is a reason for this.
There are many different chain link gate hinges choices and options for a chain link fence gate. However, there are a few tried and true designs that have stood the test of time. They work. They always will work. And there is no reason to change.
That being said, if you aren't a professional fence installer, you may have no idea where to start when shopping for the correct type of hinges for your gates.
So I put together this short guide to explain the differences of the some of the most popular types of chain link gate hinges. These are the time trusted, industry standard hinges that have proven themselves on countless gates across the world.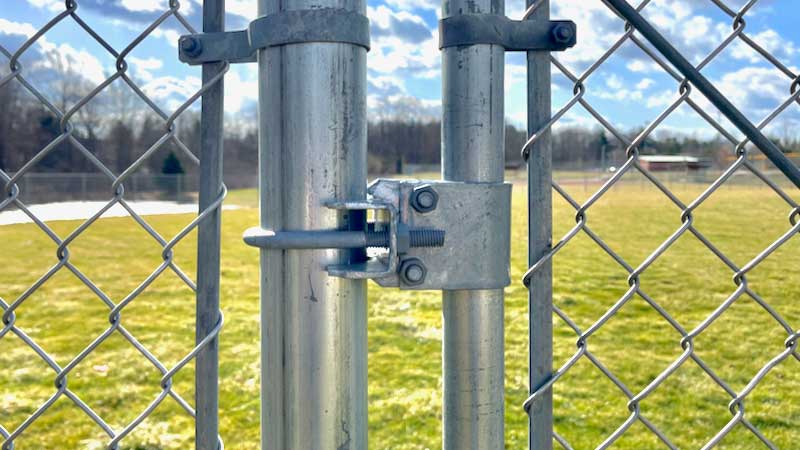 Size of Gate Frames and Posts Matter
Many of the chain link gate hinges listed below come in a variety of sizes. There are two measurements you will need to know when shopping for gate hinges. The first is the measurement of the diameter of the upright on your gate frame. The second is the measurement of the diameter your gate post.
Gate Frame Sizes
The most common frame sizes are 1-3/8″, 1-5/8″ and 2″ in diameter. 1-3/8″ is always used on residential gates. 2″ is always found on commercial chain link gate frames. The 1-5/8″ diameter frame can be used for either.
Gate Post Sizes
There are even more diameter sizes for gate posts. For residential chain link fencing, 1-7/8″ and 2-3/8″ are the most common sizes. However, for larger gates sometimes a 2-7/8″ or 4″ diameter post is installed. Providing added support and strength.
For commercial grade gate posts, 2-3/8″, 2-7/8″, 4″, 6-5/8″ and even 8-5/8″ diameter are all options. Many times these post have a heavier wall thickness to add strength.
It is important to choose the correct size chain link gate hinges for the job. Some are adjustable in size. However, most are very specific and require the exact measurement in order to function properly.
Male and Female Frame Hinges
Bulldog Hinge
Box or Butt Hinge
180 Degree Hinge
Gravity Hinge
Dog Kennel Hinge
J – Bolt Hinge
Tru-Close Chain Link Gate Hinges
Read our blog post about chain link gate latches to learn how to keep your gate securely latched or locked.