Chain link is a very good swimming pool fencing system. It's the one fence that is virtually maintenance free. Chainlink fencing also meets most pool codes. Making it the perfect choice for both residential and commercial applications.
With many height and color options, chain link pool fencing will meet your swimming pool fence needs. Providing years of trouble and maintenance free protection.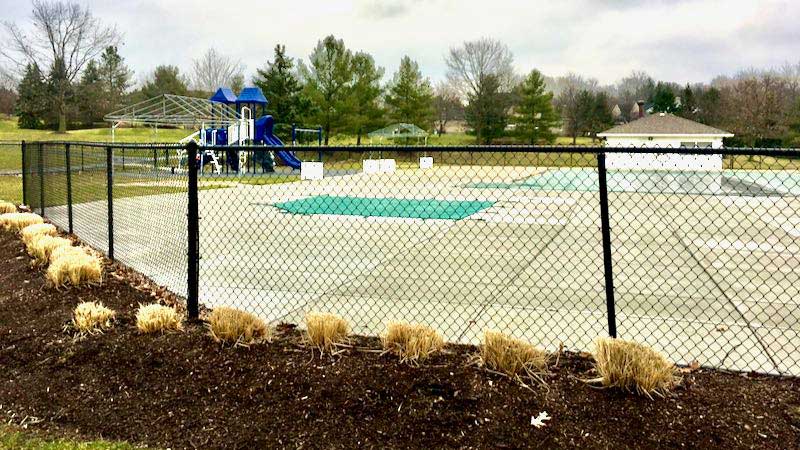 Is chainlink fence cheaper than vinyl?
Chainlink fencing is substantially cheaper than wood fencing and vinyl fencing. It is easy to install. As a result, experienced DIYers can save even more money covering the labor costs when installing a chain link fence on their own.
Just like vinyl fencing, it does not need staining, painting or waterproofing. Yet it almost all of the attributes of a vinyl fence. Once it is installed around your swimming pool, simply enjoy it. Chain link pool fencing does not require any upkeep.
How much does a 100 foot chain link fence cost?
Chain link fencing costs between $20 and $40 per linear foot, including materials and installation, with average cost ranges of $25 and $35. Or ruffly $2,500 to $3,500 per 100′ of chain link fence. The height of the fence, how many terminal posts and how many gates will influence the price of your swimming pool fence.
While galvanized chain link pool fencing is less expensive, vinyl coated chain link pool fencing will be more esthetically pleasing to the eye. Common colors options for chain link pool fence are black, green, brown and white. With black vinyl coating being the most popular choice for swimming pool chain link fences.
Gates for Chain link fences Around Swimming Pools
The gates are the most important part of a chain link fence when it comes to swimming pool safety. Pool gates must be self closing and self latching. This means they must either include self closing hinges or a self closing mechanism.
A fence gate with a self latching latch or child proof latch is also crucial. This is mandatory to meet pool fence codes for most cities and municipalities.
Chain link fence gates come in two primary configurations. Single or man gates and double gates. Single gates for chain link pool fence are best. They are more secure and have many more options in hardware designed for pool fences.
A double gate must be installed when a larger opening is required in the pool fence. Chain link double gates are common for granting access to larger items that can't fit through single gates.
Privacy for Chain Link Swimming Pool Fences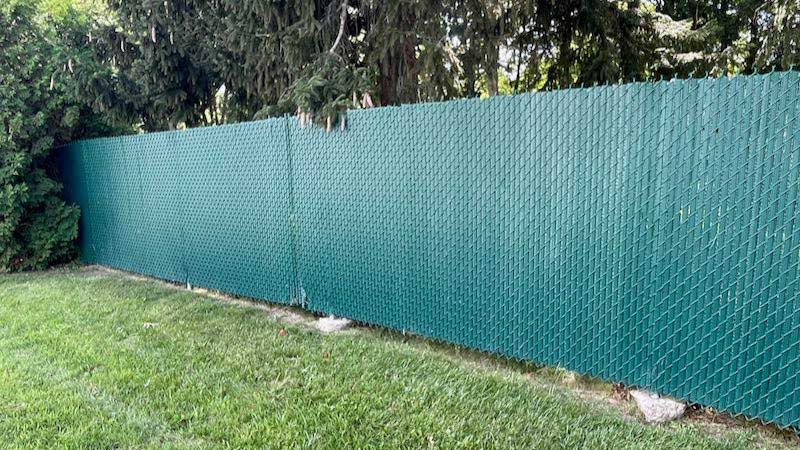 Chain link fences do a great job adding protection around swimming pools. However, because of mesh size of the chain link, they are very open. As a result, providing almost no privacy for your pool area. However, there are available options.
Vinyl privacy slats can be added to the chain link fence mesh opening deepening on the mesh size. Therefore, providing extra privacy for in ground pools. Just like the the color options for vinyl coated chain link fences, the privacy slats also come in a variety of colors to match.
Pool Code and Swimming Pool Safety Concerns
While having privacy in the pool area is a concern of many swimming pool owners, pool safety should be even more of a concern. It's quite common to have children in and around pools. Even with children that are strong swimmers, they should not be left alone, even in the shallow end.
Visual safety checks are important. A chain link fence swimming pool fence on its own allows for this. However, the addition of privacy slats installed into the fence could prevent visual safety checks. The utmost caution should be taken when children are involved. Many times pool owners elect to have privacy on three sides of the pool fence leaving one side open.