So you want a vinyl fence. However, you don't want a white one. You're in luck. Vinyl manufactures offer many choices for colored vinyl fence.
Not so many years ago the only color options were light tan and light gray. Then came darker shades of tan and gray. It wasn't long before manufacturers offered even more color options.
As technology increased so did the colors. Today you can find just about any color you want. There are even colored vinyl fence options that look like wood grain or weathered lumber.
Colored Vinyl Fence Meets Technology
For the sake of not getting too technical, the darker the color, the more challenging it is to produce. Especially when manufacturers have to offer lifetime warranties on their products.
Adding color pigment to the components of vinyl weakens it. Furthermore, the darker the pigment, the more heat it will attract. Heat can cause issues with vinyl fence buckling and warping in extreme circumstances.
As a result, only lighter colors were offered at first. As manufactures perfected the blend of materials and pigments, darker colors became available.
Now dark color options and blended options of colored vinyl fence that are available that weren't just a few years ago. It even comes in black.
Tan Vinyl Fence
It all started with tan vinyl fence. Tan is basically an off white. It wasn't hard for manufacturers to produce.
Keeping the pigment light in color allowed early vinyl products to retain strength and durability. As a result, tan became the most popular color option for vinyl fence.
Today, there are many variations of tan and beige colors. Each vinyl fence manufacturer has their own color with their own name for it. But all of them will offer a tan or beige vinyl fence of some sort.
Gray Vinyl Fence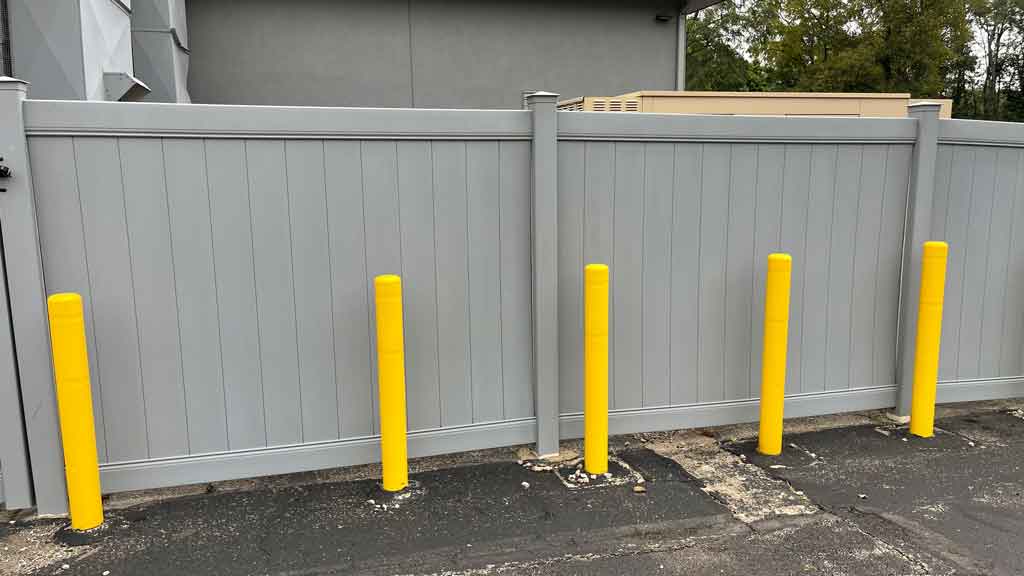 Gray was the next color to come into play for vinyl fence manufacturers. Just like tan, it wasn't too far of a color change from white.
The gray colored vinyl fence options that were first available were very light in color. Again, manufactures were careful not to go too dark or the vinyl would attract heat. That heat could cause potential problems with the integrity of the fence, so they kept thing light.
Today however, there are many variations of gray to choose from. With some of the gray colors being very dark in color. Depending on the manufacturer, black is even an option.
Two Tone Vinyl Fencing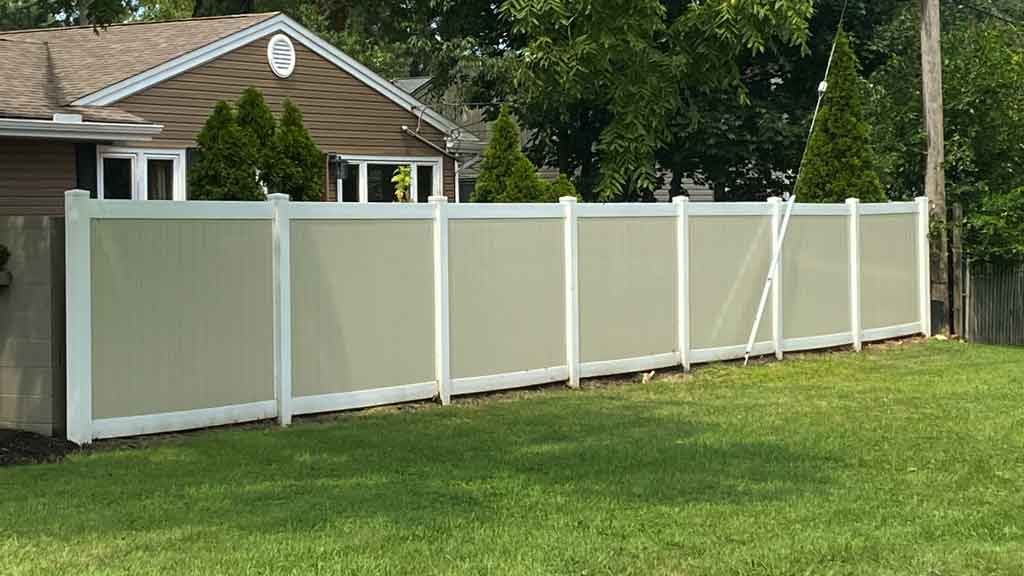 When installing a vinyl fence, especially a 6′ tall privacy fence, they can be look overbearing. Like a solid wall. To break things up a little, manufacturers offer two tone fencing.
Two tone colored vinyl fence is when the posts and the rails of a privacy fence will be one color, and the pickets that are used for the fill are another color. This breaks up the uniform look of a solid color. It also give the fence a unique look.
Customers go with white framework and tan pickets, or vise versa. Vinyl fences with darker colored post and rails combined with lighter colored pickets really looks good.
A quick search of two tone vinyl fencing will give you plenty of ideas.
Other Color Options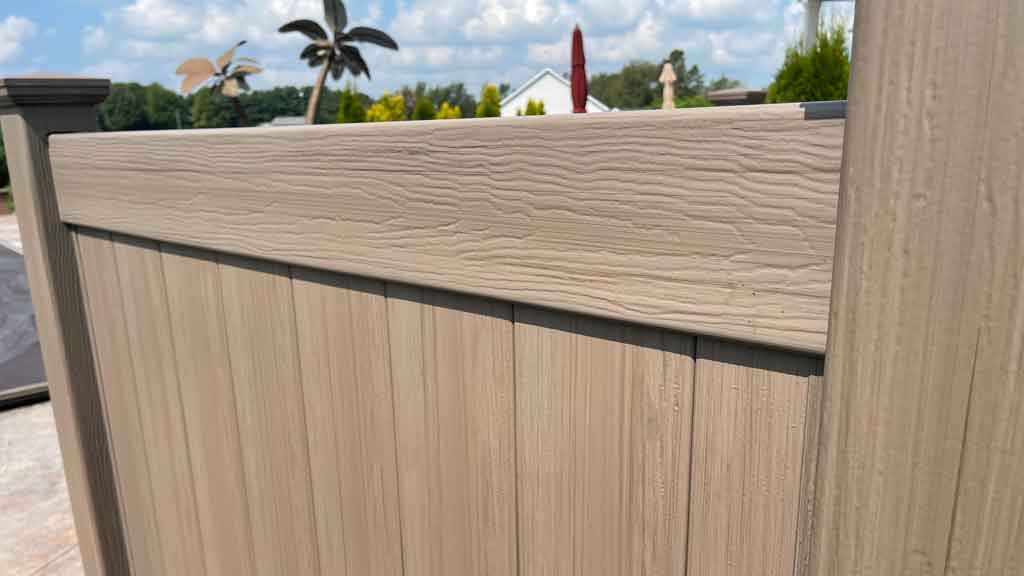 You now have more color options than ever before for vinyl fence. Many of the popular colors are the colors you would stain a wood fence.
Dark browns, cedar and redwood colors are very popular. There are blended colors made to look like weather barn siding. There are also blended colors that look like wood grain.
The old days of white, tan and gray colored vinyl fence options are over. However, all of these new wonderful colors come at a cost. A financial cost!
As we discussed earlier, making colored vinyl fence is not easy for manufacturers. As a result, they charge a premium for it.
Normal solid colors like tans, beige and gray all add approximately 10% – 15% to the cost of a white vinyl fence. Some of the darker color will add 20% – 30% more. The the most complex blended colors with wood grain appearance will add even more.
Vinyl fence is already expensive. Choosing to purchase colored vinyl fence is even more of an investment. However, the upfront costs will pay dividends down the road due to the lack of maintenance required and lifetime warranty.