Throughout my years of sales experience in the fencing industry, one questions remained constant when I was quoting jobs. "How many gates should a fence have?" To be honest……..this is a question that is really job specific. Let me explain.
Say for for instance, you run fence down one side of your property line. This is great for establishing a boundary between you and your neighbors house.
In this case, there is a good chance you won't need or want fence gates at all. However, when the entire backyard has a fence, at least one fence gate is needed to gain access inside the fence.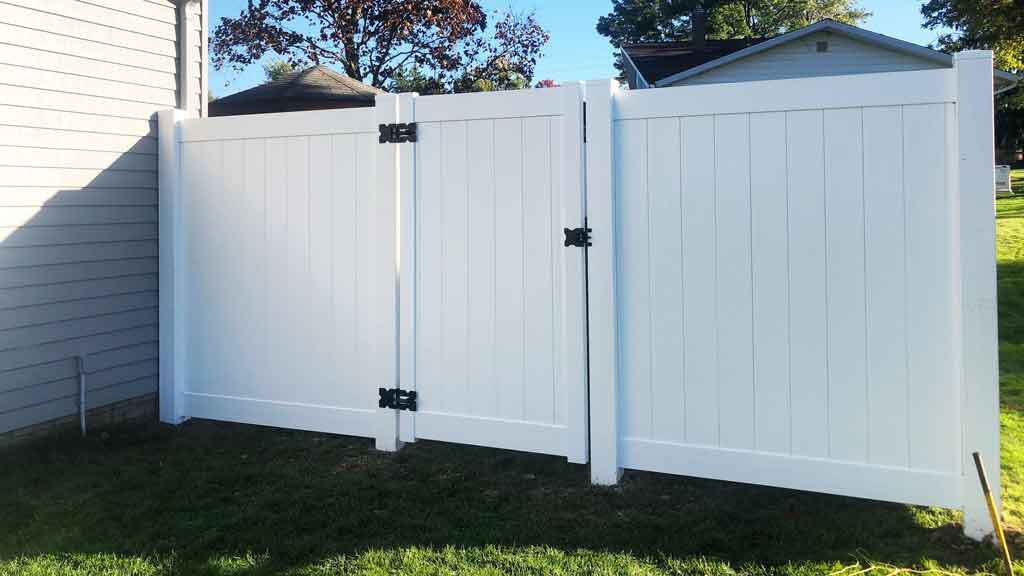 How large the fenced area is also determines how many fence gates your fencing should have. If you have a small postage stamp sized lot, having only one gate on one side of the house may be all you need.
On the flip side, for really big yards, you probably won't want to walk all the way back to the only point of entrance if you are on the other side of the yard. Therefore, it makes sense to have an extra gate installed.
The same holds true for the rear of the yard. If you know you will never require access to the area beyond the rear fence line, there is no reason to purchase an extra fence gate.
However, in a scenario where kids could throw a ball over the fence, adding another gate in the rear line of fence is very convenient when needed.
How Wide Should Fence Gates be?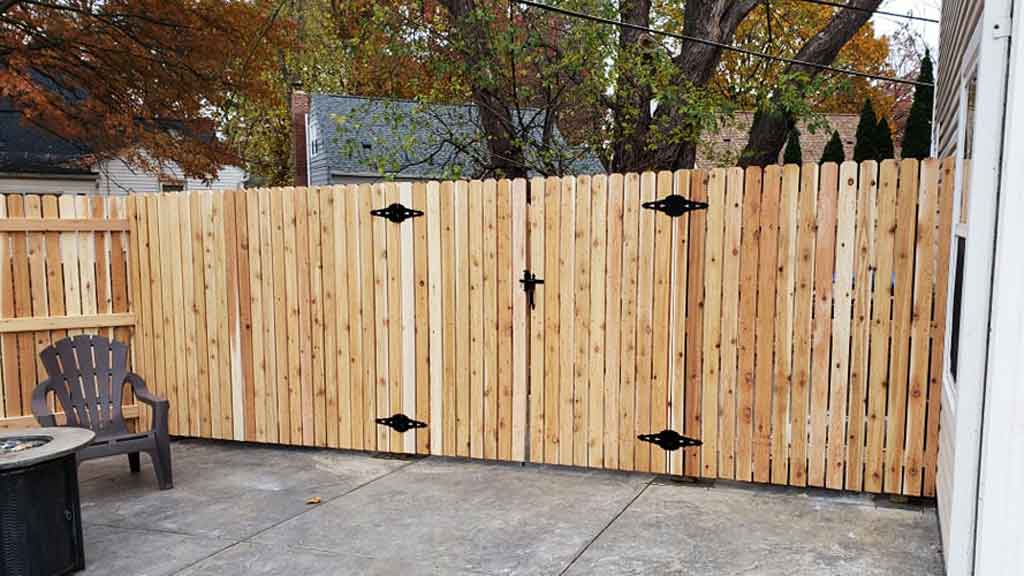 The second question that was always proposed to me is how wide should a fence gate be? Again…….this is very specific to each individuals needs and purpose for the fencing.
What works for one customer won't always work for the next.
Before we discuss how wide a gate should be, we must first be familiar with the two styles of fence gates. I'm talking about single gates and double gates.
A single gate means there is one gate panel. The gate panel is called a leaf.
Double gates will have two gate leafs that meet in the middle without the need for a center support post.
Single Leaf Fence Gates – For Pedestrian Access or Small Equipment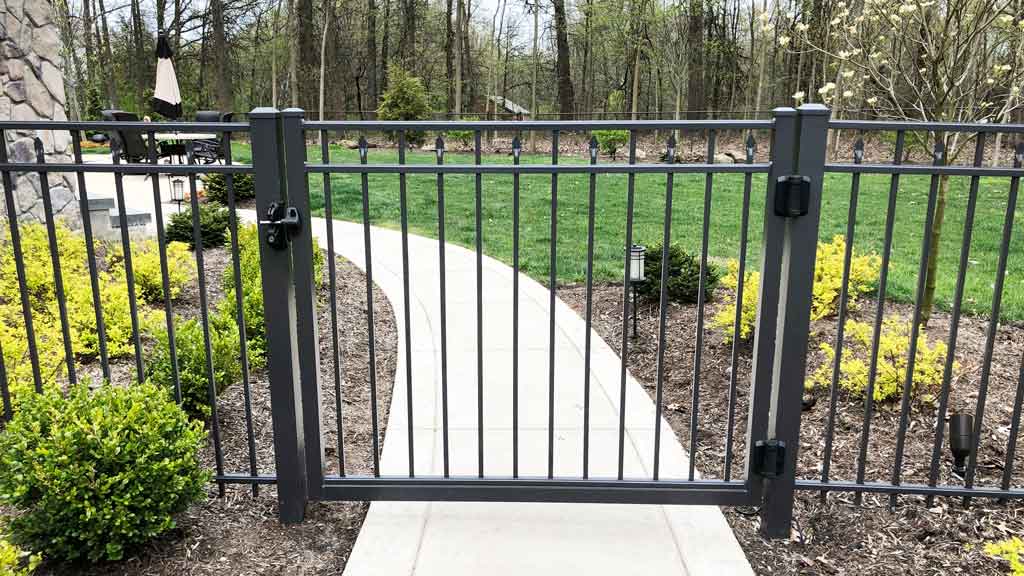 Single fence gates are the most common type. Sometimes referred to as man gates or pedestrian gates. Standard widths start at 3′ wide and go up to 6′ wide.
However, 6′ wide single gates are cumbersome and also require a larger amount of space to open.
I always sold my customers a 4′ wide gate to start with. At that width, it is a foot wider than the front door of your house.
This makes entry an exit easy. Furthermore, it provides ample enough room to get most lawn items or patio items through without obstruction.
The only time I would sell a narrower 3′ wide gate is when the fence layout dictated a smaller opening.
Sometimes there just isn't enough room for a wider gate. Therefore, In these situations, I would sell the customer the smaller gate.
The only time I would sell a wider 5′ or 6′ gate is if the customer required it to fit a small riding lawn mower through the fencing in order to mow the yard.
At that point, I would ask what the width of the cutting deck was on the mower, add an additional 8 – 10 inches for the shoot, and then price up the appropriate gate.
However, even when pulling a lawn mower through a wider single gate, it can still be difficult. If, the layout allowed for it, at this point I wold recommend a double gate.
Double Leaf Fence Gates – For Larger Equipment and Vehicles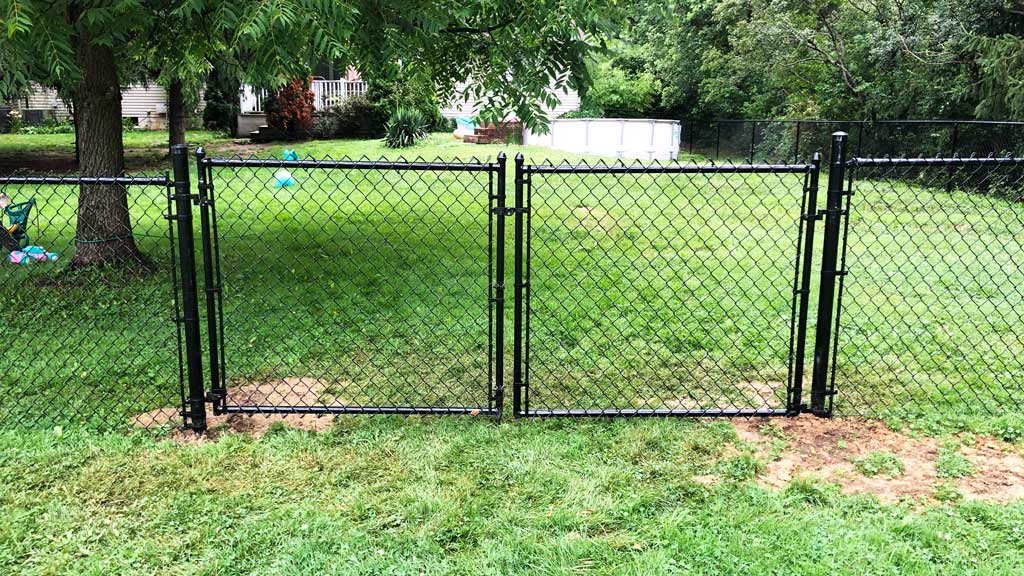 Double gates are great for allowing large items into the fenced in area. As mentioned before, a double gate is just two single fence gates.
They meet in the middle without a center support post. This allows for maximum clearance. If you own a trailer, camper or any other item requiring a larger opening, a double gate is the answer.
If standard single gate sizes are 3,4,5 and 6 feet wide, it only makes sense that standard double gate sizes are 6,8,10 and 12 feet wide.
Most vehicles that are legally allowed to drive on roads will fit through an 8′ wide double gate. For extra clearance, a 10′ gate will do the job. As a result, 8′ and 10′ wide double gates are the most popular widths.
A drawback to double gates is that they require extra space in order to accommodate them. Not every layout allows for the use of a double gate.
Furthermore, the gates need to hang level. Therefore, a level spot is required in the fence line. If a flat spot is not available, then the gate will have to hang higher above the ground on the low side.
As a result, sometimes leaving a larger gap underneath the gate than desired. View our article on Installing Gates on a Slope.
Cost Determines How Many Fence Gates You Will Have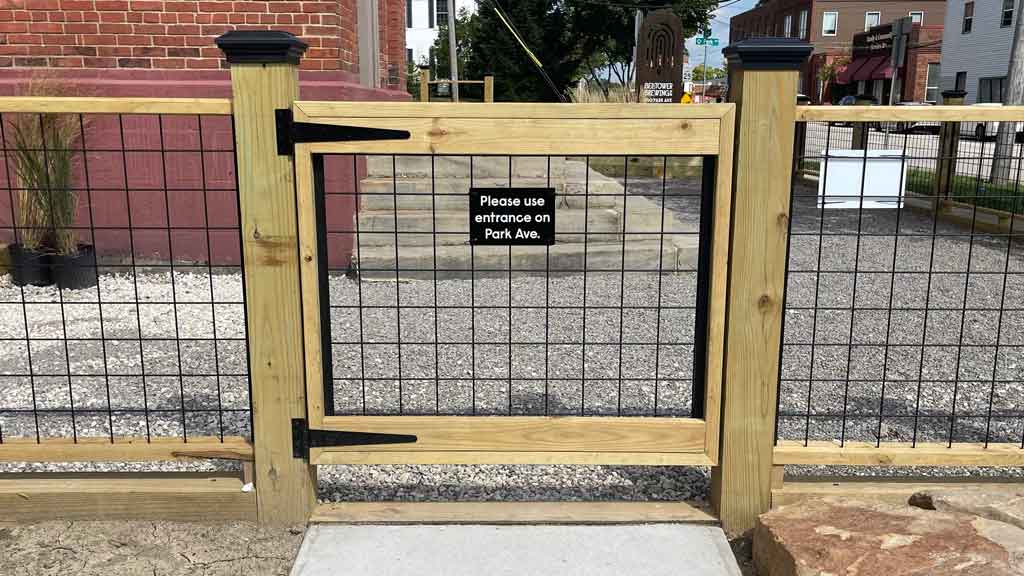 Let's face it, if fence gates were free, we would all have one on each side of the house, one in the back line of the fencing, and maybe one on the side of the fence to our neighbors house.
But gates are expensive. They are the most expensive part of any type of fencing.
If you have an unlimited budget, then go ahead and add extra gates. Even if you don't ever use them you could always just put a lock on each one to keep the fence secure.
But for the rest of us, we want to spend our money wisely. So it is important to not overspend on gates we don't need or will never use.
The costs of adding gates adds up quickly. The type of fence and the material it is constructed from will determine how much adding each gate will cost.
The Type of Fence Effects the Cost of the Gates
As mentioned before, the type fencing you have installed will also effect the cost of the gate or gates. With every type of fence, adding a gate means adding at least one extra post into the fence line.
Sometimes, when the gate posts aren't the same as the rest of the fence posts, two extra posts will be required.
Chain link gates and wooden gates will not cost as much as vinyl gates and aluminum fence gates. If you have wrought iron fence, adding gates will increase the price dramatically.
The supporting gate posts also factor into the cost of the gate. Posts for split rail fencing and wood gate posts don't cost much more (if anything) than the rest of the posts used to construct wood and split rail fencing.
Aluminum fence gate posts have heavier wall thickness to support the weight of the gates. Sometimes they are even a larger dimension from the rest of the posts used to build aluminum fencing.
As a result the cost of the gate posts are added into the cost of aluminum gates.
Posts for vinyl fencing are hollow inside. So in order to support a gate, an aluminum or galvanized steel reinforcement is inserted into the post for added strength. Again adding to the cost of vinyl gates.
Chain link gates require terminal posts to hang from. These are larger diameter post than the intermediate line posts.
Adding terminal posts also means adding more fittings as well as stopping and starting the line of fence. Therefore, creating extra labor. This adds to the cost of a chain link fence gate.
My Gate Number Recommendation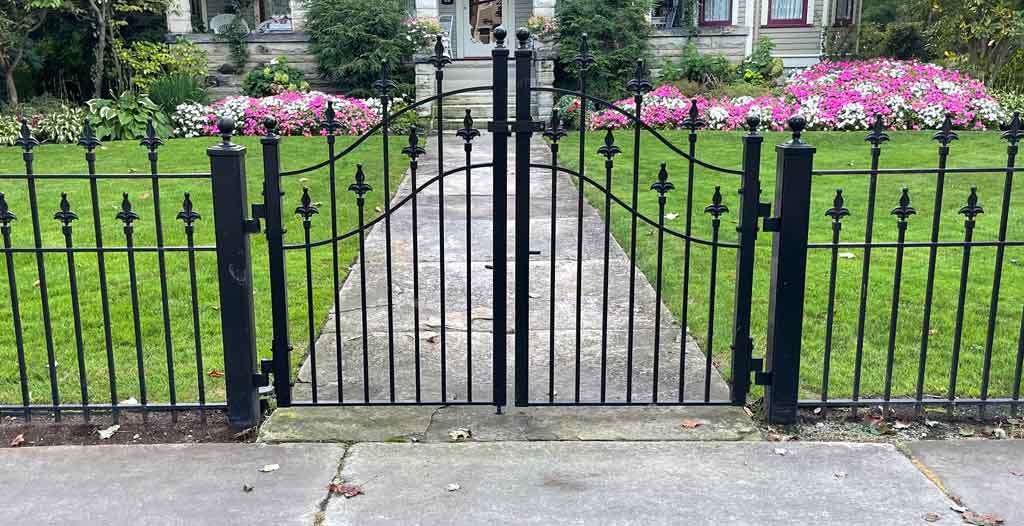 So here's my rule of thumb for spending wisely. If the area that is fenced (probably your backyard) is completely contained, you will obviously need at least one gate to enter and exit.
So one gate is mandatory.
If that area is wide enough to accommodate a double gate, turn the single gate into a double fence gates. One side will remain stationary with the use of a drop rod.
As a result, only one side is used until the larger opening is required. At that point you pull the drop rod and both open.
That's it. That's all of the fence gates you will ever need.
Now, if you want the convenience factor of not having to walk over to one side of the house if you're on the other, then add a second single gate.
Or if your budget allows, add another gate. But, one double gate will provide you with a way in and out of the fence while providing ample enough space to get whatever it is you want inside or outside when the time comes.