Scheduling a fence quote is the first step in purchasing a fence. That is, after you decided you actually need a fence and the type of fence you want.
Today people are busier than ever. Scheduling a fence quote that fits into your busy schedule could be a daunting task.
However, it is a must in order to get an accurate estimate for your fencing project. Furthermore, I'm here to tell you that you shouldn't stop at one.
Over my 26 year career in the fence industry, I've personally ran over 10,000 appointments. I can tell you with great certainty that you should schedule a minimum of three.
Scheduling more is fine if you have the time. However, my minimum recommended amount is three. I'll explain why below.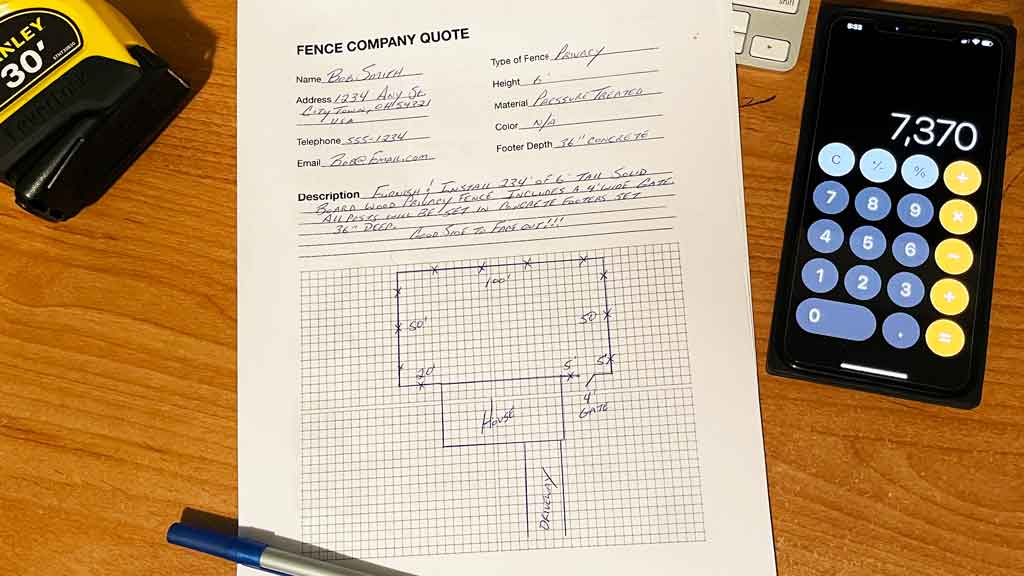 Why an Onsite Fence Quote is Important
Some fence companies provide ballpark quotes over the phone. I have as well. However, I don't like to. Here's why.
Even when the total footage and the number of gates is provided, there are certain elements I cannot see that could effect the quote.
Most fence is sold by the linear foot. So when a customer provides the total footage combined with the amount of gates, technically I could provide a quote. But here's what I can't see.
I can't see the layout of the yard. Is it flat? Or does it have grade changes? Are mature trees present that may indicate harder digging because of roots? What about underground utilities and unmarked buried lines?
What about rocky ground? Does every house on the street have rock lined flowerbeds? If so, there is a good chance those rocks came from the basement when excavated. Therefore, making post installation difficult.
Is existing fence installed requiring removal? If so, what type of fence? How difficult will it be to remove?
Is the new fence in wide open grass or through flower beds? All of these factors effect pricing in addition to the normal per foot price. As a result, I want to lay eyes on them myself before providing my fence quote.
The Problem with a Single Fence Quote
You probably already guessed the problem with getting only one fence quote. You have nothing to compare it to.
There is no way to know if your fence contractor is providing you with a good price or not. Not only that, you limit yourself to only one choice when it comes to fence options.
Such as styles and types of fence, material manufacturers and scheduling lead times.
The only way I would consider stopping at one quote is if the dollar amount totally blindsides you. If you grossly underestimate the cost of the fence and know it is no longer in the budget.
At this point, it makes no sense in scheduling anymore.
Why a Second Fence Quote is Better……But Not Great
Getting a second fence quote is definitely better than one. But there are still problems with only getting two quotes for your fence.
Chances are, when a fence quote is provided from two companies, one is higher than the other. The problem is you don't know which quote provides the most value.
Is the lower priced quote a really good value? Or should there be concern that the materials aren't the same quality as the higher quote?
Is the contractor proving the higher fence quote trying to take advantage of you? Or are they using better materials and not cutting any corners with the installation?
Unless your gut is absolutely guiding you in one direction over the other, my answer is to get a third fence quote. Doing so will let you know who the outlier is.
Why a Third Fence Quote Makes Sense
When a third fence quote is added to the mix, normally, the price provided is close to one of the other two. This results what I refer to as the outlier.
If prices of two quotes are low and the other is high, you should ask yourself why the outlier is so much higher? Even better, call the contractor and ask.
If two quotes are high and one is substantially lower, the question should be asked. Why? Is this contractor using subpar materials? Or cutting corners somewhere?
The goal of adding the third fence quote is to expose the outlier. When you do, ask questions. Doing so will help you make an informed decision when choosing you fence contractor.
If you still don't feel confident with any of the fence contractors that provided quotes, get more until you do.
Choose the Quote that Provides the Most Value
When you feel confident with the number of quotes you've collected, it's time to choose one. I highly recommend choosing the one you feel provides the best value.
Notice I did not say the least expensive. However, sometimes the least expensive does provide the most value for your particular project.
Your particular fence project and its requirements are unique to you! Therefore, you may find value in choosing one fence contractor over another.
Start and finish times are very important to some customers. To others……..not so much. You may be willing to go with a slightly more expensive fence quote in order to expedite the timing of the installation.
The bottom line price might be number one on your list. Especially if you a flipping a home and just need to provide a fenced yard.
However, if you are fencing the yard of your forever home, the fence quote offering the highest quality materials may provide the most value for you. Therefore, it probably won't be the least expensive fence quote of the bunch.
Conclusion
Hopefully I made my point why I believe it is important to have a minimum of three quotes. Furthermore, why looking at the value of each fence quote is equally as important as the total dollar amount.
Sometimes, the clear winner will be obvious. When two are close in price and value, sometimes the decision is a coin flip.
Take notes for each fence quote provided. Was the sales representative on time? Where they friendly and courteous? Did they answer all of your questions and have good knowledge of the product and installation process?
Sometimes when all things are equal, you have to go with your gut. At the end of the day, you must feel comfortable with your decision.
To learn more about the entire fence buying process, view our blog post on Fence Installation from quote to completion.