Installing a horizontal fence can provide you with privacy while at the same time creating a modern looking statement piece or landscape feature for your yard.
The hard clean lines and contemporary look make them appealing for both residential and commercial properties. Area's fenced with horizontal fence designs give the perception of more space than there actually is.
As a result, making them a popular choice for todays consumers looking to gain some privacy. Especially in tight, confined backyards.
Horizontal Fence Designs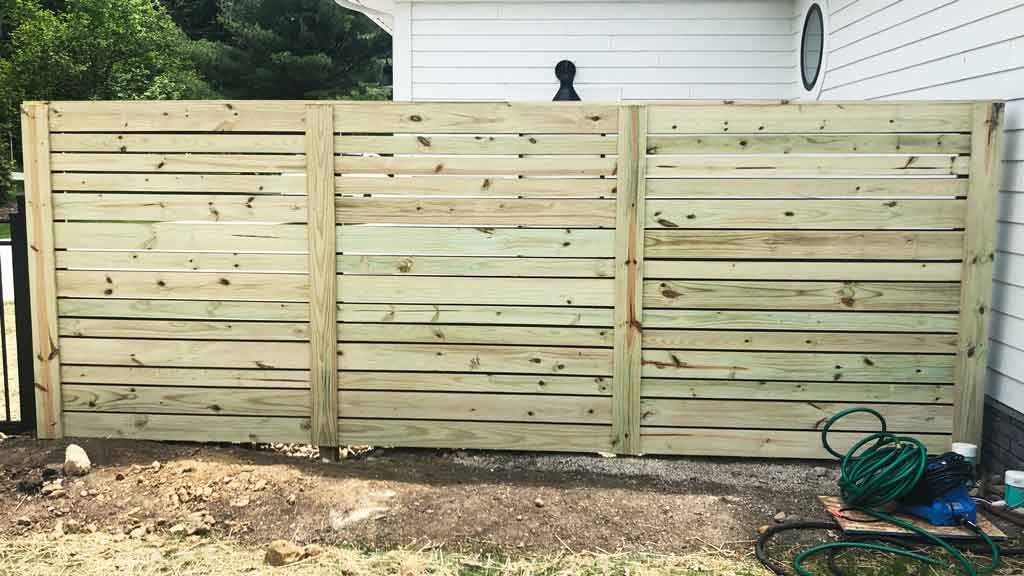 Wether you are looking for a small accent wall, screen for your patio or deck, or total privacy for your entire yard, there is a horizontal fence design for you.
Because of how these fences are constructed, they can be customized to the look and design of your choosing. Built from wood, vinyl, aluminum, steel and even composite materials.
There are even horizontal fence panels and framework that allow you to combine two different materials. The type of material you choose, combined with the size and pattern of the horizontal slats provides countless variations.
Horizontal Fence Posts
No matter the material, you will need to have posts. Posts for horizontal fence are installed at closer distances. This is because there is less framework associated with horizontal fence as compared to other styles of fence.
It's common to set posts on 6′ centers or less. As a result, providing more stability. Set posts in concrete to prevent leaning.
Check with your local building departments in regards to the recommended post hole depth for your area.
Horizontal Fence Slats
The slats used to fill between the posts have many options and will depend or your design. They may be wood of one species or another, vinyl, aluminum or composite.
The width of each slat and amount of space between them is your decision. Some customers want to see light and air between the slats. In this case a space of 1/8″ to 1″ is common.
Random patterns using wide and narrow slats and alternating spacing is popular.
Others want total privacy. In this case, using a tongue and groove slat or overlapping them slightly will provide no gaps at all.
Horizontal Fence Installation and Layout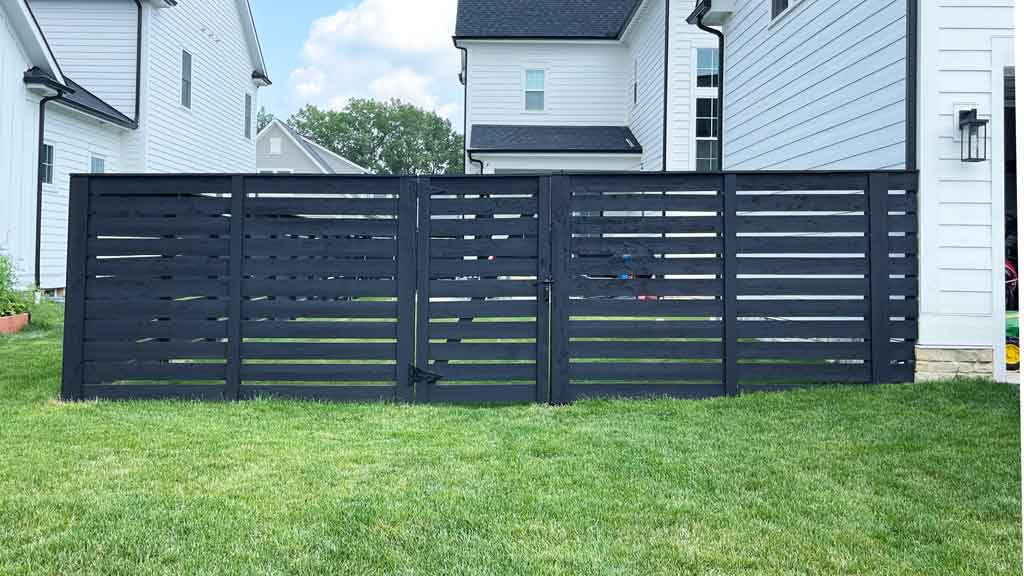 There are some things to consider before building a horizontal fence. First, and most importantly is to always make sure the horizontal boards or slats are running level. Don't try to run them with grade.
Next, pay attention to the grade where the fence will be installed. If it isn't level, can it be graded level? If not, the fence will have to step at the grade changes.
However, this actually looks great with horizontal fence. The steps will keep the slats running level and will also breakup long lines of fence.
The last thing to check is what side the horizontal slats should be installed on. We all want to look at the pretty side of the fence, right? Especially if we're the ones paying for it.
However, cities have codes and restrictions about facing what is considered the good side of the fence outward. Make sure to check before construction starts.
Horizontal Wood Fence
Wood is the most popular material chosen for fence. The variety of lumbers, ease of use, and price make it an appealing choice. However, not all lumber is the same.
Pressure treated lumber, cedar and redwood are all common. Exotic lumber like Ipe is also very popular, but very expensive. All have advantages and disadvantages.
Let's take look at each and discuss why you may want to choose one type over another.
Pressure Treated Lumber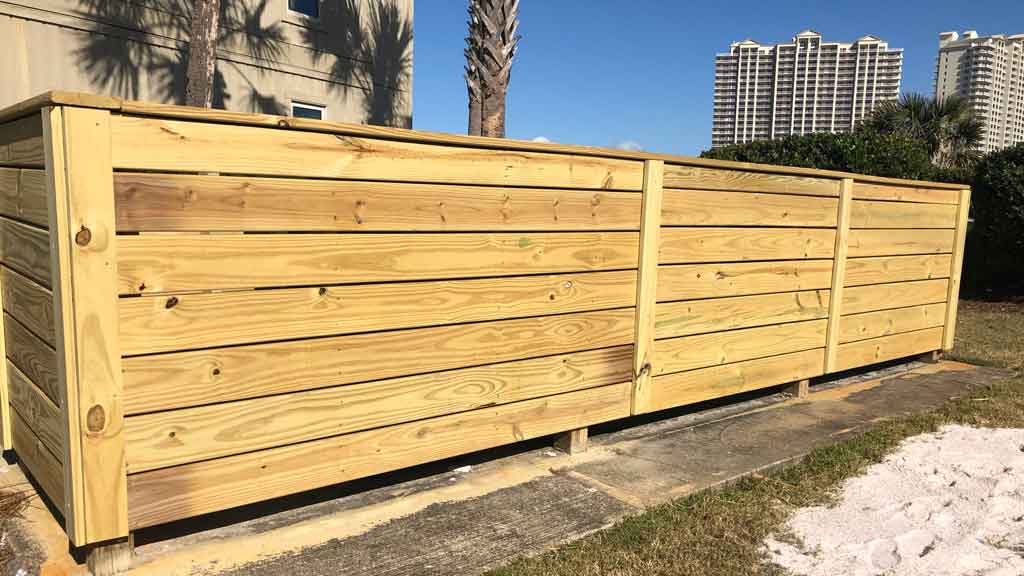 Pressure treated lumber is popular because it is affordable and you can find it readily available at any big home center store. Most treated lumber is yellow pine.
It then has a chemical pressurized into it to help protect against the elements and extend the life. However, to does have a couple drawbacks.
The first is because the lumber is "wet" when the fence is built. Wet lumber can have a tendency to warp or twist when it goes through the drying process. Normally this is minimal. But if you have a horizontal fence design with very small spaces between the slats, it may be very noticeable.
Second, again because the lumber is considered wet, you will have to wait to paint or stain it.
Cedar and Redwood Lumber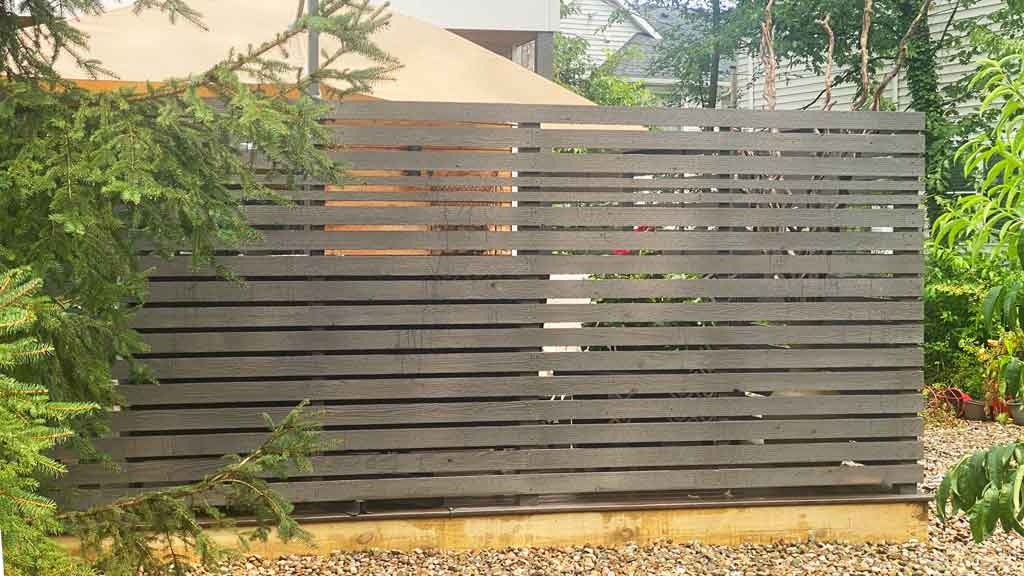 Cedar and Redwood lumbers have natural oils that help protect against the elements. They also tend to stay true when cut. This makes both types of lumber excellent choices for building horizontal wood fence.
Another advantage is because the lumber does not have a chemical pressurized into it, you can paint or stain it right away. There is no waiting period required. However, because they have a more open and porous grain, they tend to hold moisture.
In ares where the fence is in the shade, or in very damp climates, they can rot or decay faster than other lumber types.
Exotic Lumber
There are all sorts of exotic lumbers that are popular today. Ipe is one of the most popular. It is a very dense and very strong type of lumber that is excellent for building with.
It holds up against the elements extremely well and has long wood gain patterns that look great on fences. However, it is also very expensive when compared to other types of lumber.
And if you should ever need a piece for repairing a bad board, it is not readily available. It will last a lifetime though.
So if you plan on you next fence being the last one you ever build or purchase, then Ipe might be worth the extra investment.
Horizontal Vinyl Fence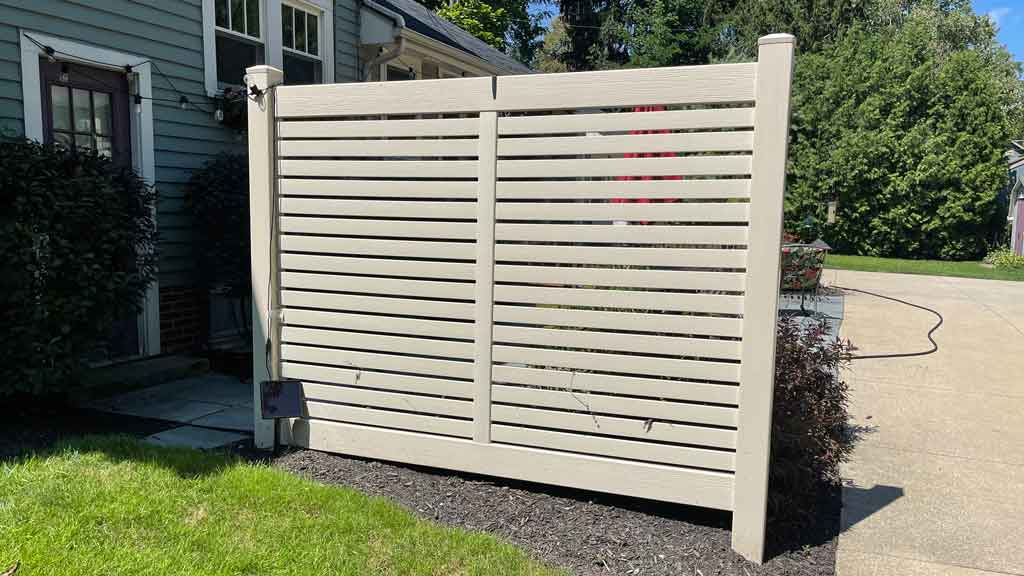 Vinyl fence manufacturers are always coming up with modern innovative designs. Horizontal fence is one of them. Building fence from vinyl offers very little or no maintenance at all, and normally a lifetime warranty.
Never needing to paint or stain a fence or worry about rot or decay is what draws people to vinyl. Vinyl horizontal fence is no different. Manufactures offer a variety of heights and colors.
Some vinyl fence manufactures even have designs with a wood grain texture. The texture makes the fence look more like real wood and takes away from the plastic look some vinyl fences have.
Another advantage of vinyl over wood is that the sections fit in-between the posts. This means that the fence looks the same on both sides.
However, vinyl is more expensive than wood. And when you add colors other than white, combined with wood grains and textures, it can get very expensive.
Horizontal Fence With Metal Framework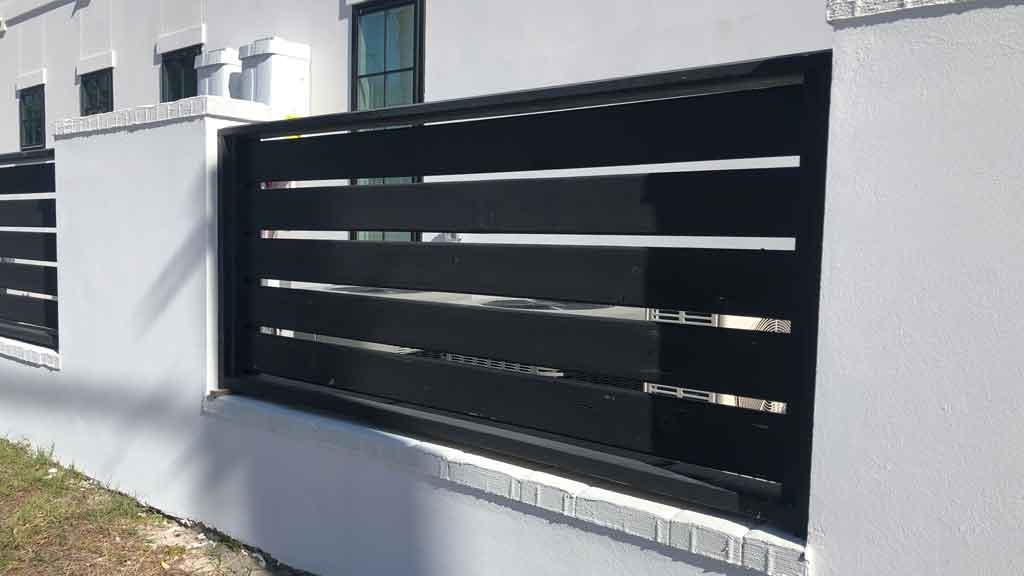 Some manufactures are offering horizontal fence with metal framework with the ability to add the slats in the material of your choice. The framework consist of a post and the horizontal top and bottom rails.
Made from steel or aluminum depending on the manufacturer and have powder coated finishes. They allow you to choose the material of your liking for the horizontal slats to fill between the posts.
Wood, vinyl, metal and composite are all options. The two tone look between the framework and fill provides for an elegant look.
Just like vinyl, this type of horizontal fence design looks the same on both sides.
Conclusion
As you can see, these types of fences are very customizable. Have fun when choosing the design and materials for your horizontal fence.
A fence is something you will have to look at everyday of your life. So choose the one you want and feel confident with your choice!
For those of you looking for a solid privacy fence with no maintenance, read our article on Vinyl Privacy Fence.