A pool fence removal involves removing fence surrounding a swimming pool for a specific reason. However, in most cities, townships and municipalities it is mandatory for in ground pools to have a fence.
Therefore, it is rare that one would have a pool fence removal. Although, it is not unheard of. Fence style, material and how it was installed are factors when removing a fence.
These variables will determine not only the difficulty level of the pool fence removal, but also what it will cost. This is of course assuming you are not removing the fence on your own.
In this article, we'll take a look at some reasons why you would want to remove your pool fence. We'll also look at the cost of a pool fence removal and what factors will effect that cost.
Last, we'll touch on whether or not it is illegal to go without a fence around a pool.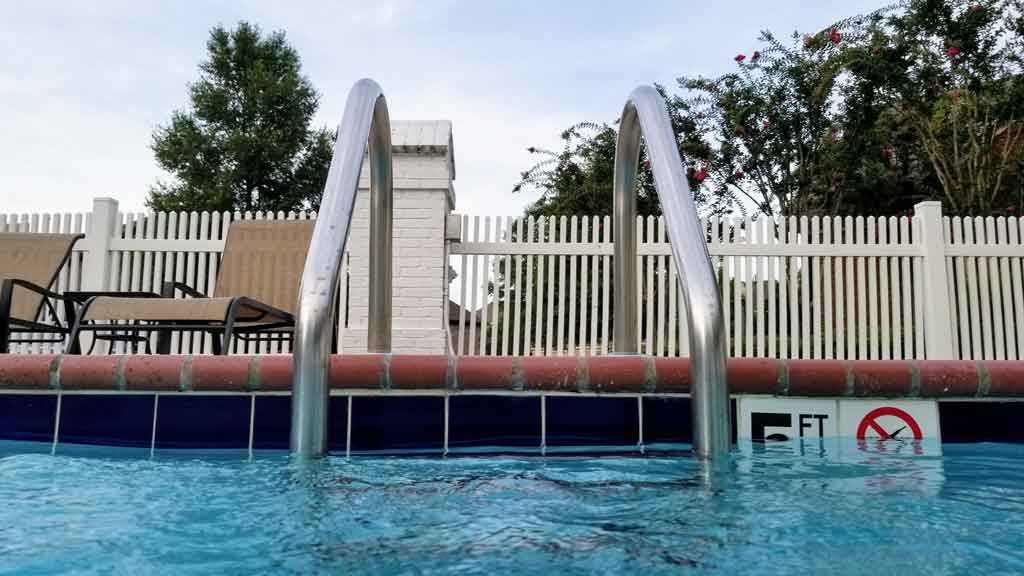 Reasons for Pool Fence Removal
So why would you want or need to remove a pool fence? After 26 years in the fencing business, I have really only seen a few reasons.
The first is to replace the existing fence. The second is because the homeowner wants to change the layout of the existing fence.
Last, is because the homeowner has deiced to permanently close down the pool. As a result, filling the hole with dirt. Therefore, no longer requiring a fence.
You may have your own reasons for a pool fence removal. However, these are the most common reasons I've seen through my years of experience. Let's review the details of each one a little deeper.
Pool Fence Replacement or Repair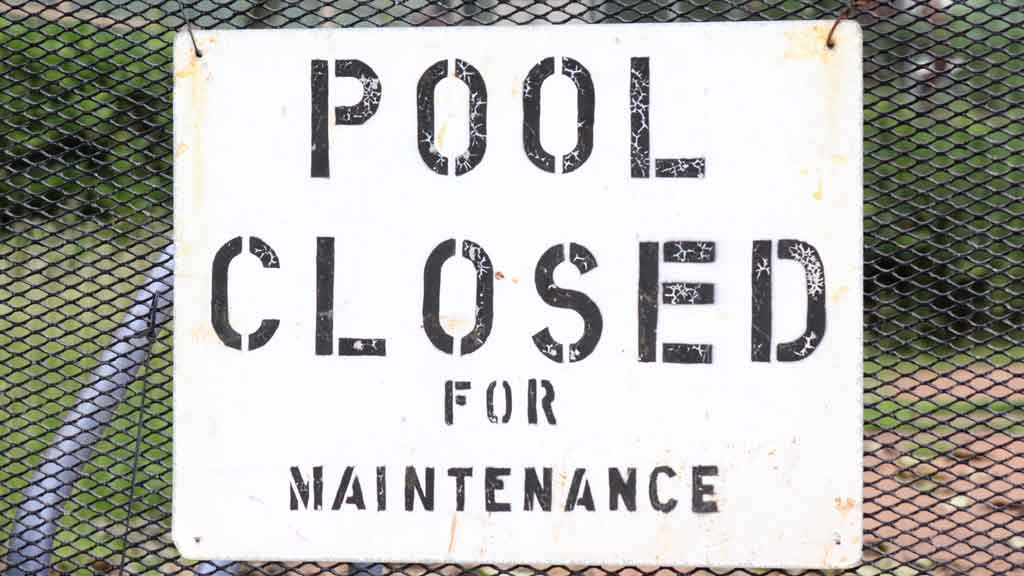 One of the most common reasons for pool fence removal is for replacement. Maybe your existing fence is 25 years old and is falling apart. With the right maintenance, pools last a long time.
Many times lasting longer than the life expectancy of a fence. Especially older fences not constructed from modern materials. Like vinyl pool fence. Wood and steel fences installed 25 years ago will certainly need replaced by now.
Or maybe you purchased a home with an existing chain link pool fence and don't care for the style. Just because you purchased a house with an existing pool and fence, doesn't mean it's the fence you would have chosen.
Therefore, new homeowners contract a pool fence removal. As a result, allowing the installation of the new fence of choice to go in. Like an aluminum pool fence.
Sometimes a major repair to the pool is require. As a result, a section, or all of the fence needs removed. In this case, the existing fence, or part of it, is taken down. Repair work is completed. Then the fence is re-installed, rebuilt or replaced.
New Layout
I've ran countless sales calls for fence estimates where homeowners want to change the layout of existing pool fence. This is most common with new homeowners and existing pool fences.
There are two scenarios I see. The first is when the entire yard is fenced. However, the new homeowner wants to remove the fence and just fence around the pool.
This not only opens up the rest of the yard, it also cost much less. Fencing around the perimeter of the pool requires far less material than an entire yard. This option also allows for the customer to choose a higher end fence style.
The smaller amount of linear footage allows for a more expensive fence options such as vinyl fence or aluminum fence.
The second scenario is the opposite. This is when an existing fence installed around the perimeter of the pool feels too confining to the homeowner. Or, the homeowner wants to walk out the back door and already be in the fenced section of the yard.
This option is popular for customers who have pets they would like to also contain. Furthermore, you may want privacy from your neighbors while using your pool.
Privacy fences feel confining when surrounding the perimeter of a pool. Therefore, homeowners often install privacy fences around pools on their property lines. This results in the desired privacy. However, eliminates the confined feeling.
These two scenarios are common reasons for existing pool fence removal.
Removing the Pool Altogether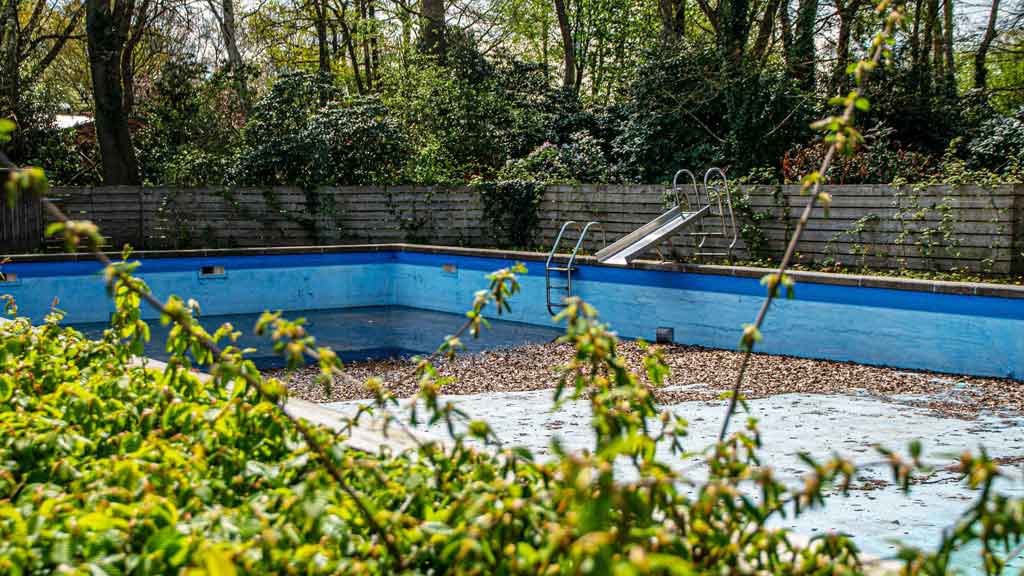 The last reason for a pool fence removal is because you are also removing the pool. Sometimes, the pool has lived its life. To fix it is too costly or simply not of value anymore to the homeowner.
As a result, the homeowner shut it down. Many times removing the pool altogether. Filling the hole with dirt. And gaining valuable yard space back.
Other times, homeowners buy a house with an existing pool and don't want one. Usually because the house has set vacant for years and the pool will require more investment than they are willing to dish out in order to get it functional again.
Whatever the reason, people do sometimes fill in swimming pools. When this happens, they surely do not need fence any longer. Once again, a reason for a pool fence removal.
Pool Fence Removal Cost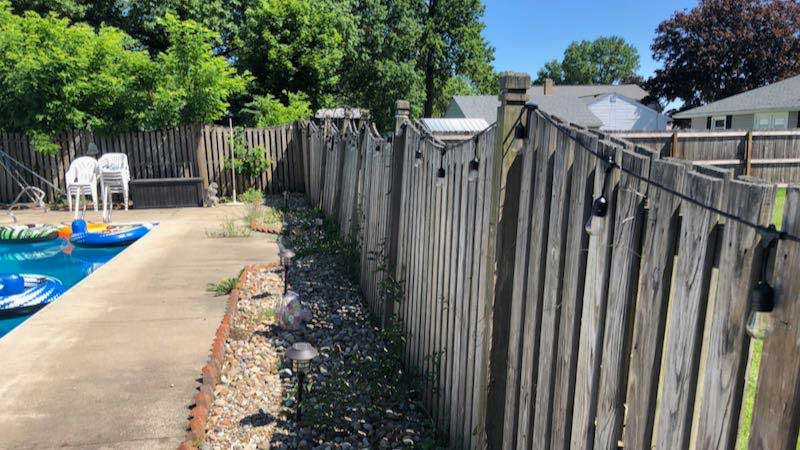 So how much does it cost to have a pool fence removed? The answer depends on the style of fence, how much total footage of fence there is and how the posts are installed.
As a professional fence company, we do tear out and haul away of fences everyday. I can send a 3 man crew with the right tools and remove several hundred feet of fence in a matter of hours. So, one part of the cost is the labor to remove the fence.
The second part of the cost is the disposal fee. Once we remove a fence, I have to bring it back to my yard. I have large dumpsters where we dispose of the fence. Those dumpsters cost money to dispose of. Therefore, I also charge my customers a disposal fee.
For most types of fences, our standard removal fee is between $2.00 and $3.00 per linear foot. This price is only offered when also installing a new fence for the customer.
The disposal fee is usually $200 to $300 per truck load. Again, also for customers installing new fence.
For customers just wanting a pool fence removal without purchasing new fence as well. Those charges could double.
Is It Illegal to Not Have a Fence Around Your Pool?
This is a question I get a lot. Unfortunately there is no one answer that covers it all. Here is what I have learned over my 26 year fencing career. Please note, this is not legal advice. I am not telling you what is or isn't allowed for your particular application.
Also, I strongly encourage you to check with your city, township, municipality and county before making any decisions into whether or not you decide to not have a fence around your pool.
Ok. Here's what I know. Almost every city, township and municipal require a fence of at least 48″ tall around an in the ground swimming pool. That said, I do know some that do not require fences.
However, I have learned on more than one occasion, even if you are not required to have a fence based on the location where you reside, your homeowners insurance will almost make it mandatory you have one.
I have had customers complain to me that the city didn't require them to have a pool fence. However, their insurance companies threatened to drop them if they didn't. So double check with your home owners insurance company before contracting a pool fence removal around an in ground swimming pool.