The shadow box fence design is a very popular fence style for backyard privacy fences. Sometimes, referred to as board on board fence or good neighbor fence.
This is because the fence looks the same, or very close to the same on both sides. As a result, neither side will have to view what is considered the bad side of the fence.
What is Shadow Box Fence?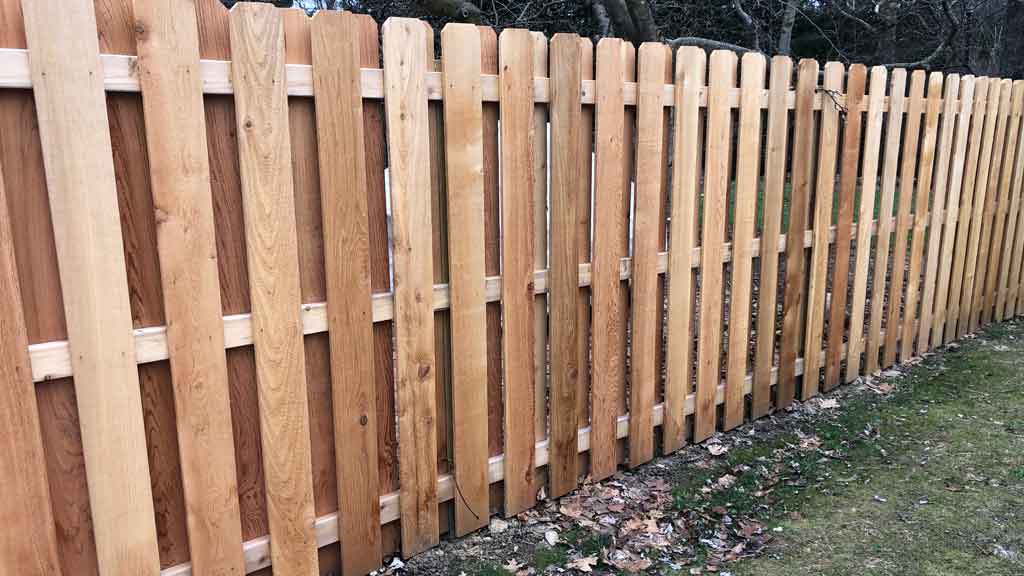 Shadow box fence is a style of fencing that has vertical pickets fastened to one side of the stringers, with a space between them. On the other side of the stringers, more pickets fill the gaps.
This creates a vertical louvered effect. When looking at the fence from a perpendicular angle, the fence looks completely solid. Some light and air will be visible when viewing from an angle.
Because the fencing looks the same from both sides of the yard, makes it a popular choice for homeowners wanting to gain privacy in their backyard.
Materials Used to Build Shadow Box Fence
There are two primary materials used to build shadowbox privacy fencing. The first is wood. The second is vinyl. Both are great materials for fence. However, some manufacturers even offer aluminum options.
Your budget, your backyard and your personal taste will influence what material you choose to build your fence from.
Wood Shadow Box Fence
Using wood to build your fence will save you money initially. Lumber is less expensive than vinyl. It is readily available and any home improvement store will carry it.
However, overtime wood fences can cost more due to maintenance and upkeep. Wood also has a natural look. Blending better in backyards with mature trees and landscaping.
It also looks better in older communities that have more traditional architecture using wood, brick or stone for building materials. The clean lines and lighter color of vinyl shadow box fence can look out of place in these areas.
Wood fencing is also easily customizable if desired. Allowing for changes in grade or height if necessary in holy or sloped yards. Pressure treated pine, cedar and redwood are popular types of lumber used for shadow box fence.
Vinyl Shadow Box Fence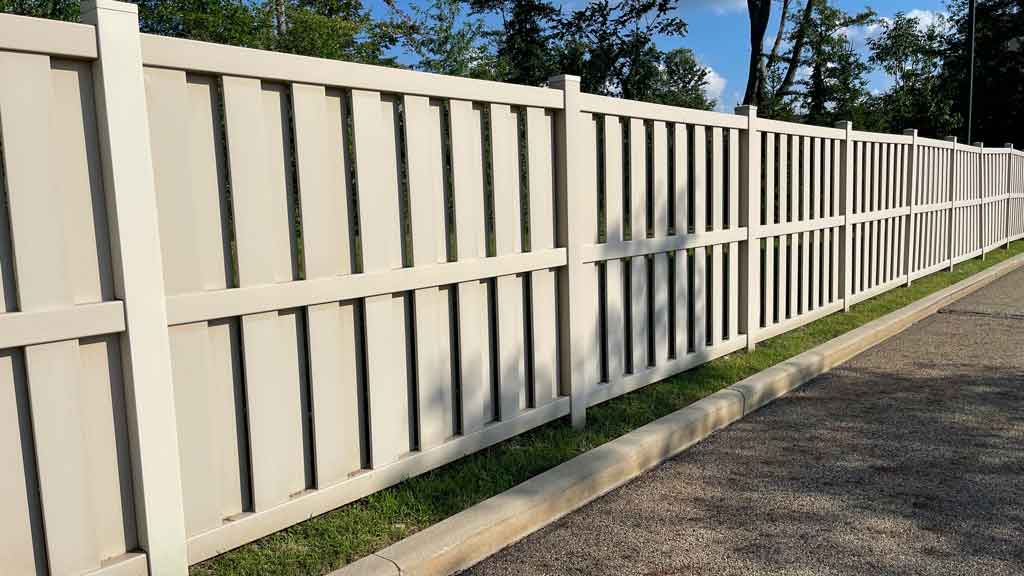 Vinyl fence is very popular for those who want a maintenance free fence. You'll never need to set foot on your neighbors property to do maintenance.
Although the initial investment will cost more than a wood fence, vinyl shadow box fence will last much longer than wood.
It also looks better in newer developments with contemporary style homes. Vinyl shadow box fencing is great for providing privacy around patios and swimming pools.
However, shadow box panels don't follow grade changes well. So the layout of your fence needs in your yard needs to be pretty flat.
Aluminum Shadow box Privacy Fence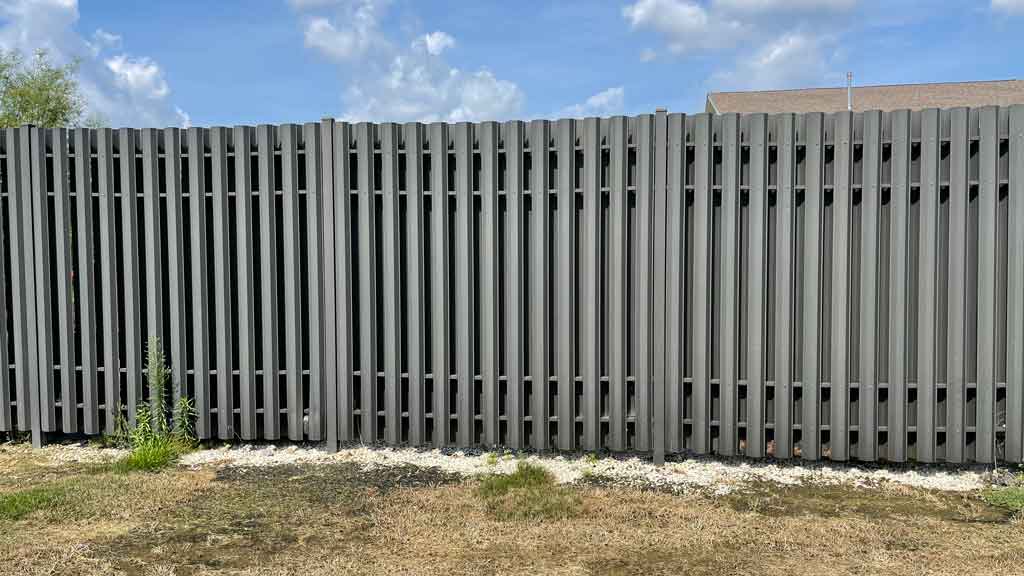 A newer trend in privacy fencing material is aluminum. Aluminum is lightweight, strong and maintenance free. Even better, it comes in a variety of powder coated colors.
The fence panels for aluminum shadow box fence come preassembled. They are easy to install, simply hanging between the posts. However, some homeowners feel they have a commercial look.
Better suited for commercial and industrial applications. The panels are stronger than vinyl fence panels and come in more color options.
Should I Stick Build My Fence or Use Fence Panels?
Stick building a fence is when you nail up on board at a time. Pre-made panels are ready to attach to posts because they are already assembled. Either option is available with wood fencing.
If you are choosing to purchase a vinyl fence, then you will have to buy it in panels or sections. However, depending on the manufacture, they will be fully assembled or require assembly and come in a kit.
Installing Shadow Box Fence Panels
Using pre-built fence panels or sections to build your fence is the popular choice for homeowners. After the posts are set in the yard, they are easy to install and take little time. However, they do have some drawbacks.
Wood Panels
Wood panels can be very heavy. In order to make them lighter, manufacturers use thinner dimensions for the lumber.
Another way to make the panel or section lighter is to space the pickets farther apart. This results in a section or panel that is not as strong and does not provide as much privacy as a stick built fence.
Furthermore, it is hard to follow uneven grade using a pre-made panel. Usually resulting in the fencing having a stepping effect.
Vinyl Panels
Shadow box vinyl fence panels are lightweight and easy to assemble. Sold in a kit with the components or a fully assembled section.
Setting your posts to the manufactures recommended spacing is key. Sections attach in holes that are routed into the posts or by using a fence bracket screwed to the post.
A post cap will complete the fence. However, just like the wood panels, you will not have a choice on how wide each picket is or the spacing between them.
Do your research between vinyl fence manufacture and choose the best one for your application.
Stick Building a Shadow Box Fence with Lumber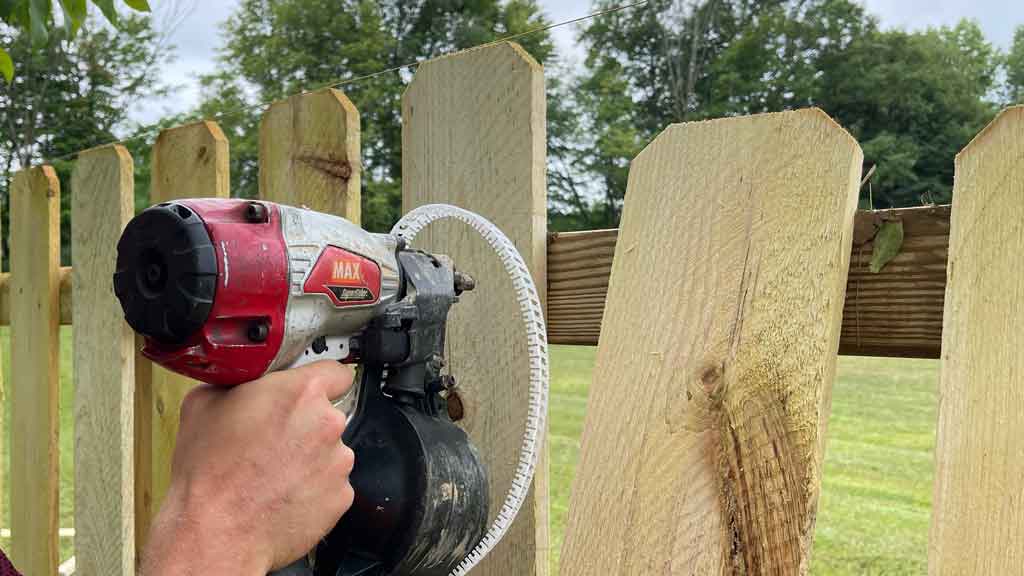 Choosing to stick build your fence has advantages over using a fence panel. Mainly because you have to ability to set the spacing of the pickets.
Pickets should always overlap when looking straight on. How much they do is up to you. The more they overlap, the less you will be able to see through the fence on an angle.
Our standard spacing for wood shadow box or board on board fencing is as follows.
Using a ruff sawn picket that measures a true 6″ wide, we space them 3.5″ apart on one side of the stringers. On the other side another 6″ wide picket fills the space.
As a result, providing 1.25″ over overlap. We think this is the correct ratio. However, the advantage to stick building a shadow box fence is you can control how much or little overlap you want.
Stick building a fence also allows you to follow uneven terrain better. Pickets can flow with the changes in grade while remaining plumb.
Final Conclusion
Shadow box fence is the choice when choosing a privacy fence for your yard. A great looking style that homeowners and their neighbors love.
So much so that if you have a homeowners association, they may require it over solid board privacy fences.
With wood, vinyl and aluminum options, combined with the ability to stick build it or purchase fence sections, shadow box fencing is a great addition to any backyard!
Looking for a solid privacy fence? View our blog post on Vinyl Privacy Fence