Split rail fence is a popular choice by many homeowners. Its classic, rustic look is unobtrusive and blends in well in many settings. However, split rail dog fence requires the addition of a wire mesh in order to contain our furry friends.
Without adding wire mesh, your dog will simply walk under or through the horizontal rails of the fence. So consider adding it as a mandatory step.
There are three categories of wire mesh one can choose for a split rail fences used for dogs. Furthermore, all three have options in regards to height, the size of the holes in the mesh and color options.
Split rail dog fence comes in 2 rail and 3 rail options. 2 rail options measure in at 36″ tall and is perfect for smaller dog breeds. The 3 rail version is 48″ tall and accommodates most dog breeds.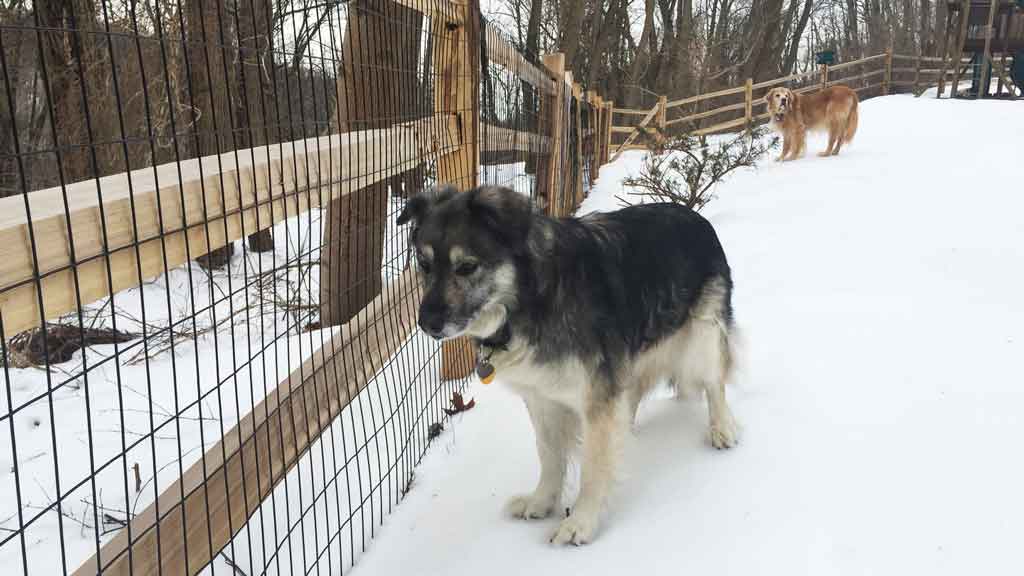 Split Rail Dog Fence Pros and Cons
Every pet owner wants the best dog fence. Split rail dog fence is both functional and affordable. As a result, making it a popular choice of pet owners in need of a fence.
As mentioned before, without adding wire mesh to the wood framework, it does no good for pet containment.
In the right setting, a split rail dog fence looks great. A subtle design. One that blends nicely and is generally accepted by neighboring homeowners.
In the wrong neighborhood or setting, they look out of place and stand out sorely. However, unless governed by bylaws from a homeowners association that requires something like aluminum dog fence or vinyl dog fence, the style of fence you purchase is a personal choice.
One benefit many homeowners like about split rail dog fence is that it requires no maintenance. It is suppose to look rustic. So leave it to weather naturally. There is no need to paint or stain it.
One downfall to split rail is the matching gates. They are heavy and always end up sagging and dragging the ground. Click here to view alternative options for split rail gates.
Lastly, if your dog gets excited easily by outside influences or barks at everything in its sight, then a split rail dog fence probably isn't the best option.
Because of the open design, it provides easy viewing of everything on the outside of the fence. Other than planting shrubbery, there are no good ways to add privacy.
Split Rail Dog Fence Pros
Affordable – One of the most affordable options for dog fence.
Unobtrusive – Rustic look and design. As a result, blends well in wooded lots or rural settings.
Maintenance Free – Fence weathers naturally overtime. No need for maintenance.
Easy to Install – Many homeowners can install with little fencing experience.
Split Rail Dog Fence Cons
Wire Backing – Requires some sort of wire mesh to contain dogs.
Open Design – Easy to see through. Therefore, does not provide any privacy.
HOA Approval – May not meet HOA approved styles for fence.
Gates – The matching gates always sag. Alternative gate options are better suited for pets.
How to Dog Proof Split Rail Fence
In order to dog proof a split rail fence, wire mesh must be added. I recommend installing the wire on the inside of the posts and rails. Here's why.
When installed on the outside of the fence, some dogs learn to climb the rails like a ladder. Rendering your fence useless. So while you may not want to see the wire mesh from the inside of your split rail dog fence, it is safer.
Mesh options range from almost transparent thin gauged welded wire fence to heavier woven wire fence designed to contain farm animals. Vinyl coated chain link fabric is the third option.
The wire mesh fastens to the posts and rails using a fence staple. Sometimes referred to as horseshoe nail. Adding a bottom tension wire helps prevent dogs from pushing under the wire mesh. As a result, making the fence more secure.
Below I'll go over each type of wire mesh used for split rail dog fence in more detail.
Welded Wire Mesh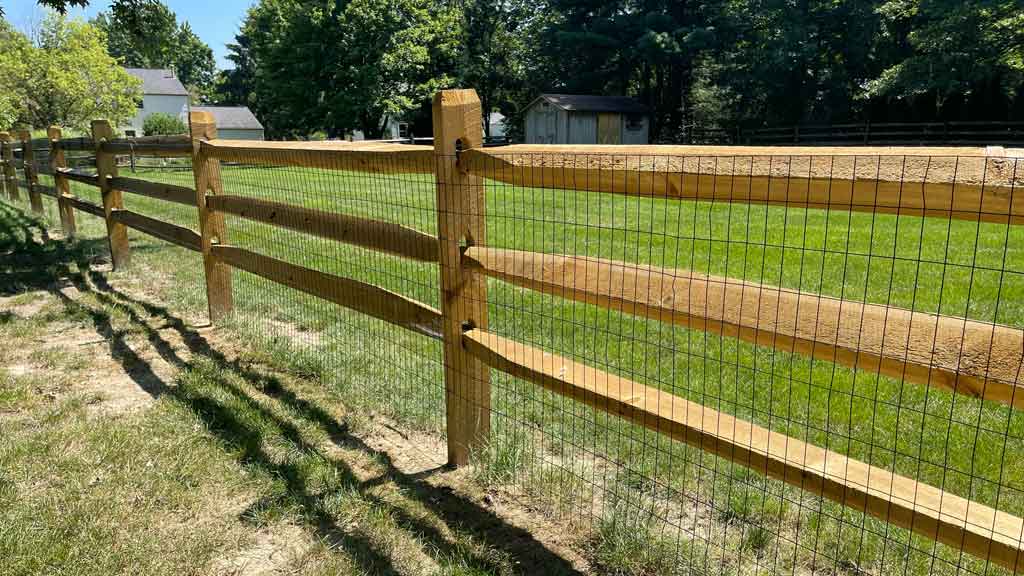 Welded wire mesh is one of the most popular options. It is very thin. As a result, almost transparent. It also comes in other colors besides galvanized. Black and green are common color options.
The mesh has rectangular holes. 2″x3″ and 2″x4″ are the most common sizes. However, smaller sizes are available. One big problem with welded wire is that it does not follow uneven terrain well.
Because the strands of wires used to make the mesh are welded together forming ninety degree corners, the mesh does not rack or rake well.
As a result, it does not work well when installed on a slope or hill. It is better suited for flatter yards.
For most mild mannered dogs, welded wire works fine. But for larger dogs not so much. Large or aggressive dogs can destroy the wire. Easily bending or breaking it with continuous biting.
Therefore, creating potential holes to escape from. Even worse, broken strands of welded wire fence are sharp and could promote injury.
Woven Wire Mesh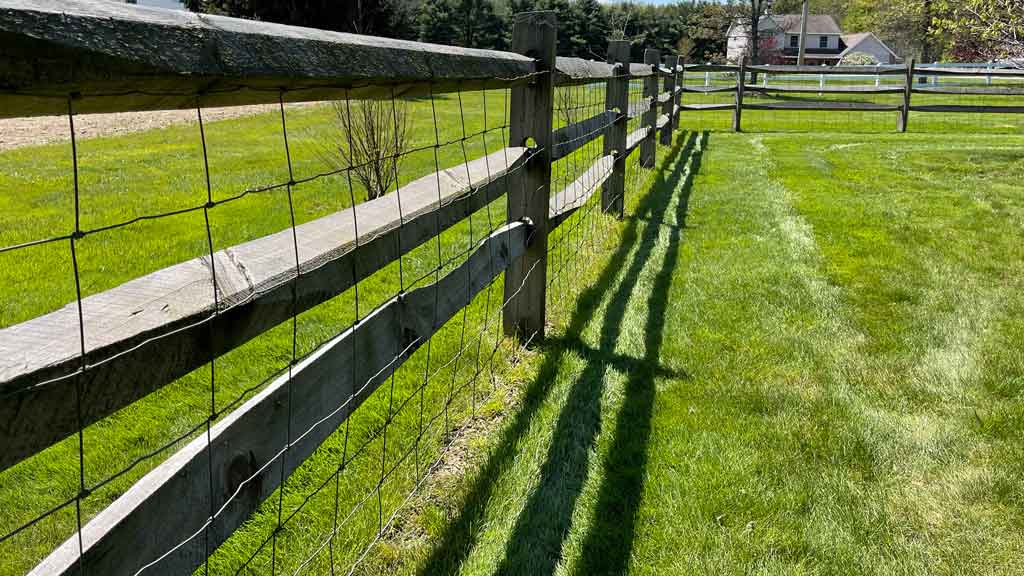 Woven wire is like a thicker version of welded wire. However, there is one major difference. Woven wire has a special knot to attach the horizontal and vertical strands of wire together.
Therefore allowing the wire to flex a little. Furthermore, it also allows it to accommodate changes in grade or slopes better.
Designed to keep larger farm animals contained, woven wire is available in a variety of mesh sizes. 2″x4″ and 4″x4″ are the most popular and work well for most dogs. No climb horses fence is also great for dogs.
Larger hole sizes are available too. Many are designed for cattle and will obviously be too large to contain a dog. However, there are many sizes in between that will safely keep your pet contained and cut down on cost.
Woven wire is normally galvanized and therefore silver in color. However, more and more manufacturers are offering woven wire fence in different colors like black and brown.
Chain Link Wire Mesh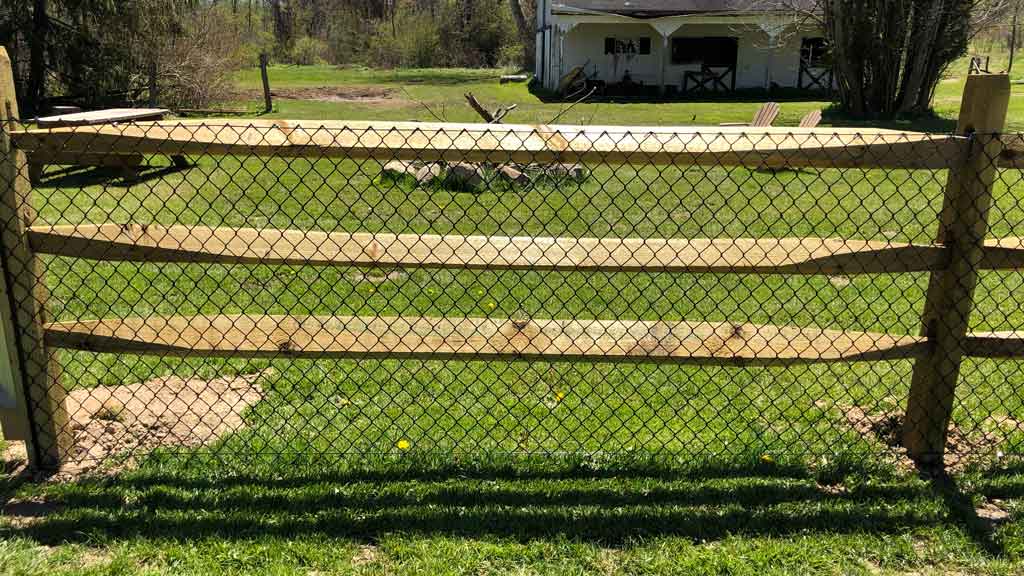 My personal favorite wire mesh for split rail dog fence is chain link fabric. Chain link fabric has a standard 2″ diamond that works well for dogs of all sizes.
Like woven wire, it can be stretched tightly and flows over uneven terrain well. The wire used to fabricate chain link mesh comes in different thicknesses known as gauges. Able to contain even the most aggressive of dogs.
Color options are available too. Green, Black and Brown are all standard colors. Each one blends nicely with the wood framework of split rail dog fence.
One advantage chain link mesh has over the other two types is the ability to splice in a new section if a repair is ever needed. Snags from lawn mowers and fallen trees often happen throughout the life of a fence.
Chain link mesh allows for weaving out the damaged section and replacing with new in a seamless fashion.
Conclusion
Split rail dog fence takes a traditionally agricultural fence, combines it with wire mesh and results in a widely installed residential choice for pet containment.
Unobtrusive to the landscape and neighboring homeowners, its simple design remains affordable and functional.
With height and wire mesh options, customizing one to meet your needs is easily accomplished. The additional benefit of being maintenance free allows both your and your dog to enjoy it for years.
To learn about the different types of split rail gates, view our blog post about Types of Split Rail Fence Gates.