Steel framed wood gates offer a stronger, more reliable solution for gates when compared to wood framed gates.
The gate is the part of your fence that will take the most abuse. Therefore, purchasing gates built to last is crucial. Sadly, this is where most fence contractors and homeowners cut corners.
Even the best constructed wood framed gates eventually have problems. Wood dries out and shrinks overtime. As a result, the tight cuts and tolerences once used to build your wood framed gate now have voids. Allowing the gate to sag.
The design of steel framed wood gates eliminates sagging. They are very strong and built to last. While they do cost more than traditional gates, the upgrade is worth the extra investment for your wood fence.
In this article, we'll break down the different types of steel framed wood gates. We'll review the difference between a professionally built gate and using a steel frame gate kit.
I'll discuss the advantages and disadvantages of steel framed wood gates. Lastly, we'll look at both wood and steel posts options for the gates to hang from.
What are Steel Framed Wood Gates?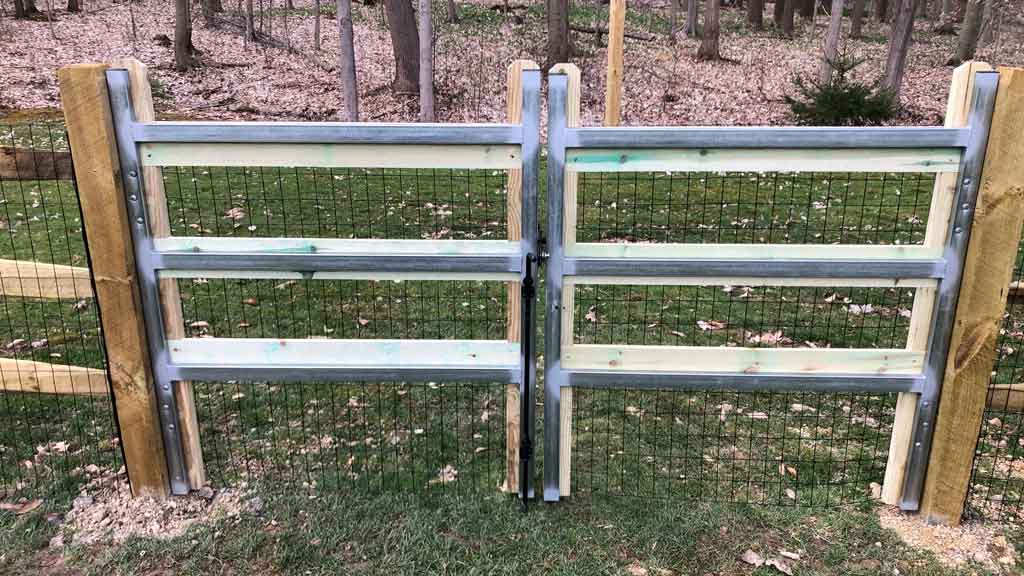 Instead of wood framework, steel framed wood gates use steel. Round, square or rectangular steel tubing replaces the wood framework. Sometimes they will have a combination, using two of the three types of tubing.
This provides a solid foundation for the rest of the lumber to fasten to. Galvanized gate frames are the most popular. However, some fence contractors have the frames painted or powder coated black in order to blend in better.
The thickness or gauge of the steel determines if the steel frame will require extra support. Adding a cross brace, truss rod or cable and turnbuckle adds strength to the gate.
Professionally Built Steel Frames
Professionally built steel frames have welded corners. The metal pieces are cut to the exact size of the gate opening. This also allows for custom width gates.
Many times, professionally built steel framed wood gates do not require wood framework. Allowing screws to fasten the pickets directly to the metal framework.
However, some gates also use horizontal wood rails attached to the steel horizontals. Therefore allowing the fastening of pickets with nails or screws.
Your fence contractor will have their preferred style and method of building steel framed wood gates.
Steel Frame Gate Kits
Commercially built steel framed gate kits are another option. Especially for those homeowners tackling fence installation on their own.
These kits are usually adjustable. Accommodating a particular range of widths. Most come powder coated, black in color from the manufacturer.
The biggest difference with most of the kits are that they still require your gate to have wood framework. The kit is more of a reinforcement than a frame.
Bolting or screwing to the existing wood framework. While not as strong as a professionally built welded frame gate, they do offer more support than wood frames.
However, they are limited as to their width. Better suited for smaller gates. Gate openings larger than 6′ wide will benefit from a welded frame.
Advantages of Steel Framed Wood Gates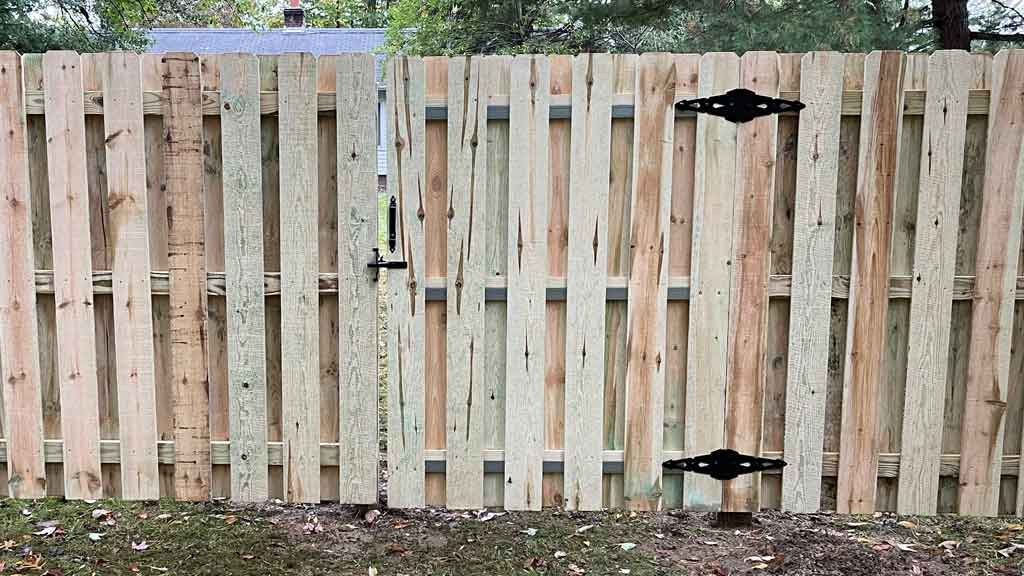 Steel framed wood gates have many advantages over wood framed gates. They are stronger than wood frames. As a result, lasting much longer without sagging or requiring adjustments.
Because they are steel, they also stay straight. There is no need to worry about warping or twisting of rails or framework. On wood gates, the wider the gate is, the more prone it is to twisting.
Wider gate widths are available. With the correct steel frame, single wood gates of 8 – 10 feet wide are not a problem. This allows for double gates of 16 – 20 feet for covering large openings.
There are more hinge options available. With wood frames, the hinge options are pretty much your standard strap hinge or T-hinge. The same hinges work with steel frames too. However, other hinge types such as barrel hinges and J-bolts are also options.
What are the disadvantages?
There are only a couple of disadvantages I can think of when it comes to steel framed wood gates. Cost is the obvious one. They cost more than traditional wood gates.
In my opinion, they are worth every cent. So much so that for our installation company, we don't offer any other choice. They prevent callbacks and maintenance issues. So it's the only way we'll sell a gate for a wood fence.
The second disadvantage is the look. Most steel gate frames are galvanized steel. Meaning the color of the framework is silver. Not really appealing on a wood fence.
Some customers hate it. Most are willing to live it because of the advantages they offer. Some fence companies will pre-build standard widths and have them powder coated before assembly. However, this does not allow for custom widths when required.
Hanging Steel Framed Wood Gates on Wood Posts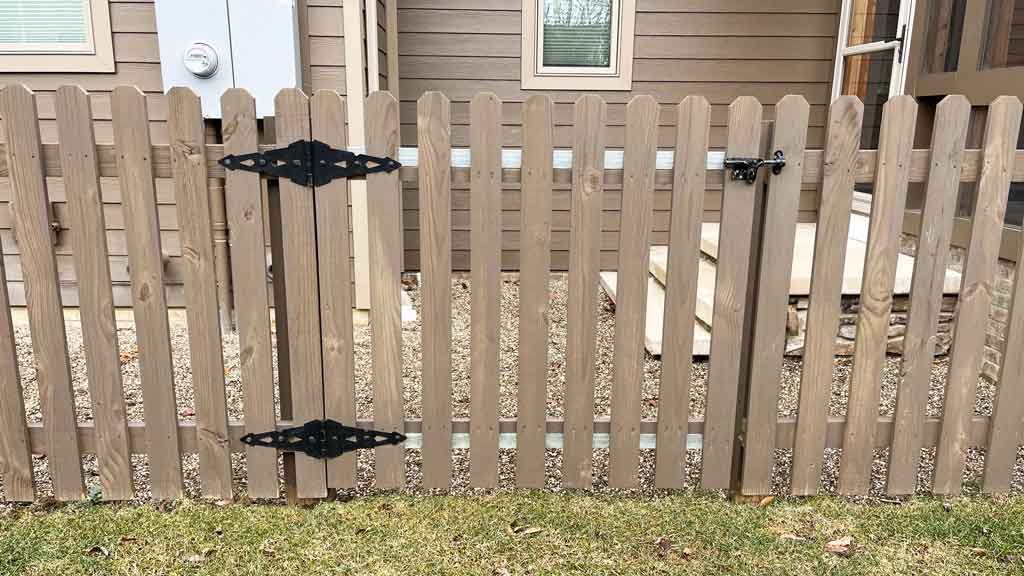 Just like any wood gate, hanging steel framed wood gates from wood posts is acceptable. We use heavier gate posts for all of our gates. Even a 4′ tall picket gate will hang on a 4×6 post. For larger gates we use 6×6 wood posts.
It is important to overkill the footer depth and size. It does no good to buy a stronger gate system only to hang it from a weak post that will lean overtime. We set all gate posts a minimum of 36″ to 48″ deep.
As discussed earlier, one drawback to wood posts is the amount of hinge options offered. In the fence industry, either a strap hinge or T-hinge of some sort is standard wood gate hardware.
To mount the hinge to the steel horizontals, we drill a hole all the way through and nut and bolt them together. When hanging from the wood post, we use the standard lag screws.
However, I always use a longer lag for in the first hole to not only go into the rail of the fence, but deep into the hinge post too. This gives it extra strength.
Hanging Steel Framed Wood Gates on Metal Posts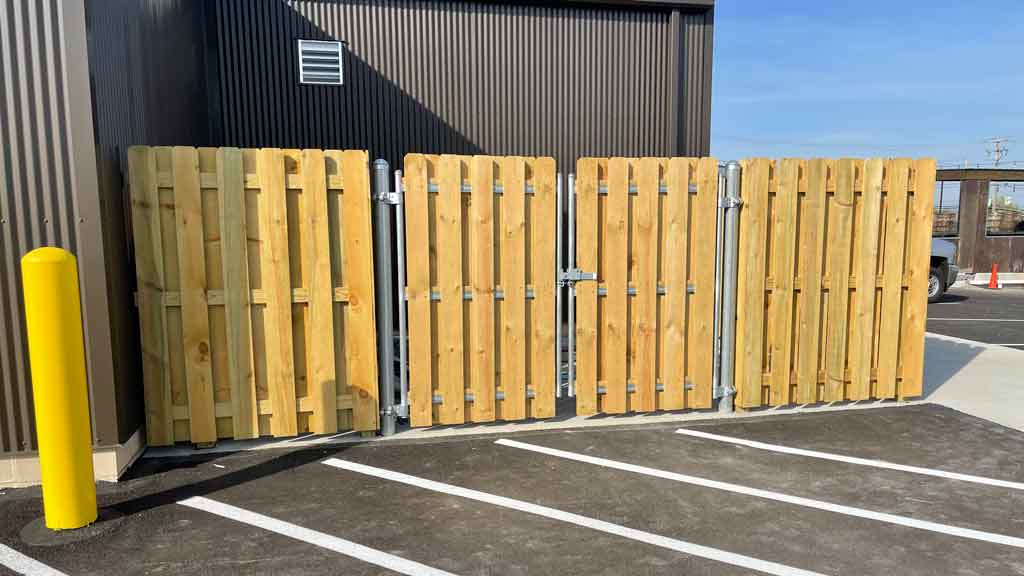 Hanging the gates from steel posts is stronger than wood. Furthermore, there are more options for hinges. When a round post is used in conjunction with a round gate upright, almost any hinge for chain link gates will work.
One thing chain link hinge systems are better at when compared to wood hinges are when making adjustments. Hinges that are lag screwed to wood posts are pretty much set where they are installed. With steel posts, the hinges more adjustable. Therefore allowing for any adjustments overtime.
This opens the door to countless possibilities and options. Not to mention, commercial grade chain link hinges are designed to hold heavier weight. Important for large steel framed wood gates.
The drawback again is the color and look. Most round fence posts are galvanized. So they are silver in color. They do not blend well with wood. However, their extra strength and support can't be matched by wood.
There is no need to worry about rot or warping. Not to mention, larger diameter round steel posts will support the heaviest of gates.
Conclusion
Steel framed wood gates are the strongest and longest lasting type of gates for wood fences. Because they do not warp, twist or sag, they require very little maintenance or adjustment over the lifetime of the fence.
Steel framed double gates allow for wider gate openings. Such as double wide driveway gate and dumpster enclosure gates.
The extra price is worth the investment in return for years of trouble free gate operation.
When purchasing your next wood fence, be sure to ask your fence contractor what options they offer for upgrading the standard wood framed gate to a steel frame.