There are many reasons you may need temporary fencing for dogs. Maybe you are renting and don't want to invest the money into a permanent fence you can't take with you.
Maybe you are a new puppy owner and only need to contain it until trained. Or sometimes, all you need is a portable dog play pen that is easy to transport while vacationing.
Whatever your reason, finding a solution that is inexpensive, easy to install and strong enough to safely contain your dog is the goal.
In this article, we'll review some options you have for temporary fencing for dogs. We'll take a look at the advantages and disadvantages of each type.
We'll also discuss when and where to use each type and what type of dog they are good for.
Dog Kennels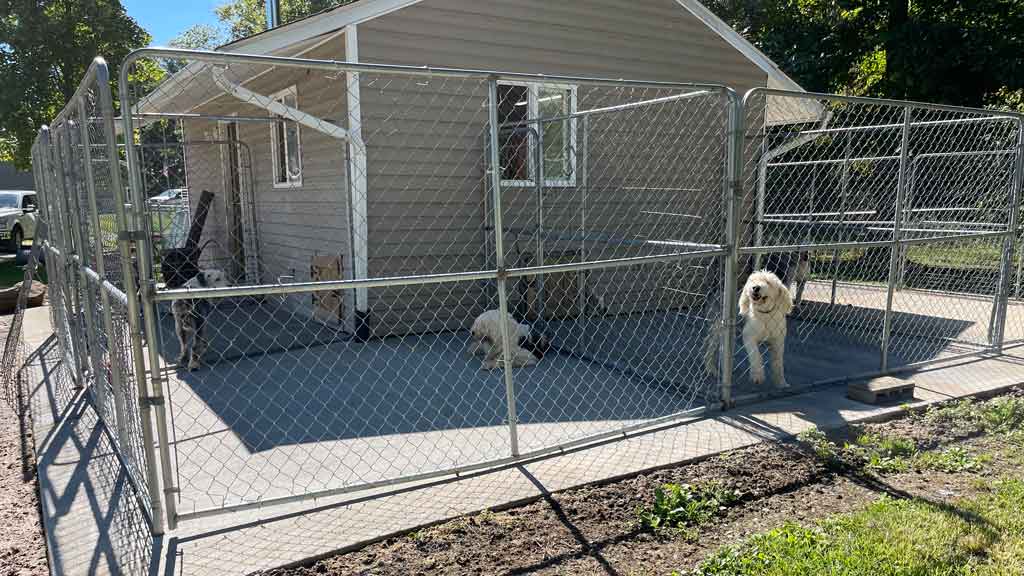 Dog kennels are a great way to contain your pets. Available in multiple sizes and configurations. They are easy to assemble and disassemble. As a result, making them easy to move or relocate.
Most dog kennels are constructed from chain link fence panels. However, some manufacturers use welded wire panels for their dog kennels.
Dog kennels come in kits. Most come as a square or rectangular shape with four panels. One of the panels will include a gate for access.
We consider kennels as temporary fencing for dogs because of their limited amount of space. However, purchasing multiple kennel kits allows for custom configurations.
Furthermore, providing more space for your dog. Dogs need lots of exercise. An outdoor kennel does not provide room for adequate exercise.
Therefore, we strongly recommend to actively play with dogs confined with kennels. Taking them for daily walks will also help.
Dog kennels will accommodate most dogs fairly well. However, not all kennels are constructed the same. The gauge of the wire for the wire mesh comes in different sizes.
For smaller dogs, kennels with 11 gauge mesh is fine. Larger dog breeds or dogs that are aggressive will benefit from a heavier 9 gauge mesh.
Kennels also come in different heights. Make sure to choose a heigh that your dog cannot get out of. If your dog is a climber, a kennel with a roof panel is your best bet.
Plastic Fences as Temporary Fencing for Dogs
Another type of temporary fencing for dogs is plastic mesh fence. Plastic mesh fence comes in lightweight rolls.
The fence is supported by wooden stakes or metal T-posts. It is easy to install, requiring only basic hand tools.
The plastic mesh is offered in multiple colors. However, green, black and orange are the most popular. Different heights and mesh sizes are also available.
Plastic dog fence is good for larger pens or for sectioning off smaller areas of a large yard. Many times, a house or shed is used as one wall of the fenced area.
Because posts are pounded into the ground, it is easy to install a large amount if fence with little effort. Plastic fence attaches to wooden stakes using a staple gun or fence staple. Zip ties are used to fasten fence to T-posts.
While plastic fence may be inexpensive and easy to install, it does have some downside. Because it's plastic, it really isn't strong. As a result, large or aggressive dogs will easily chew through and destroy it.
Furthermore, it is hard to stretch tightly without breaking. Therefore, small dogs will easily slip underneath it.
Plastic dog fence is best for mild mannered breeds, medium sized dogs or dogs that aren't as vigorous as they once were.
Wire Fences as Temporary Fencing for Dogs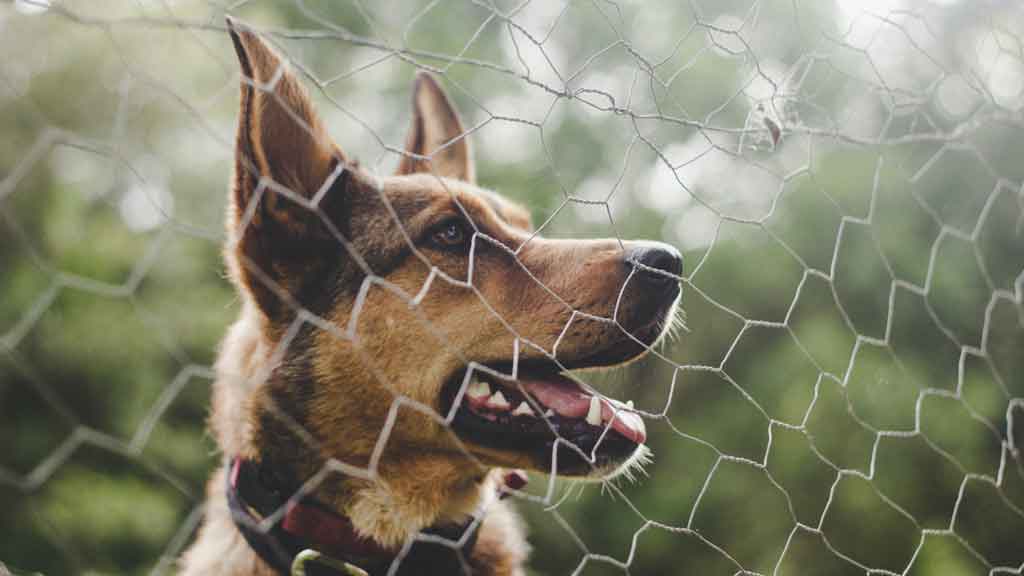 Wire fences make good temporary fencing for dogs. They are stronger and more durable than plastic fences. However, still light enough for most homeowners to install themselves.
Just like plastic fence, wire fences for dogs use the same wooden stakes or T-posts to support it vertically.
Wire fences come in many heights, mesh sizes and colors. Standard heights come in as low as 24″ tall. Perfect for containing puppies or small dogs.
Taller heights are available up to 6′ and 8′ tall. As a result, having the ability to contain even the largest of dogs.
Most wire fence is galvanized. Therefore, it will have a silver appearance. However, green and black vinyl coated colors are available options. The darker colors blend better in residential settings when compared to the silver color of galvanized fence.
The thickness of the wire strands forming the mesh also come in different sizes. Known as the gauge of the wire. The smaller the gauge number, the larger the diameter of the wire.
Because there are so many options, wire fences for dogs work well for most breeds. They are stronger than plastic fences. Although, even with the heaviest if gauges, larger dogs can destroy them over time.
Not to mention they do not adapt to uneven terrain well. Therefore, the flatter the fenced area is the better. All of these reasons are why we consider wire fence as temporary fencing for dogs.
Dog Play Pens
Play pens for dogs are extremely portable. As a result, falling into our classification of temporary fencing for dogs.
Dog play pens come in a variety of heights, materials and configurations. Most will have a footprint larger than that of a kennel. However, most are also shorter in height. Not designed to act as a containment system for anything other than small adult dogs or puppies.
Dog play pens setup in minutes. Perfect for vacationing and camping. Most are free standing and self supporting.
Furthermore, they aren't only for outdoor use. Many homeowners dog play pens indoors too. They are perfect for containing dogs to a particular part of the house when needed.
They are also popular for preventing litters of puppies from running astray.
Dog play pens aren't for every dog. Large dogs will easily move small pens. Short panel heights will promote jumping from athletic dogs. They are primarily for short term use or sessions. While under supervision from the dog owner.
However, small dogs and puppies will not have any issues remaining safely contained.
Conclusion
Choosing the right temporary fencing for your dog is a decision that should be based on many factors.
The intended use, the size of your dog, how aggressive or athletic you dog is and how long the fence will remain up are all influencing factors.
As the title says, these are temporary ideas and solutions. They do not take the place of a permanent fence.
Checkout our best dog fence article for more permanent fence solutions for containing your four legged friends.