When choosing a fence for a pet, you want it to be secure, safe and pleasant to look at. Vinyl dog fence covers all three.
Clean and modern styles offer designs not available from other materials. Never requiring painting, staining or sealing are other popular attributes.
Practically maintenance free other than the occasion wipe down or pressure wash. Vinyl dog fences stay secure for a lifetime. No need to worry about rot, decay or rust.
You're neighbors will like it, your dog will love it!
So let's take a closer look at vinyl fence and its use for pet containment.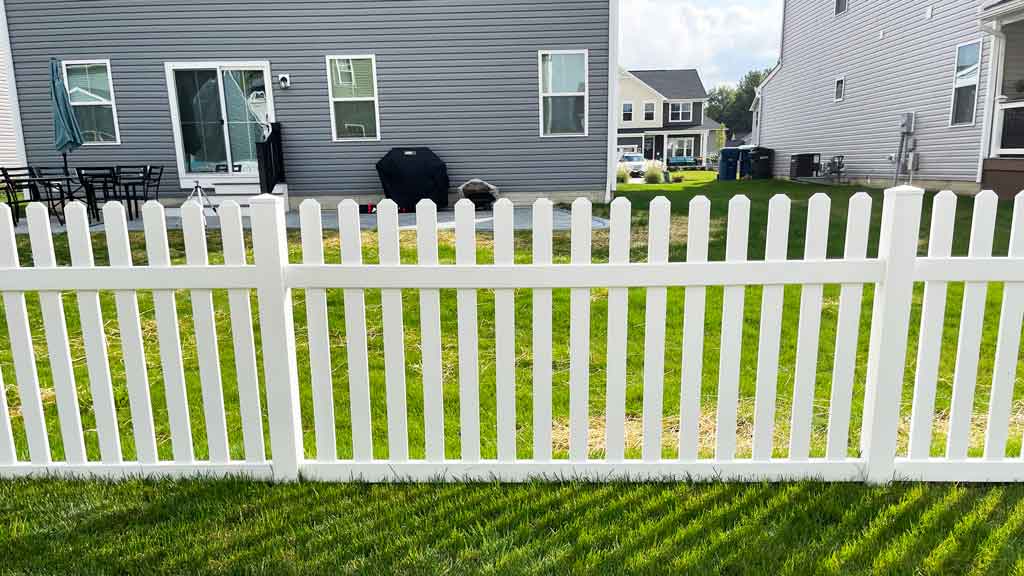 The Pros and Cons
Let's get right down to the biggest con. Vinyl fencing for dogs is expensive. Many times costing twice the amount of wood dog fence. If you are going to pay up front for a lifetime warranty and no maintenance, make sure you live in the same spot long enough to benefit from those features.
Another drawback to some about vinyl dog fence is its appearance. Many people do not like the clean lines and plastic look.
Especially in wooded lots or older neighborhoods. The build materials and architecture of the homes and vinyl fence do not fit well.
However, in new developments that have vinyl sided homes and vinyl windows, it looks great. So much so that homeowners associations mandate vinyl fences if they allow any fence at all.
As mentioned before, vinyl fences do have lifetime warranties and require little to no maintenance. This is very appealing to many customers. Knowing it will be the last fence they will ever purchase.
Vinyl dog fence is safe! No worrying about sharp points, metal wires or splintering wood.
There are many style to choose from. Picket, semi-private and privacy styles are all available. Vinyl fencing manufactures have many color options to choose from as well.
Vinyl Dog Fence Pros
No Maintenance – Most manufacturers offer lifetime warranties.
Safe for Dogs – No sharp edges or exposed metal. Will not splinter.
Lots of Styles – Many styles to choose from to accommodate most needs.
HOA Approval – Meets fence standards for most homeowners associations.
Colors – Available in other colors than white.
Vinyl Dog Fence Cons
Cost – One of the most expensive types of fence. Not in everyones budget.
Overall Appearance – Very clean and plastic look. Does not fit all landscapes.
Availability – Materials for many styles have longer than normal lead times.
Is Vinyl Fence Good for Dogs?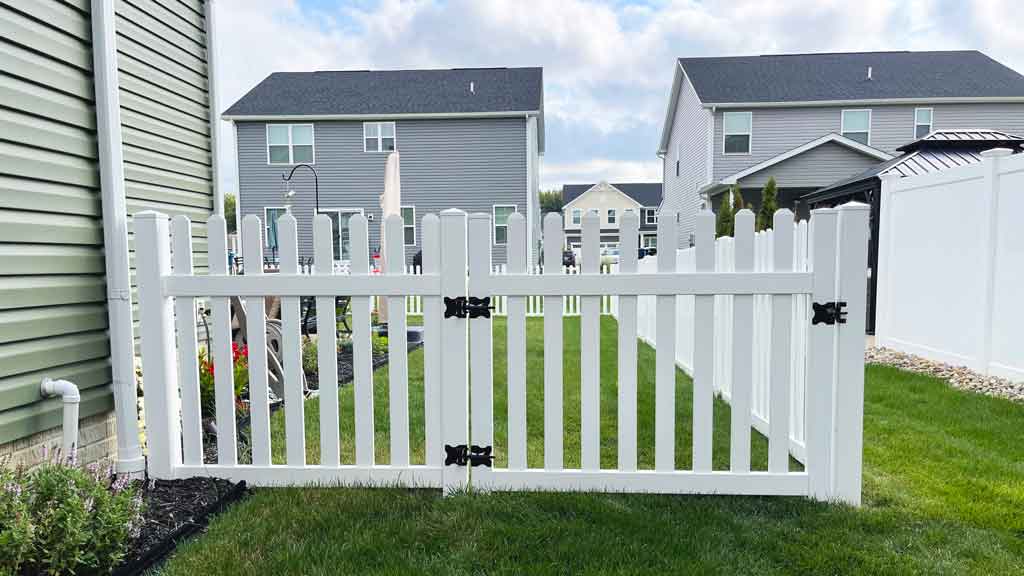 Vinyl fence is great for dogs fences. Providing a safe and secure containment area for pets to live and play in. All without any maintenance.
Some pet owners have issues with other types of fences such as chain link dog fence or wood dog fence. Concerned about sharp metal edges and or splintering and chewing of boards.
However, vinyl dog fence does not splinter. Furthermore, it doesn't have any sharp edges or points. As a result, the safety of your dog will never be in question.
What is the Best Vinyl Dog Fence?
Every customer wants to know what the best type of fence for a dog is. The truth is, there isn't just one. What works for one dog may not work for the nest. Furthermore, the requirements of one dog owner may not be important to the next.
However, other than containing their pets, I've found homeowners have one of two requests when choosing a new fence for their dog. They either want the dog to see out of the fence, or they don't.
The temperament of each dog helps make this decision. Mild mannered, friendly dogs enjoy seeing what's going on around the neighborhood. In this situation, an open style picket fence works well.
Dog owners with high strung or aggressive dogs would rather their pet not see through the fence. Therefore, a privacy fence would be better suited.
So below, let's take a look at both vinyl picket fence and vinyl privacy fence options.
Vinyl Picket Fence for Dogs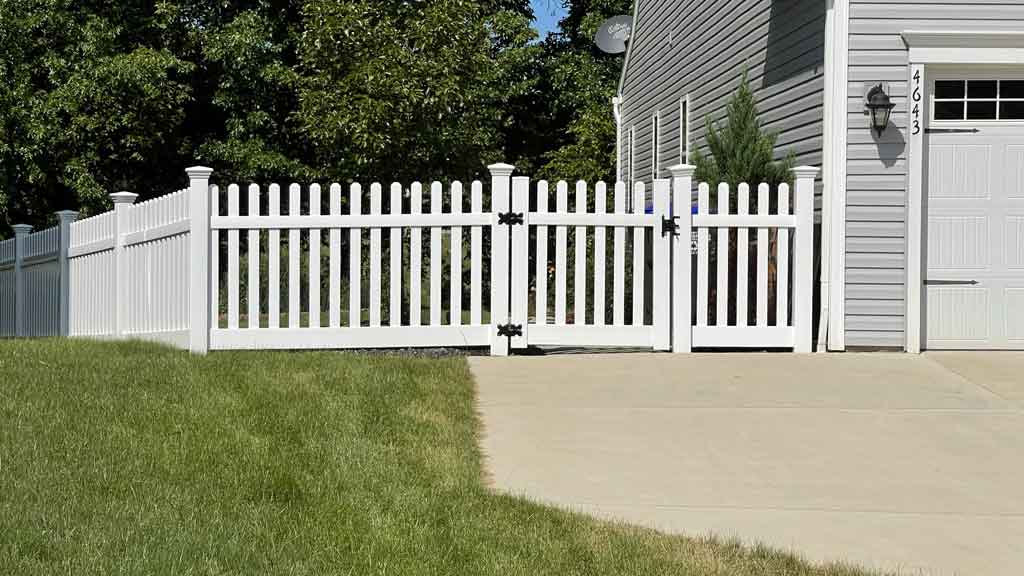 Vinyl picket fences come in many different styles. Traditional styles mimic the construction of wood picket fence. With the pickets fastened to one side of the rail.
Routed vinyl picket fence has each picket installed through the center of the rail. As a result, the fence looks the same from both sides.
Contemporary style vinyl picket fence resembles railing. The pickets inert into the top and bottom rails and never protrude above the top rail.
Standard heights are 3′ and 4′ tall. However, some manufactures do offer taller options. But all of them have on thing in common.
They have spaces between each vertical picket. However, the spaces are not as wide as aluminum dog fence. How much space is determined by the manufacturer and the design of the fence.
My personal favorite vinyl fencing for dogs is the routed picket style. Each picket still has a dog eared or pencil point top and as mentioned before, it looks the same on both sides.
Furthermore, because the pickets run through the center of the rails, it also provides more strength than traditional vinyl picket fence. Added strength is always beneficial when containing animals.
Vinyl Privacy Fence for Dogs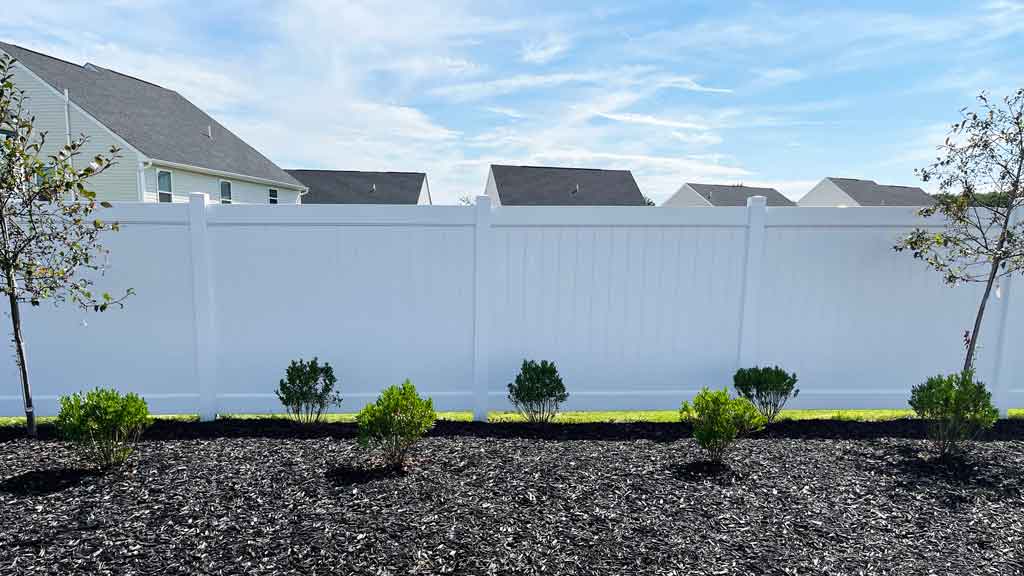 Vinyl privacy fences come in many designs too. The standard style has tongue and groove pickets to form a solid panel. As a result, providing total privacy.
Other styles offer solid privacy with the top section having an open style decorative accent or header. Lattice and picket top are the two most popular accents.
When you think of a privacy fence, most people think 6′ tall. However, vinyl privacy comes in 4′, 5′ and 6′ tall options. Some manufactures even offer 8′ tall.
Privacy style vinyl dog fences are great for dogs that get nervous, anxious, are aggressive or simply bark a lot. Sometimes it's a small dog. Therefore, a 4′ tall fence is plenty high. Larger dogs will benefit from a 6′ tall fence.
Just like wood dog fence, many vinyl fencing customers mix and match the styles. Choosing privacy on the fence lines facing the street, or possibly one bad neighbor and picket fence for the remainder of the yard.
Does it Come in Colors?
Vinyl fence comes in many colors. White is standard. All other colors will cost more. However, the added price may be worth the extra investment.
Many dogs like to jump on or against fences. As a result, muddy paws turn white fences into dingy looking eyesores. Darker vinyl fencing colors help to hide the dirt.
Most manufactures offer at least a tan, beige or clay color. Many have darker color and even blended colors that resemble wood grain. As a result, helping to remove the stark plastic look associated with white vinyl fence.
Conclusion
A vinyl dog fence is a serious investment. Quite often costing twice what a wood fence of the same style costs. However, lifetime warranties and no maintenance are appealing benefits to many.
They are pet safe and provide secure containment without worry. You and your dog will enjoy a vinyl dog fence for years.
They are desired by HOA's and are great for resale of homes.
With multiple choices in heights, styles and colors, I am certain there is a vinyl fence to meet you and your dogs needs!!!