Vinyl pool fence looks great, requires little to no maintenance and most importantly is safe! Therfore, making it a popular choice for homeowners with swimming pools.
The clean lines and looks of vinyl pool fence blend well with pools and surrounding landscapes. Styles range from open picket styles, semi privacy and privacy designs.
Furthermore, color options provide customers choices other than white. As a result, allowing you to customize the fence to ones personal taste and style.
Once installed, a vinyl pool fence provides years of safety and security without worry of maintenance or upkeep. Therefore, allowing you to focus on what's most important. Enjoying that pool!!!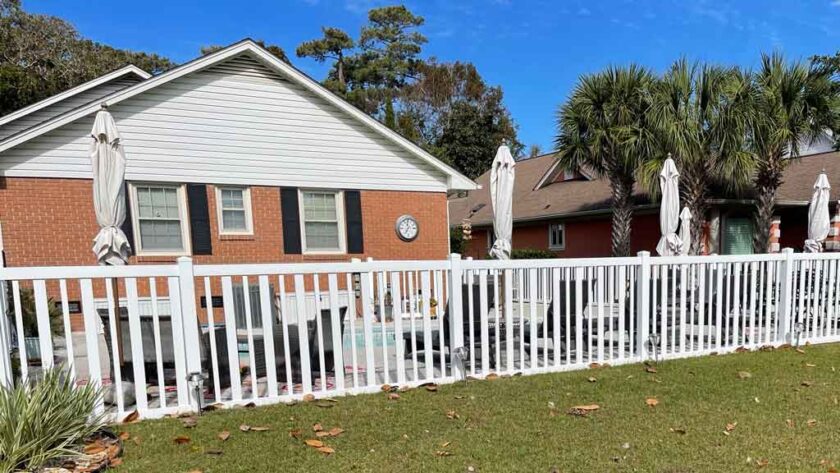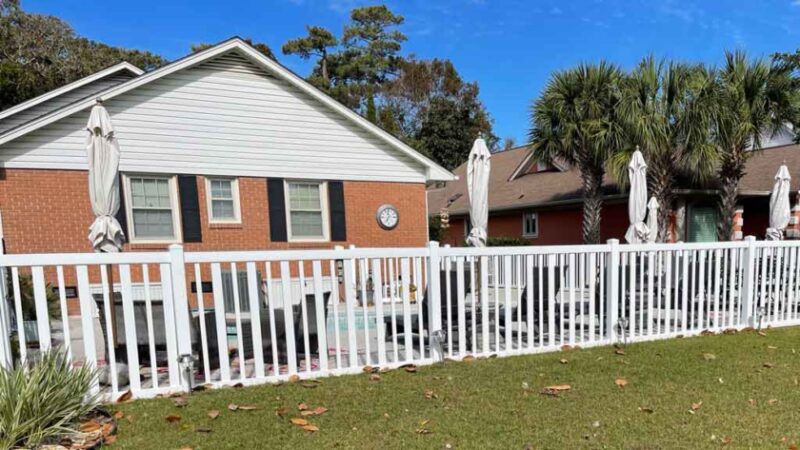 The Pros and Cons
There are many reason why people choose to fence in pools with vinyl fence. As I already mentioned, the lack of maintenance is one of the biggest reasons.
You will never have to worry about painting, staining or sealing a vinyl pool fence. It will never rot, warp or splinter. At the most, an occasional hose down or pressure wash is all that's required.
Vinyl pool fence is safe! There are no sharp edges or corners. There are no metal fasteners or parts. Therefore making it extremely safe. Especially for children and pets.
There are plenty of choices for designs and colors. Some customers prefer open picket style designs that let light and air pass through like temporary mesh pool fencing. Other customers want total privacy. And some customers want a combination of both.
The good news is, vinyl pool fence manufacturers have styles and designs to accommodate every situation. Many homeowners actually combine styles to meet specific needs.
The biggest downside is cost. Vinyl pool fence is expensive. However, it pays dividends years later when it still looks as good as it did the day it was installed.
The perfect clean and plastic look is a turnoff for some. Especially for homeowners having homes with older design styles and architecture. Or in wooded lots.
Sometimes, a vinyl fence will look out of place in these situations. However, beauty is in the eye of the beholder. Choose the type of pool fence that you will enjoy looking at for years to come.
Vinyl Pool Fence Pros
Lifetime Warranty – Very little to no maintenance required to keep fence looking good.
Safe for Pools – No sharp points or corners. No metal fasteners. Cannot rust or splinter.
Lots of Choices – Countless styles and choices to fit every situation.
HOA Approval – HOA's love maintenance free fences. Vinyl fence is often mandatory.
Colors – Looking for something other than white? Most manufactures have color options.
Vinyl Pool Fence Cons
Expensive – Vinyl fence is expensive. You pay upfront for lifetime warranty and no maintenance.
Plastic Look – Can look out of place at times depending on yard or architecture of home.
What is the Best Vinyl Pool Fence?
The best vinyl pool fence not only secures the perimeter of the pool, it also accomplishes a secondary task. This task could be to gain privacy while in the pool or to allow for visible safety checks of the pool.
Sometimes the style of fence is chosen to help keep people out. Other times it is chosen to keep pets safe and secure. The good news is, there are plenty of vinyl pool fence options that provide multiple functions.
However, there are three main categories. Picket fence, semi privacy fence and privacy fence. The style you choose will be determined by what type of secondary task you are trying to accomplish.
As mentioned before, some customers mix and match the styles. For instance, they may want privacy on only one side of the yard and a more open fence for the rest of the yard. This happens quite often.
Below we'll take a look the three types of vinyl pool fence. I'll also give some insight on why you may want one style over the other.
Picket Style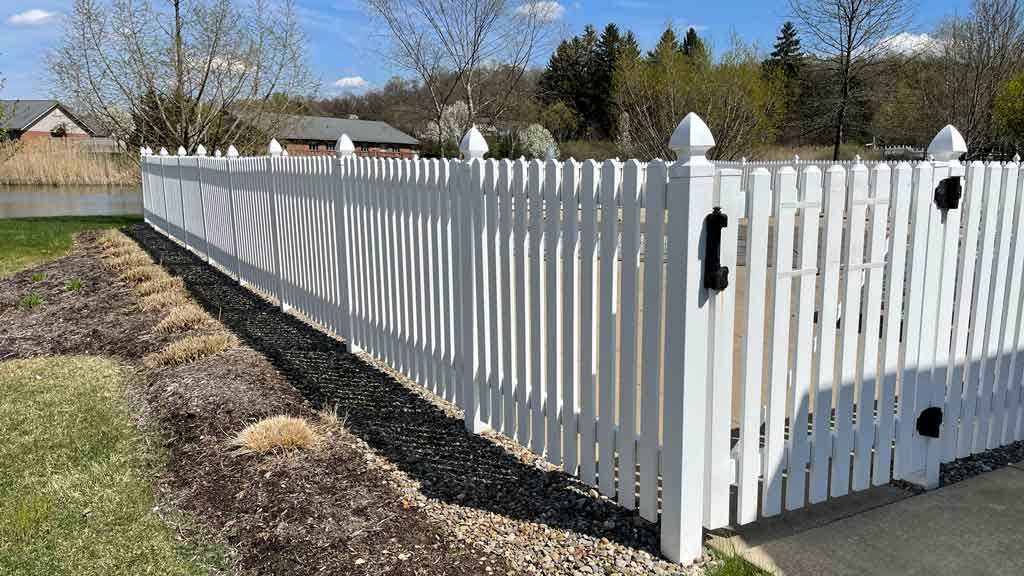 Picket style vinyl fencing falls into two categories. The first is traditional picket fence. These are vinyl fences designed to resemble the look and construction of wood picket fences.
The second category is called contemporary vinyl picket fence. These styles have top and bottom rails, more like a railing. Sections are assembled with the pickets between the rails. As a result, the fence looks the same on both sides.
While both are popular, the contemporary styles are a more popular style of vinyl pool fence. Providing a good location to hang towels and rafts on.
Picket styles have exposed picket tops. Normally with a dog ear or pencil point designs. Some traditional style picket vinyl pool fence will have what is known as a good and bad side. In most cities and townships, the good side must face outward away from the pool.
Now matter the type, picket style fences have an open design. They allow air to pass through freely. Normally installed at lower heights such as 3′ and 4′ tall. Most adults can easily see over the fence.
While not as transparent as aluminum pool fence or glass pool fence, they are still transparent enough for visible safety checks.
Picket style vinyl pool fence is a good choice when privacy is not of a concern. It also does a good job containing pets.
Semi Private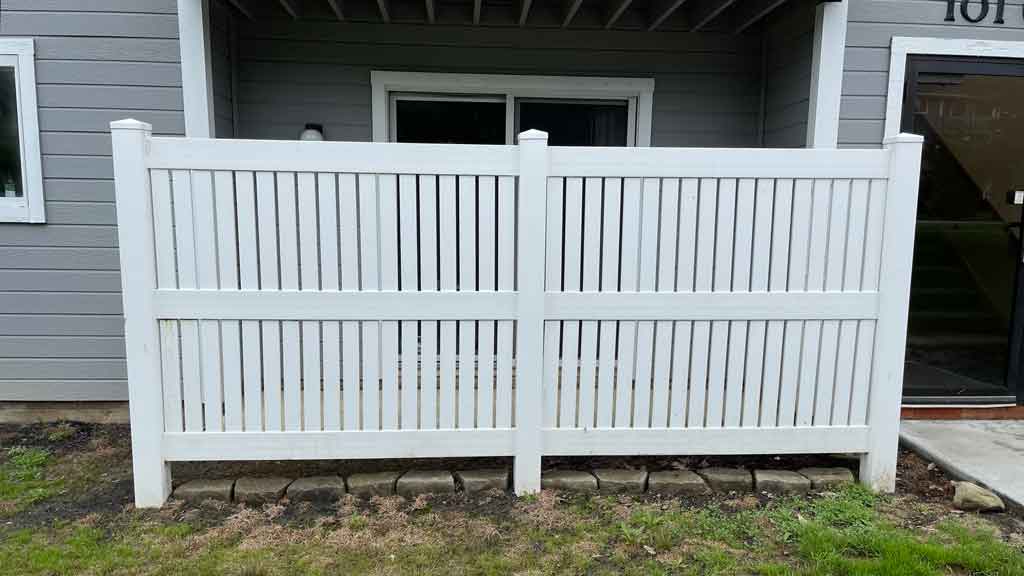 Semi privacy vinyl pool fence is technically also a picket fence. However, the spaces between the pickets are much closer. Furthermore, the pickets are normally wider than the picket styles. As a result, there are less spaces per section of fence.
Semi privacy styles still allow some light and air to pass through the fence. This is especially good in confined areas. However, they are difficult to see through with any detail.
The gaps between each picket are normally 1 inch or smaller. As a result, one would have to be right up against the fence in order to see through it.
Homeowners choosing semi private vinyl pool fence are interested in some sort a privacy. Therefore, the heights are a little taller than picket style fence.
5′ tall and 6′ tall are the most common heights. This allows for more privacy than a shorter open design but not a much as a true privacy fence.
Semi private fences are found installed in all sorts of settings. Many times found surrounding swimming pools of semi private locations such as apartment complexes, county clubs and community pools.
One thing to keep in mind. Even though a semi private vinyl fence has less material than a full privacy fence, they cost more. This is a result of how the vinyl fence sections are manufactured.
Without going into detail, it just costs more to manufacturer a semi private section compared to a full privacy section. Mainly due to all of the extra routing of the rails required to keep the pickets separated.
Privacy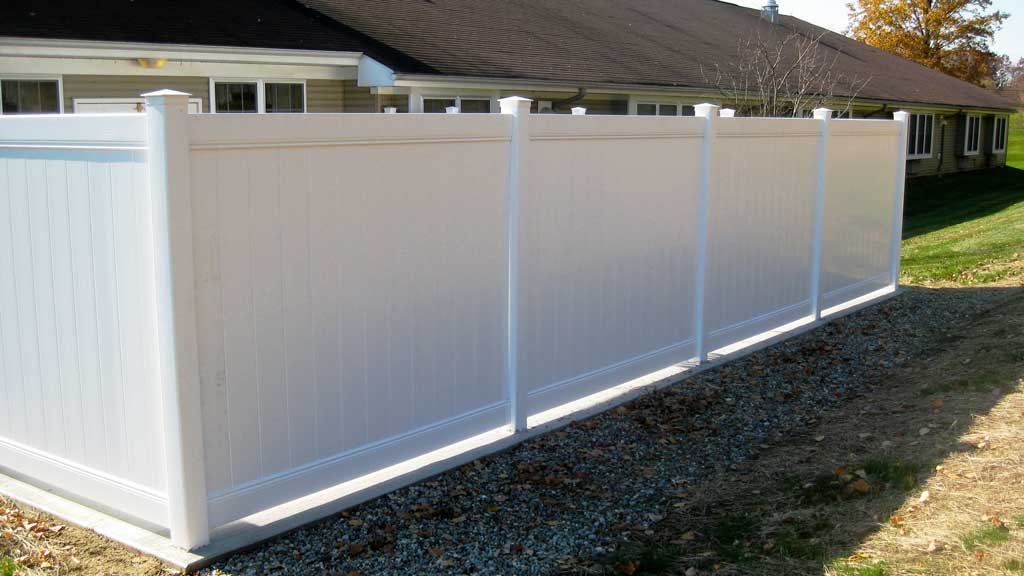 Just as it sounds, privacy style vinyl pool fence provides complete privacy. The sections do not allow any light or air to pass though. As a result, completely eliminating any visibility.
Privacy style vinyl pool fence is for those that want total privacy from neighboring eyes. 5′ tall and 6′ tall are the most common heights. Preventing most everyone from seeing inside of the fenced area.
People choose privacy fences to fence around their swimming pools for multiple reasons. The biggest reason is to prevent eyes from outside of the fenced area from seeing in.
Often found in developments and building allotments where homes are closer together. Privacy style vinyl pool fence provides a good screening between property lines.
Most styles look identical on both sides. As a result, there is no good or bad side.
For those that don't like the solid wall look of vinyl privacy fence, there are options. Some styles have lattice or picket top headers for the upper section of the fence.
While this does allow for some visibility, it also breaks up the solid look of the a privacy style vinyl pool fence.
Does Vinyl Pool Fence Come in Colors?
Most people envision white when thinking about vinyl fence color. However, today there are more vinyl fence colors than ever before.
The more popular the style of vinyl fence, the more color options there are to choose from. Privacy style by far will have the most options.
Tan and beige colors are pretty standard across all styles. However, some manufactures now offer many other color choices.
Solid colors now come in various shades of grays, browns and tans. There are blended colors that resemble the look of wood gran. Combining two or more colors to achieve this look.
Some manufactures also combine texture with color. Therefore, eliminating the smooth clean look that associated with vinyl that some don't like. These styles more resemble wood construction.
To sum it up…….yes, you have option on colors. However, it will cost you. White is the industry standard. Solid colors in tan or beige usually add 10 – 15 percent to the cost of a vinyl fence.
Blended colors and textures add even more to the cost. Sometimes substantially more.
Conclusion
Vinyl pool fence is a great choice for enclosing swimming pools. Modern materials that offer a safe and clean look. Certain to add to the ambiance of any pool setting.
Once installed, they provide years of maintenance free service. Securing backyards while providing peace of mind to homeowners.
Choosing the style of your pool fence is a personal decision. One based on style, design, and functionality. The good news when choosing vinyl fence is……….there's a style to fit everyone's taste and needs.