Wood dog fence comes in many styles. Therefore allowing customers to choose one that will best meet their pet containment needs.
Picket style fences are usually shorter in height. Taller wood fences usually offer some sort of privacy. The good news for pet owners is, they have the ability to have a wood fence constructed the way they want or need. As a result, getting the best dog fence for your needs.
For smaller sized dogs, a 4′ tall picket fence may be all that's needed. The spaces between the pickets allows dogs to see what's going on outside of the fence.
For larger aggressive dogs, you may not want them to see beyond the fence. Therefore, a 6′ tall privacy fence will work better. However, over my career, I've seen every type of dog and built every type of wood dog fence.
I've had customers request solid board privacy fences at a height for 4′ tall just so their small dog couldn't see other dogs in the neighborhood. I've also built open picket style fences that offer no privacy at 6′ tall to contain large dogs.
The good news is most fence contractors custom build wood fences. As a result, allowing you to choose the perfect wood dog fence for your situation.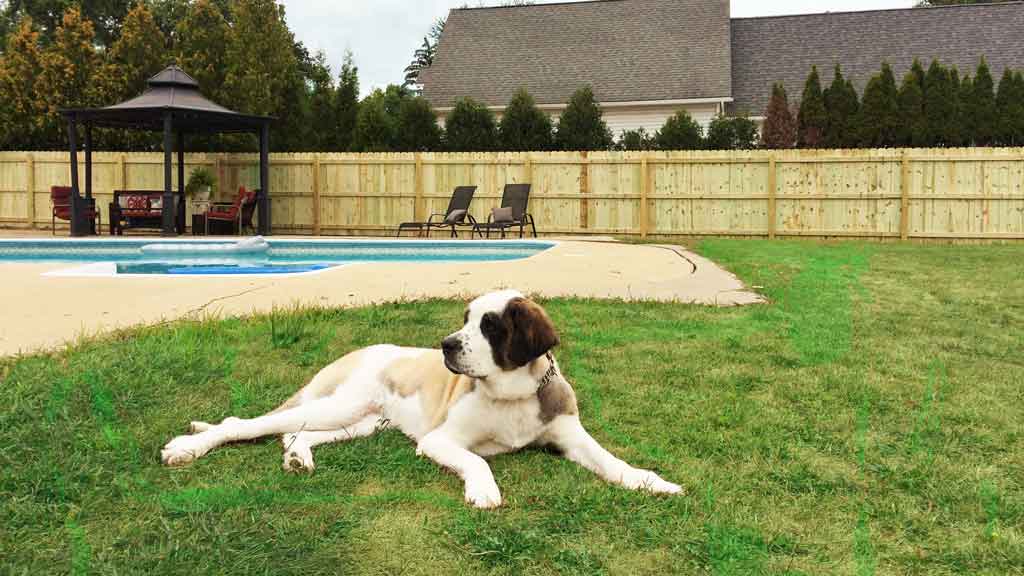 Wood Dog Fence Pros and Cons
As discussed above, the ability to customize a wood fence is an advantage over other types of fences such as vinyl dog fence or chain link dog fence.
Another huge benefit is cost. Wood is far less costly than aluminum or vinyl fence options. As a result, fitting into more homeowners budgets.
Woods natural look and feel is desired by many. Blending in better in older neighborhoods and wooded lots. Not to mention you can paint or stain a wood fence to match any design or landscape.
But wood isn't perfect. There are some drawbacks to wood that push pet owners into choosing alternative materials.
Maintenance is one drawback. At some point, you will probably need to paint or stain your wood dog fence. At the very least, give it a power wash using a pressure washer.
Life expectancy is another. Many factors impact the life of a wood fence. The type of lumber is one. Where your home is located geographically is another. Whether your yard is exposed to open sunlight or constant shade also effects the life of wood.
Wood Dog Fence Pros
Customizable – Almost any style can be built to accommodate your dogs needs.
Affordable – Less expensive than vinyl or aluminum fence options.
HOA Approvals – Meets almost every Homeowners Associations approved fence styles.
Strong – Wood fences offer better strength compared to other materials.
Availability – Almost always in stock. No long lead times.
Wood Dog Fence Cons
Maintenance – Requires periodical maintenance in order to extend life of fence and keep looking good.
Life Expectancy – Will not last as long as other types of materials. Especially when left alone.
Overall Look – When left untouched, can fade, rot, warp or crack. Turns a dingy gray color.
Is Wood Dog Fence Strong?
Wood fence is strong. A lot stronger than some other types of dog fence. Especially when built by a professional fence contractor.
Some pre-built sections offered by big box stores or home improvement stores tend to be a little on the weak side. However, for the most part, the natural structural integrity wood offers results in a strong fence.
The most common wood post is a 4×4. Set in concrete, these are strong enough to support most fence types up to your 6′ tall. Tall fences and gate posts will benefit from larger posts such as a 4×6 or 6×6. Some contractors use galvanized steel posts in place of wood.
The horizontal rails, called stringers, are 2×4's. Shorter height fences will have 2 per section. However, taller fences should have at lest 3 per section.
The vertical boards are the pickets. Pickets come in many sizes. 1×4 and 1×6 are the most common. The top of the picket usually has a design cut into it. There are many to choose from. Further adding to the customization of your wood dog fence.
The fasteners will be either nails or screws. Both are acceptable. Your fence contractor will have a preferred method.
All of these components result in a fence that is strong, secure and most importantly, safe for your dog.
What Style of Wood Dog Fence is Best?
If you're leaning towards purchasing a wood dog fence, you might be wondering what style is best for you. As I mentioned earlier, most styles will contain most dogs.
However, the two most popular styles of wood dog fence are a picket fence and privacy fence. Or at least some version of the two.
Below we'll look at wood picket and wood privacy fences. I'll discuss some of the options you can customize to make them unique to your style. Lastly, I'll discuss why some dog owners choose one over the other.
Picket Style Fence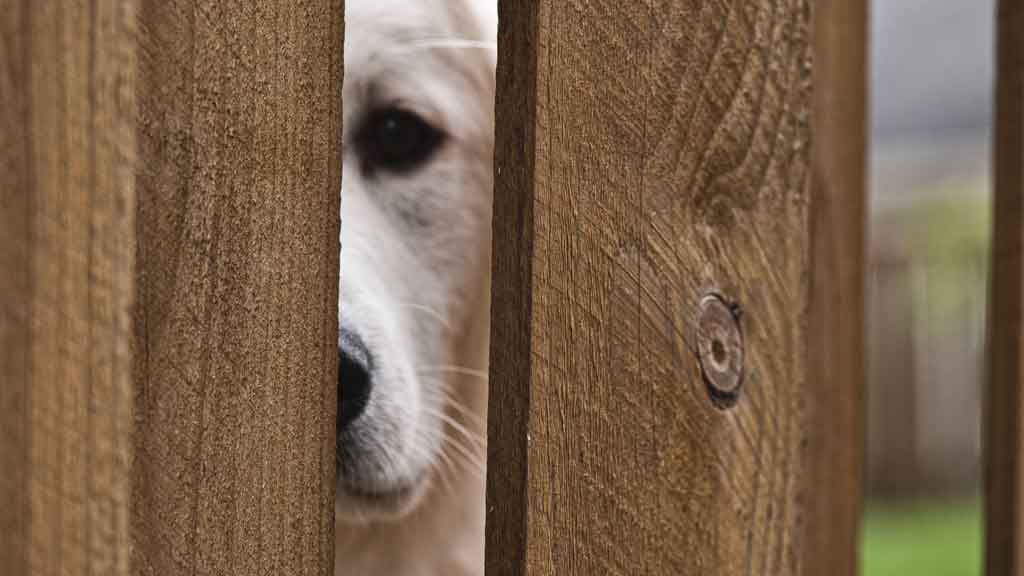 Any fence that has all of the vertical boards (pickets) on one side with a space between them is called a picket fence. Picket fence is one of the most popular types of wood dog fence.
Heights of 4′ tall is the most common. However, heights range from 3′ to 6′ tall. The spacing between each picket normally ranges between 1″ to 3″. 2″ is the most common.
The majority of picket fences have a 1×4 picket. A wider 1×6 picket is also available. The top of each picket can be cut in multiple designs. Dog ear is the most common. Gothic, French gothic, pencil point and flat top are other options.
Reasons to Choose Picket Style Wood Dog Fence
The main reasons pet owners choose picket style fence is so their dogs can see out of the yard. Assuming you have a mild tempered dog that doesn't bark at everything in sight, let them enjoy a view.
Picket fence has advantages for smaller yards as well. In smaller yards, installing a fence tends to make the space feel more confined. Especially when choosing a privacy fence. Because a picket fence allows you to see somewhat through, it helps reduce that confined feeling.
Another advantage in confined spaces is letting air circulate. Let's face it, your dog has to do its business a couple times a day. If you can't get to cleaning up after it right away, things start to pile up. Allowing a little fresh air to pass through a picket fence will help keep the smell down.
The last reason to choose a picket style fence for your dog is price. Picket fences are less expensive than privacy fences. As a result, either saving you money or allowing you to fence in more yard.
Privacy Style Fence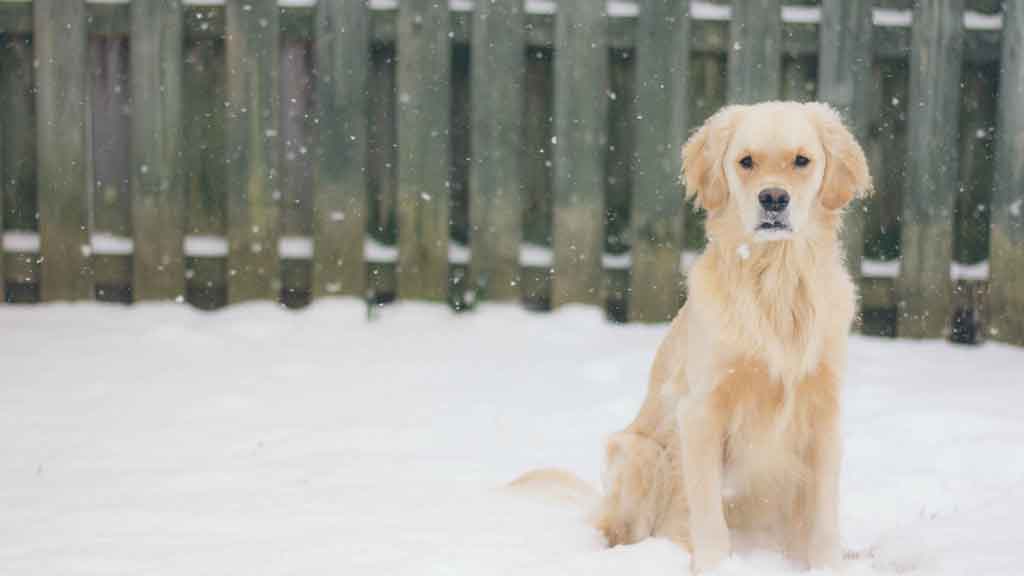 Wood privacy fence comes in two basic designs. Solid board privacy fence and shadow box wood privacy fence. Sometimes shadow box fence is also referred to as board on board privacy fence.
Solid board wood privacy fences have all of the pickets on one side. Each picket touches the next, leaving no spaces between.
The framework consisting of the 4×4 posts and 2×4 stringers are visible on the other side of the fence. In many cities, the good side of the fence must face the neighboring properties.
Shadow bow wood privacy fence has the same framework as solid board fence. However, there are pickets on both sides of the fence creating an overlapping louvered effect.
As a result, shadow box fence looks almost the same from both sides. Not to mention it does allow for some light and air to move through the fence.
1×6 pickets are commonly used for both types of fences. However, some manufactures also offer a 1×4 picket as an option.
When to use Wood Privacy Fence for Dogs
The main reason to choose a privacy style wood dog fence is to prevent your pet from seeing what's going on outside of the fence.
This helps with aggressive dogs or if you dog is a barker. Another reason is when pet owners share a common fence line with another pet owner and don't want their pets to have access to each other. Fences boarding active walking trails and sidewalks are another place you'll find privacy fence.
When you think of a privacy fence, you probably invision a 6′ tall wall. However, many small dog owners purchase privacy fences in shorter heights. No, they do not provide privacy for humans seeing into the fence. The goal in this situation is to prevent your dog from seeing out of the fence.
Conclusion
If you've learned one thing about wood dog fence, you know that it's customizable. Pretty much any configuration you desire is available.
Deciding what style best suits your needs may be the hardest decision. Don't be afraid to mix and match. Many dog owners install privacy fence on lines facing the roads and switch to more open picket styles for the rest of the yard.
Whatever you decide, your dog will love being able to run around and enjoy their new play area without being tethered to a leash or dog run. A new fence also provides peace of mind that your pet will remain safely contained.