Installing an aluminum driveway gate adds safety and security. While at the same time adding elegance and curb appeal.
Aluminum is a strong and rigid, yet lightweight. Therefore, a perfect material for larger gate leafs like the ones required to cover the width of a driveway.
Furthermore, aluminum is maintenance free and will not rust.
There are many options when choosing an aluminum driveway gate. Height, width, style and color are just some of them. As a result, there are many designs and configurations to choose from.
When shopping for an aluminum driveway gate, the design process is part of the fun. With so many design options and adornments to choose from, matching the style of your home or business, or personal style is easy to accomplish.
Aluminum Driveway Gate Types
There are three types of aluminum driveway gates. What sets them apart from each other is how they operate or swing.
Single leaf, double leaf and sliding gates are the most common types. Sometimes, one type will work better than the others in s particular setting. Other times the type of gate you choose will be a personal choice or preference.
Choosing the correct type of aluminum driveway gate is the key. So let's review the three gate types and discuss when and why to use one type over the others.
Single Aluminum Driveway Gate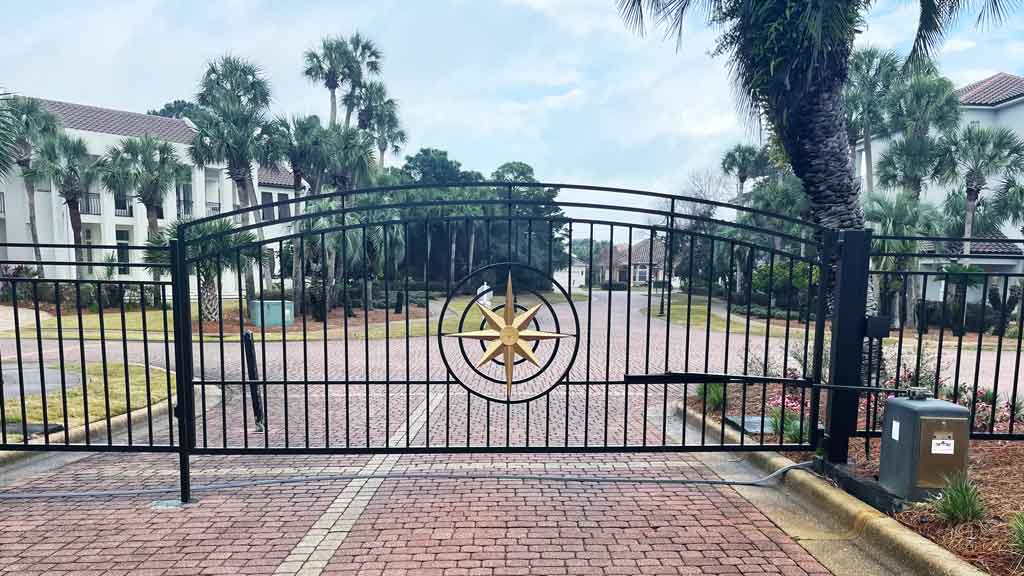 A single gate has only one panel, called a gate leaf. The are two main reasons people choose to purchase a single swing gate over the other two types.
The first is because there is only enough room for the gate to swing open in one direction. Therefore, it is a necessity to use a single aluminum driveway gate.
The second reason to choose a single swing gate is when using an electric gate operator. Operators are expensive! So buying one instead of two saves the consumer a lot of money. However, there are some drawbacks to large single swing gates.
Single aluminum driveway gates are heavy. Even though it is aluminum, a single gate will be twice as heavy as a double swing gate.
As a result, requiring heavier grade posts and hinges. This puts a lot of stress on the post and hinges. Overtime, leading to potential post lean or failure of the hinges.
Another potential issue for large single leaf gates is snow. In locations that receive large amounts of snowfall, a single leaf aluminum driveway gate is hard to operate when snow accumulates.
Imagine a 12′ wide single gate pushing a 12′ radius of wet snow that is 8″ deep. The amount of force required to open it would be tremendous.
Furthermore, a single swing gate with an operator in this scenario could lead to costly repairs or damage to the operator. Therefore, shoveling or snow plowing snow in front of the gate is a must before operating it.
Double Aluminum Driveway Gate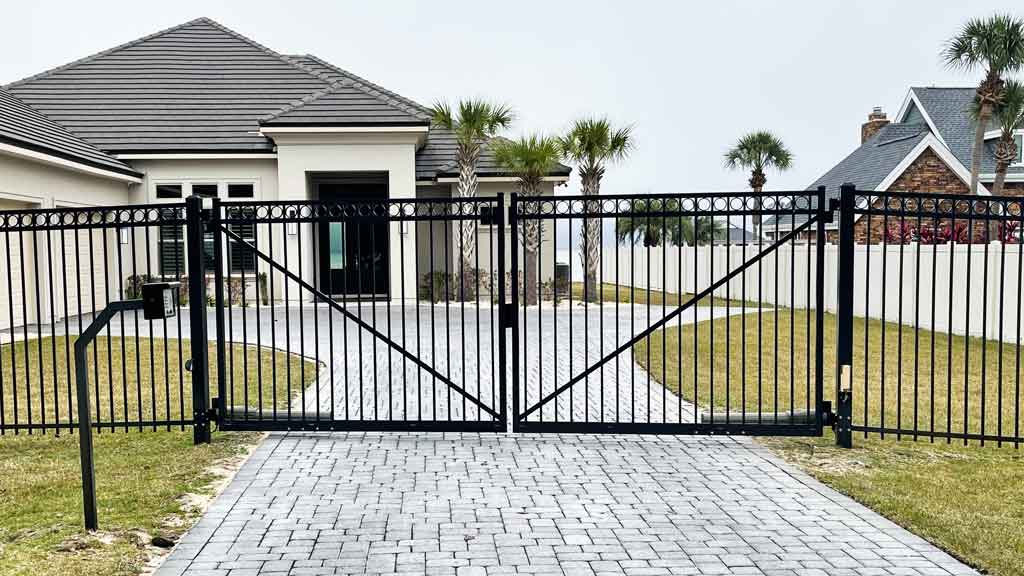 A double swing gate has two leafs. Most times, an aluminum driveway gate will be a double gate. You would think that a double gate would be more costly. However, because each gate leaf is half the weight of a single leaf gate the same width, they are lighter in weight.
As a result, they do not require as much reinforcing as a single aluminum driveway gate. Therefore, reducing the cost. Furthermore, a double aluminum driveway gate does not require as heavy of a grade for the posts or hinges.
Double leaf gates are great for covering larger openings. Dividing the gate opening by two makes for less cumbersome gates. Therefore, they are easier to operate. This holds true whether operated manually or by a an electric gate operator.
A downfall when adding gate operators to a double aluminum driveway gate is that it requires two of them. As a result, it is more costly. However, because each gate leaf weighs less and covers a smaller radius, they allow for lighter duty gate operators.
This also holds true in locations with lots of snowfall. The shorter travel radius of each gate leaf does not collect as much snow. Although, shoveling the snow in front of the gates when heavy, helps keep them operating correctly.
Another downfall to a double swing aluminum driveway gate is when the driveway is on an uneven grade. The gate leaf on the high side will not swing past 90 degrees unless elevated. As a result, in order for the gate leaf on the opposing side to match the height in the middle, to too must be elevated.
This leads to a much larger gap under the gate than most are willing to live with. Especially when security is a concern.
Stepping the gate in the center to accommodate the grade change is the only option. Which is not very appealing. Therefore, a level grade is best when installing a double swing aluminum driveway gate.
Aluminum Sliding Gates for Driveways
There are two types of sliding gate for driveways. One is a sliding gate that has a track on the ground that the gate will follow. The other is a cantilever style aluminum driveway gate.
Both style of gates slide horizontally when operated. Usually parallel to the fence line or sometimes a wall. They require very little room in front or behind the fence line to operate.
Both styles of sliding aluminum driveway gates can be operated manually. However, most use an electric gate operator to open and close them.
Rolling Track Driveway Gates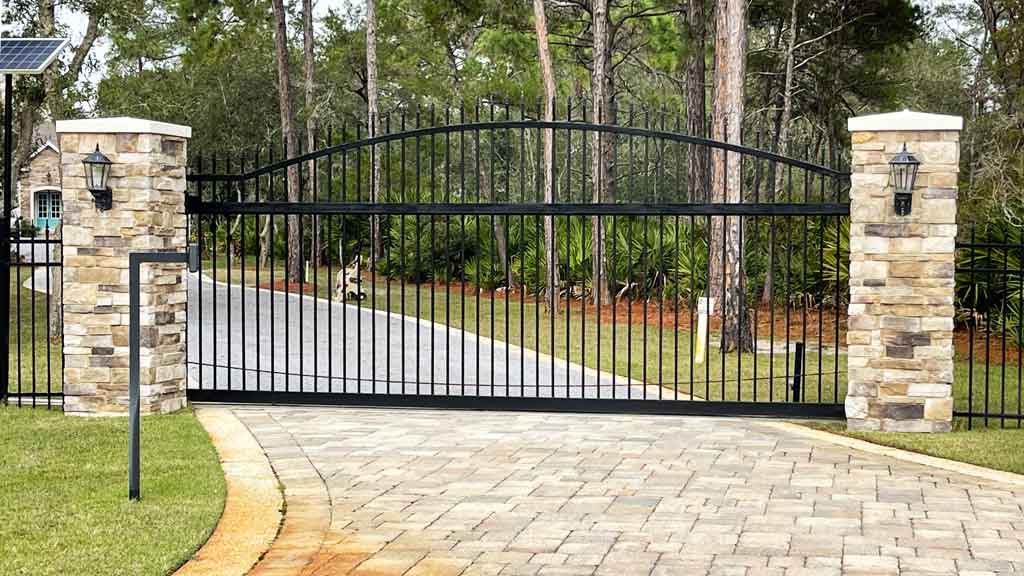 A rolling track gate is an aluminum driveway gate that uses a steel track across the gate opening. A wheel on the leading edge of the gate follows the track when opening and closing.
Two wheels, an upper and lower, guide the tail end of the gate, preventing it from falling over. A rolling track gate is lighter in weight than a cantilever driveway gate. They are also easier to operate.
Track gates work well in warmer climates where freezing and thawing does not occur, moving the level of the guide track. Furthermore, warmer climates are not prone to ice buildup on the track or damage cause by snow plows snagging the track while removing snow.
However, they do not do well in gravel or stone driveways. The track requires a concrete base to attach to in order for the gate to operate correctly.
Cantilever Driveway Gates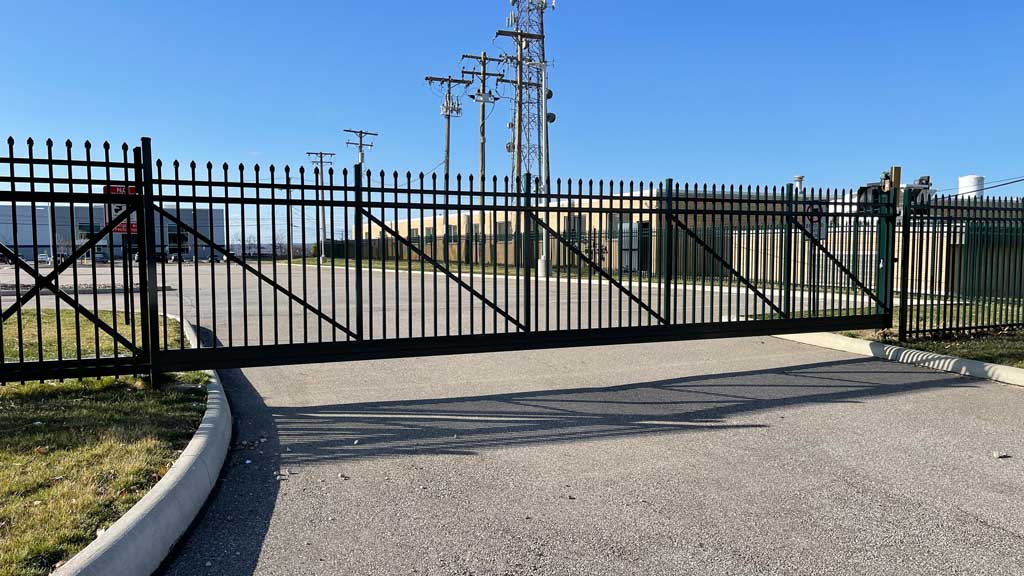 Cantilever gates are similar to rolling track gates. However, they do not require the track. In order to support themselves when closed, a cantilever aluminum driveway gate has an extended tail section called a counter balance.
The counter balance uses an extra support post. Each post will have two rollers, for a total of four.
Cantilever aluminum driveway gates work well in climates where temperatures drop and stay below freezing. Unlike a track gate, when the ground freezes, raising up an asphalt or concrete driveway, a cantilever gate is not effected.
Furthermore, gravel and stone driveways do not effect the performance because the gate does not make contact with the ground at any point.
Aluminum Driveway Gate Designs
An aluminum driveway gate designed to meet your personal style is a custom gate. However, most manufacturers limit the choices to three primary designs.
Straight across the top, an underhand scalloped design and an overhand arched design. These three designs, combined with all of the other options, are enough to give your aluminum driveway gate a custom look.
However, if you want a truly custom, one of a kind gate, a wrought iron gate is the way to go.
Straight Top Gates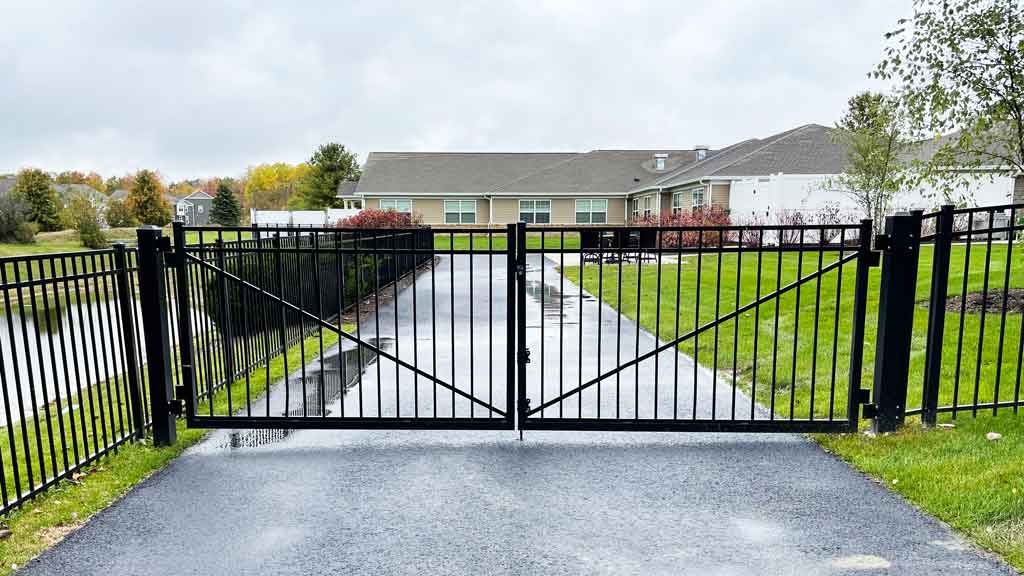 A straight top gate is a gate that remains straight across its length. It can have a flat rail on top or the pickets can protrude through the top rail.
The pickets can even alternate from in height from high to low. As long as the horizontal rails remain straight, it is considered a straight top or standard aluminum driveway gate.
The straight top design is very common. Especially in locations where there are height restrictions for gates and fences, When incorporated into the line of a fence, they blend in well.
Single swing driveway gates and sliding gates are normally straight on top. While homeowners usually look to a fancier design, straight top gates work well for apartment complexes, storage facilities and other commercial properties where function is more important than aesthetics.
Arched Top Gates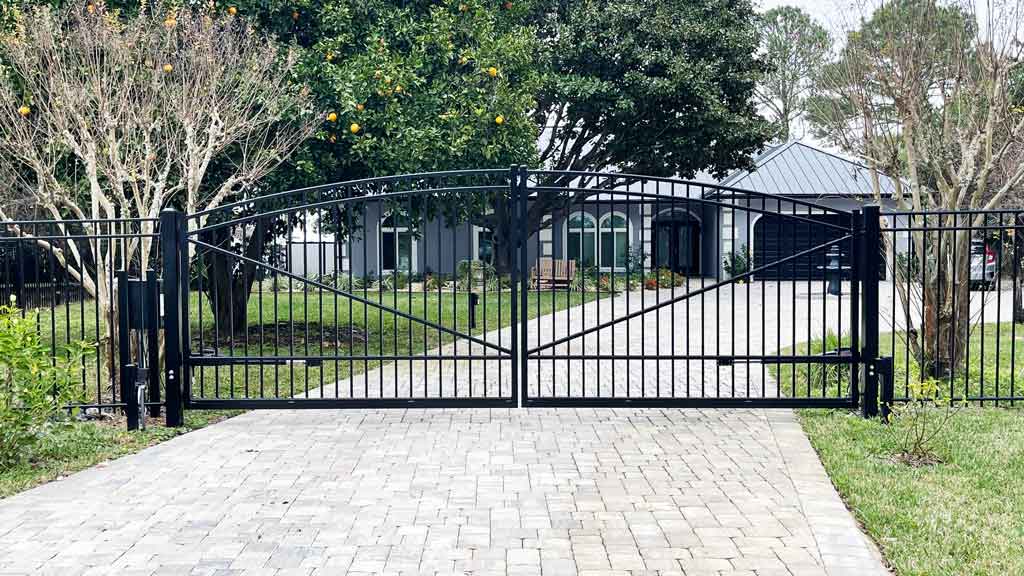 Probably the most popular design, an arched top aluminum driveway gate starts low at the outside edges and arches upward in the center. The amount of the arch is determined by the width of the gate.
Manufacturers offer two styles of arches. The first has a constant radius from one edge of the gate to the other. The second starts off flat and then arches upwards. Sometimes called a royal arch.
Both designs are popular. It comes down to personal taste.
Take a drive around the block and you are sure to find an arched aluminum driveway gate. Many times as a stand alone feature, not incorporated into a fence line.
Usually hung between brick or stone columns. An arched aluminum driveway gate gives any property instant curb appeal with an estate look.
Scalloped Topped Gates
A scalloped aluminum driveway gate starts higher at the outside edges of the gate and arches downward towards the center. Not as common as the other two designs. Primarily because of the loss in height in the center of the gate.
For example: Many cities have height restrictions for fencing in front yards. If the restriction is 48″ tall. A scalloped gate would also be 48″ tall, matching the height of the fence. However, when it scallops downward, it looses height. Sometimes up to 12″ of height depending on the width of the gate.
Most homeowners are not willing to loose that height. As result, scalloped top driveway gates are usually installed as stand alone gates. Without fencing on either side.
Gated communities, country clubs and anywhere preventing automobile traffic are common places to find a scalloped aluminum driveway gate.
Aluminum Driveway Gate Picket Spacing and Options
There is a nationwide code pertaining the the amount of space allowed between the uprights of any gate, fence or railing. It has to be a maximum of 4″ or less. Aluminum driveway gate manufactures comfy with this rule.
Most push the limits with spacing of 3-7/8″. This is the standard picket spacing for almost every manufacturer.
However, if you are trying to contain a small pet, or simply just prefer the look of a tighter space between the pickets, you have options.
Double Picket Spacing
Just as it sounds, double picket spacing has twice as many pickets. Reducing the space between the pickets to less than 2″.
People choose this option because it is more secure. Preventing unwelcome hands from reaching though the uprights or smaller dogs from sliding their heads between the pickets.
Other times, they just like the way it looks. On some automated gates, the smaller spacing is actually code, preventing pinch points and accidental injury.
Puppy or Dog Picket Spacing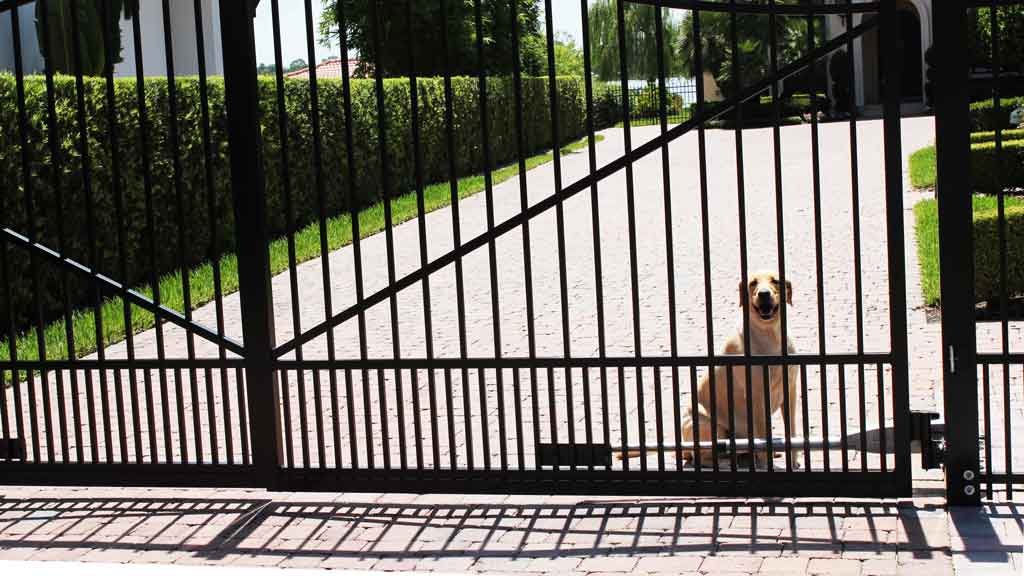 Puppy and dog picket spacing has twice as many pickets just like the double picket spacing. However, the height of the double pickets only extend 18″ to 24″ tall.
Just tall enough to prevent a puppy or small dog from passing through. It is also a popular option to add to an aluminum driveway gate just as a design feature.
Aluminum Driveway Gate Picket Tops
The top of an aluminum driveway gate with either have a smooth top rail, or the pickets will protrude through the top rail. When the pickets are exposed, there are many options to how they are finished.
Pressed Spear Picket Tops
A pressed spear point is the most common way to finish a picket top. This is when the picket is flattened out on the tap and then the shape of a point is cut into into it.
Most resemble the ace of spades from a deck of playing cards. The pressed spear is considered the standard picket top.
Square Top Pickets
A square top picket is when the picket is left square. Usually a plastic insert or plugged is inserted inside of the top of the picket.
The square top picket looks unfinished at times. However, they do allow for finials to be added at anytime.
Finial Picket Tops
A finial is an accessory added to the top of a picket. There are many types and sizes of finials.
The three most common for an aluminum driveway gate are the quad flare, triad and Fleur-di-lis. Finials are usually painted gold to further accent them.
Rings and Scrolls
Rings and scrolls added to an aluminum driveway gate give it flare and make it pop. The rings are added in rows. Usually mounted between two rails.
Scrolls mount between the pickets. But not every picket. Sometimes one scroll per gate leaf is enough. Sometimes homeowners like the look of multiple scrolls.
Just like the finials, many times scrolls are painted gold in order to make them stand out better.
Conclusion
Wow! If you made it this far, a congratulations is in order. You now know just about everything there is to know about an aluminum driveway gate.
You can see how customizing one to fit your style is easily done with all of the options available. So choose the options you like the best. You'll be the one driving through it on a daily basis.
For more information on other types of driveway gates, view our Driveway Gate Guide