Farm gates allow people, livestock or farming equipment to gain access into fenced in areas or locations. They are simple in design, robust in construction and last for years with little to no maintenance or upkeep. Making them the perfect solution for field fencing, pasture fence, livestock fence and paddocks or corrals.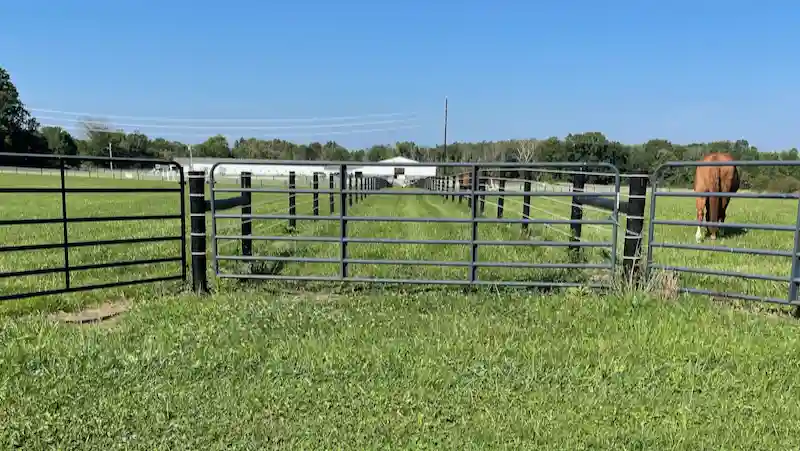 What are the different types of livestock gates?
Farms and livestock gates come in a range of types and colors. There are welded tube styles. Styles with wire mesh infill. There are wood farm gates and also metal panel gates.
Some gates are even made from simple strands of barbed wire or high tensile wire and round post uprights. For the sake of this article, we will turn our focus on 3 types of store bought metal gates.
Metal Field Gates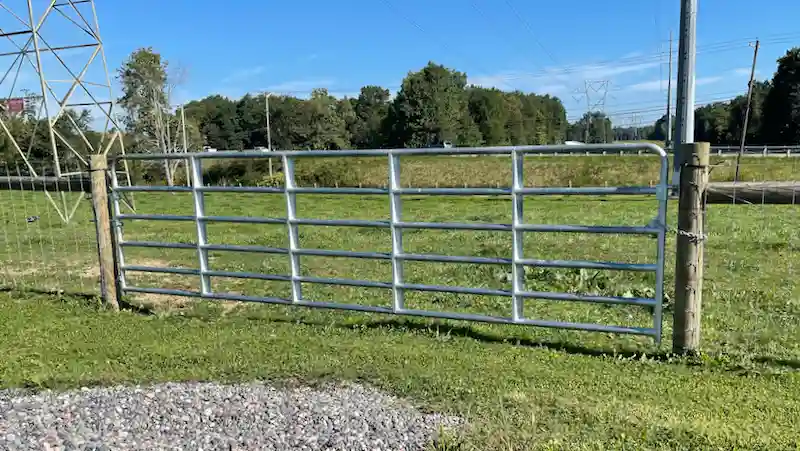 Metal field gates are sometimes referred to as a tube gate or a pipe gate. These are the most common type for farms and ranches. Usually with 5 – 6 horizontal 2″ diameter pipes, welded together to form the gate.
Tube gates for great for cattle fences or for larger animals that cannot squeeze through the openings of the horizontal pipes.
Manufactures offer these types of metal agricultural gates in different grades. Relating to the wall thickness of the pipe, how they are welded together and how many horizontal rails are included.
Mesh Farm Gates with Wire Fill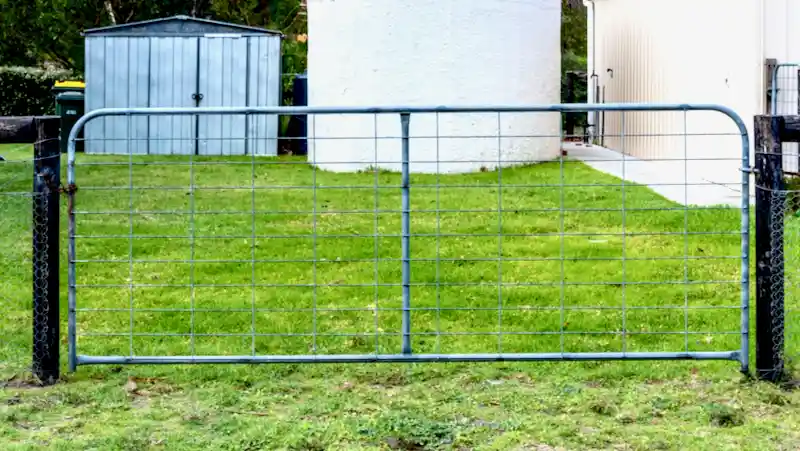 Wire infill is commonly found on many styles of farm and ranch gates. These types of agricultural gates with wire fill are perfect for woven wire fence and welded wire fencing with smaller spaces. Usually containing smaller animals or livestock.
The wire mesh infill allows for a gate to be constructed using less horizontal rails. The wire mesh patterns comes in different sizes depending on your needs for the gate.
Smaller mesh sizes are 2″ x 4″. Medium sized patterns are often the same size as a cattle panel fence. Closer to 4″ square. However, there are even mesh farm gates with large mesh openings for large animals such as horses and cows.
Panel Gates for Farm and Field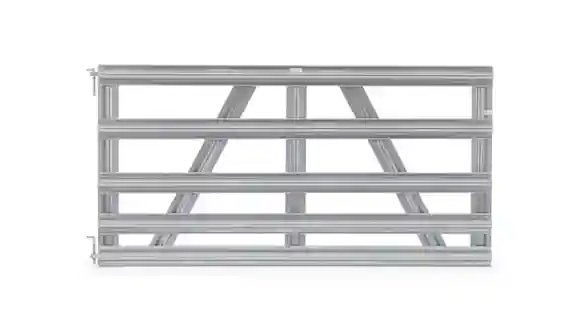 Panel gates are agricultural gates that have wider flat pieces of sheet metal welded together instead of round metal pipe or tubes. Usually made from galvanized rolled panel steel.
The steel panels found in this type of field gate add rigidity while reducing the overall weight.
What sizes do farm gates come in?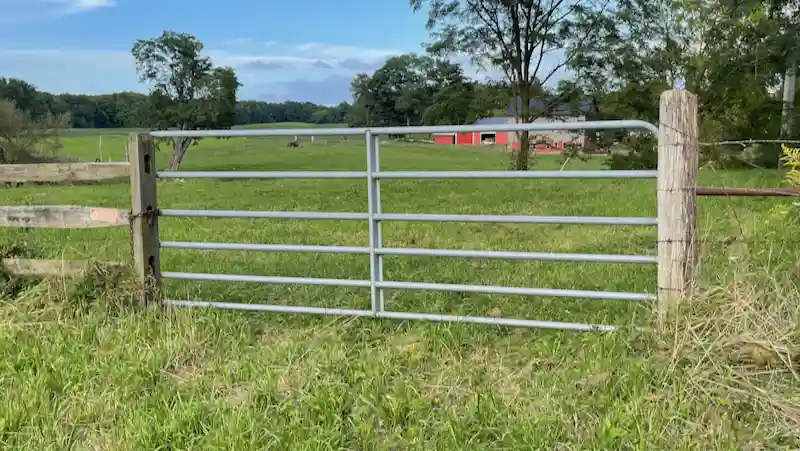 Farm gates come in many different widths. Smaller walk or man gates start at 3′ wide. Widths jump in one foot increments up to 6′ wide. Then jump in size in 2′ wide increments. With the widest metal tube field gate covering spans of up to 16′ wide.
However, a wider gate requires more support from gate posts. As a result, putting extra stress on under sized gate posts. And ultimately failing over time. Wider gates also require more room to swing open for access and are more cumbersome to open and close.
Double Farm Gates
A double gate is just two single gate leafs that meet in the middle. Often times with field type gates, the gates even overlap slightly. Therefore, providing a more secure connecting point.
A double gate covers large spans and openings providing more access. Are easier to open and close when compared to one single wide gate and are much easier on the supporting hinge posts.
How do you attach a farm gate?
The type of post your field gates will hang from will determine what type of hinge is required for installation. Most come with a screw in j-bolt type hinge. With the female eye hinge welded onto one side of the gate. Lag style are perfect for wooden gate posts.
J-bolt hinges with threaded shafts are commonly used for wooden fence post and metal posts. Requiring a hold drilled all the way through the post. A nut on each side of the posts thread tightly to secure the hinge into place.
Conclusion
Simple in design and built to last, farm and livestock gates are function, require no maintenance and easy to hang. All great reasons you should consider one for your corral, paddock or pasture fence.