Wrought iron gates are one of a kind works of art. Hand sculpted by master craftsman using a skillset that's been around for centuries. Not only are they beautiful and elegant. They add to curb appeal, providing a wow factor for any property. Wrought iron gates combine durability and strength. As a result, providing integrity, safety and ultimate security. Built to last a lifetime, they require little to no maintenance.
The Difference Between Steel
Steel has carbon added to it to increase its strength and hardness. Wrought iron only has a small percentage of carbon. Less than a tenth of a percent. Therefore, it is more malleable than steel. As a result, allowing it to bend and twist easier when worked by craftsmen. It is easier to weld during fabrication than steel. Wrought iron also has slag inclusions found natively in the iron ore used to produce it. These inclusions offer a cosmetic advantage over steel, resulting in a grainy look, similar to that of wood grain. All of these traits are advantages when building custom gates.
Custom Wrought Iron Gates
Custom wrought iron gates can be true masterpieces. No two are the same. There are no automated processes. The skills needed to build one are quickly becoming a thing of the past. Luckily, there are companies still making them today.
There are many reasons why someone may want a wrought iron gate. It could be simply to fill an opening in a doorway or to provide security, covering the span of a driveway. Styles range from very simple designs to extremely ornate designs. One thing is for certain though, no matter the location or design, it is sure to be a focal points of the property.
Wrought Iron Driveway Gates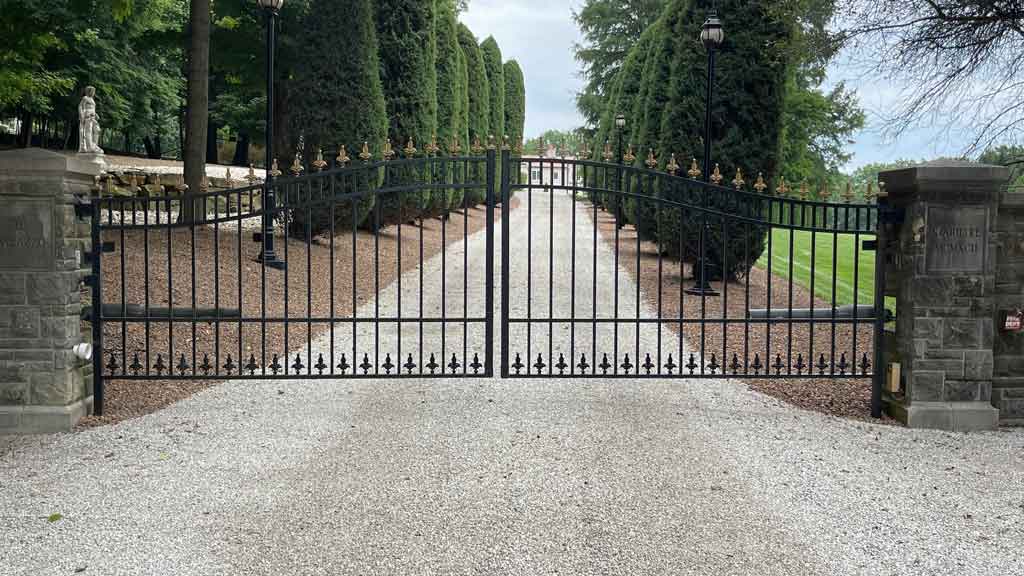 Wrought iron gates for driveways are very popular. Sometimes they are part of a perimeter fence. Other times they stand alone. A driveway gate is the first thing visitors will see when entering the property. It is a statement piece. The design should be one that fits the owners personality and taste.
Driveway gates are great for keeping unwanted guests out. No more solicitors or door to door sales people. They are also great for keeping pets and children from straying too close to the road. Providing a safety and security.
Many times driveway gates will have electric operators. Operators open and close the gates when prompted. The access control options are endless. From a simple hand held transmitter just as a garage door opener would have. To key pads, cameras and telephone controls.
Gate Posts, Piers and Columns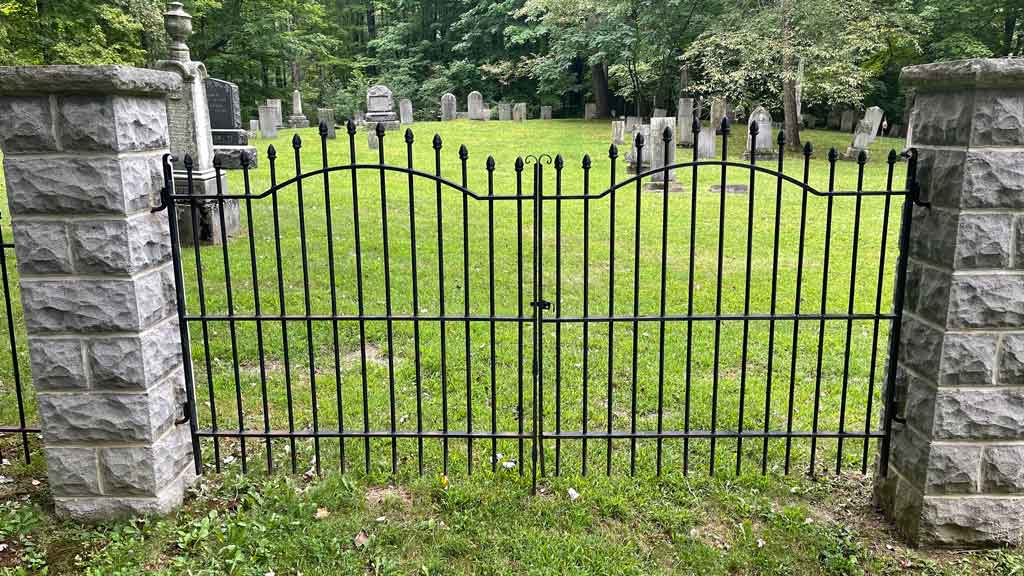 Wrought iron gets are heavy. Really heavy! Therefore, the must have a solid platform in which to hang from. Freestanding posts, set into concrete footers is one option. However, sometimes posts just aren't enough to support large gates. When this is the case, gates must hang from brick or stone columns or piers.
Columns and piers sit on top of huge concrete footers dug deep into the ground. A mason then builds the column or pier on top of the footer. Rebar inside of the columns ties the two together. The result is a rock solid foundation to support heavy gates. The mason will also set the gate hinges at the same time he constructs the piers or columns. For gates with electric operators, mounting hardware is installed at the same time. Brick and stone piers or columns make for a grand entrance. Producing a stately appearance in conjunction with the gate.
Wrought Iron Garden Gates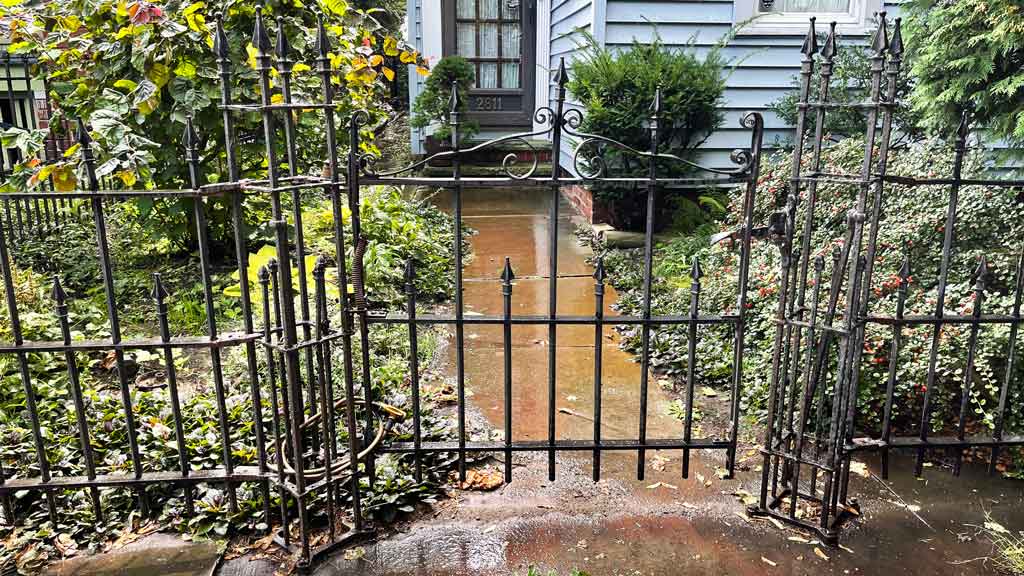 Garden gates constructed from wrought iron are much smaller. They are sometimes referred to as walk gates or man gates. They are shorter in height and width. Usually a single gate panel called a gate leaf. They are primarily used to for pedestrian foot traffic. Either allowing entry to or preventing access to a particular area. A wrought iron garden gate will accent any setting.
Because they are lighter, most times, garden gates will hang from posts. Either free standing gate posts or posts incorporated into a line of fence will work. However, sometimes they will fill openings provided in concrete or brick walls. In these situations, no post are needed.
A man gate or walk gate hung in a doorway provides strength and security. Wrought iron is strong and very hard to damage. As a result, potential burglars have no chance of breaking through one. However, sometimes all a garden gate is asked to do is actually provide an entrance to a garden.
Wrought Iron Gate Designs
Wrought iron gates come in many designs. If you can dream it, it can be built. However, there are some basic starting points when designing a custom gate. These apply to both driveway gates and garden style man gates. Designs range from single leaf and double leaf gates. Gates that are straight across the top or gates that have arched or scalloped tops. There are also a variety of adornments to choose from, adding to a custom gate design.
Find out How Many Fence Gates you Should Have
Single Gates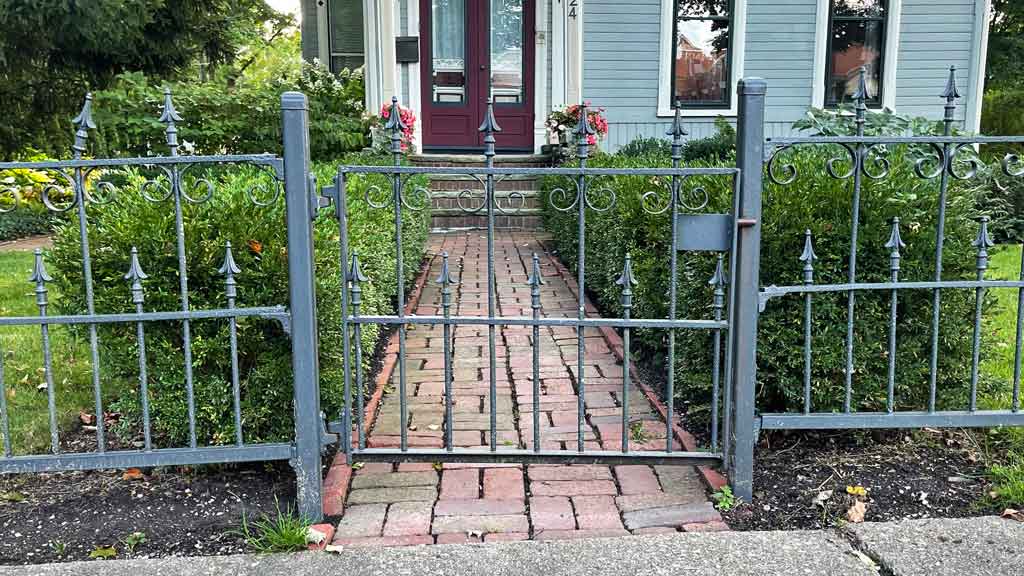 Most garden gates are single leaf gates. Common widths are 3′ – 6′ wide. However, even driveway gates can be one single leaf if constructed correctly. Single gates are easy to operate. Having a hinge side and a latch side. Arches and scallops are options for single gates. Often used to set the gate apart from the rest of a fence line.
Double Gates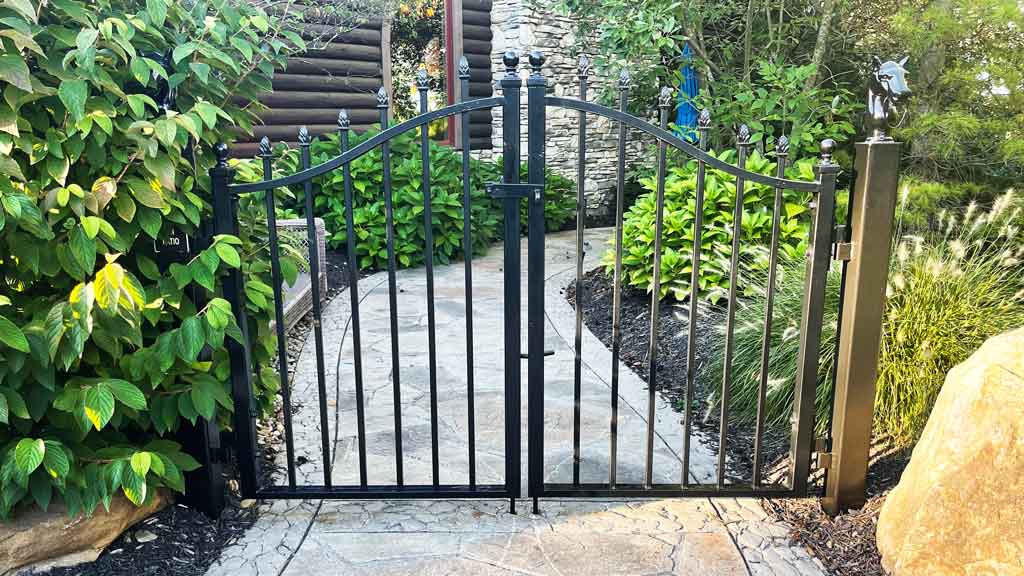 Double gates have two gate leafs. Often referred to as double drive gates. Primarily because a double gate is required to cover the extra width of a driveway. Double gates are much lighter than a single gate of the same width. As a result, they are less cumbersome to operate. At the same time, requiring less room to swing open.
Double gates aren't just for driveways. They also allow access of vehicles and large equipment such as riding lawn mowers, into back yards. Most of the time, one gate is used just like a walk gate. A drop rod or cane bolt holds the opposite side of the gate in the closed position. When large items require access, pull the rod or bolt allowing both gates to open.
Arches and Scallops
Custom wrought iron gates aren't always flat across the top. As a matter a fact, most times they're not! Arching and scalloping the tops of the gate are very popular designs. Arched gates will have an overhand radius. Therefore the center of the gate will be taller than the outside edges. Scalloped gates have an underhand radius. As a result, the gate will be lower in the center and taller on the hinge side. Either style will Gove your wrought iron gate a stately look. Personal taste and style will dictate which one you choose.
Wrought Iron Adornments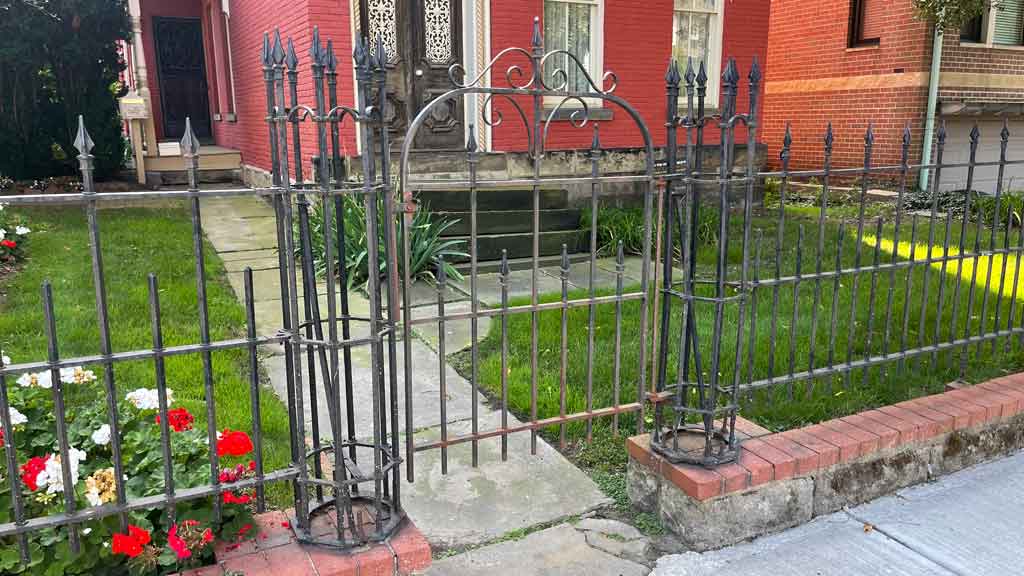 An adornment is anything that helps decorate wrought iron gates. In the world of custom gate fabrications, the options are endless. Adding adornments is what really turns a wrought iron gate into a work of art. The addition of rings, finials and scrolls turns even the most simple gate design into an elaborate one. The key is to add just enough without going overboard. However, personal taste will dictate what overboard is.
Rings – Adding rings is a popular adornment. A row of rings breaks up the hard vertical and horizontal lines created by the rails and pickets. Usually rings will mount between two rails. Sometimes one tow at the towards the top of the gate is all that is needed. Sometimes it's a row at the bottom. And sometimes it both. When it comes to adornments, this is where you have creative freedom. Choose the design that fits your style and personality best!
Finials – Not all wrought iron gates will have the vertical pickets protruding through the top rial of the gate. For those that do, the pickets will have finials welded to the tops. Adding finials to the gate adds elegance. There are many types of finals available for wrought iron gates. From a basic arrowhead design to the ornate Fleur-De-Lis. The most popular styles are the quad flare, triad and fleur-de-lis.
Scrolls – Scrolls fill in the spaces between the pickets. Each scroll is its own little work of art. Their size ranges from just a few inches tall to a few feet tall. Sometimes the entire gate will have scrolls. However, the overuse of scrolls does not look appealing in many situations. As a result, I recommend using them sparingly.
Letters – Letters are another type of adornment added to wrought iron gates. Sometimes, just one letter on each gate is enough. Usually representing the first letter of a last name. However, sometimes the full name of a ranch or business will be added.
Conclusion
Wrought iron gates are an investment. An investment in strength, security and dependability. In return, they provide beauty, elegance and curb appeal. A combination that is rare to find. The investment isn't cheap. However, the custom look and longevity that comes with wrought iron gates pays dividends throughout their lifetime.