Iron fence is strong! It is more secure than any other fencing material. Therefore, for strength and security, it is the go to choice in fencing material. However, sometimes it's not all about strength. Maybe you want a custom fence nobody else has. Sometimes looks are important too! Iron fence builders are capable of producing extraordinary fence designs. These designs add beauty and elegance to any landscape.
Many fences installed today appear to be iron fence. However, most aren't. Aluminum and steel fence manufactures are producing styles and designs that look similar. In many cases, they are probably a better option for the consumer. While they may not be custom, manufacturers offer enough options to customize the look of them. Furthermore, they are more affordable. Mass produced in factories using automated machines brings the price down. The are readily available and easy to get.
But for those consumers wanting a fence that will last for decades. Or a truly one of a kind hand crafted piece of art. Then choosing to purchase an iron fence is the way to go. In this article, we'll discuss the three main components of an iron fence. The panels, the posts and the gates. We'll also review what makes them superior to similar styles of fence constructed from other materials.
Iron Fence Panels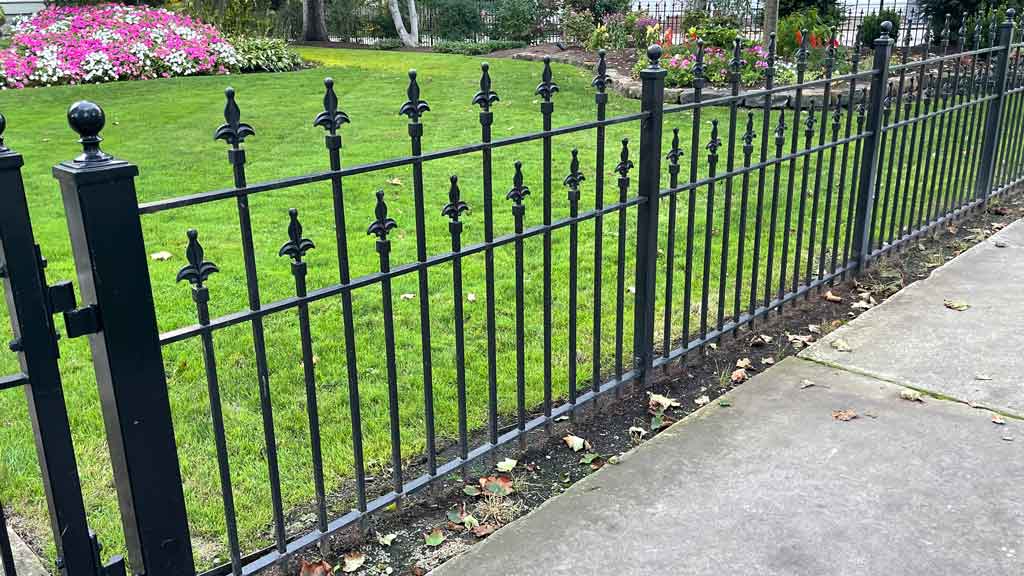 Iron fence does not come in pre-manufactured panels or sections. Every single panel is custom. As a result, they will all vary slightly, but not enough to really notice. The heights and widths of each panel are built for a particular application. Therefore, each panel may be different from the next. Iron fence panels are heavy. Really heavy! Both the horizontal rails and the vertical pickets are solid iron. Unlike ornamental steel fence that uses hollow steel tubing for the pickets and a "U" channel for the rails. Using solid iron stock allows master craftsman to bend, twist and shape the pickets into almost any design. When welded to the rails, the combination provides ultimate strength and durability.
The amount of rails, size and number of the pickets and thickness of the iron used to construct an iron fence panel are all customizable. Even residential grade iron fence is stronger than commercial and industrial grade aluminum. The purpose of the fence will dictate how strong and what grade it has to be. Iron fence panels used to outline the perimeter of a garden don't need to be overly strong. However, a 12′ tall fence found at a professional sports stadium must be strong enough to prevent the access of non permitted fans.
Iron Fence Posts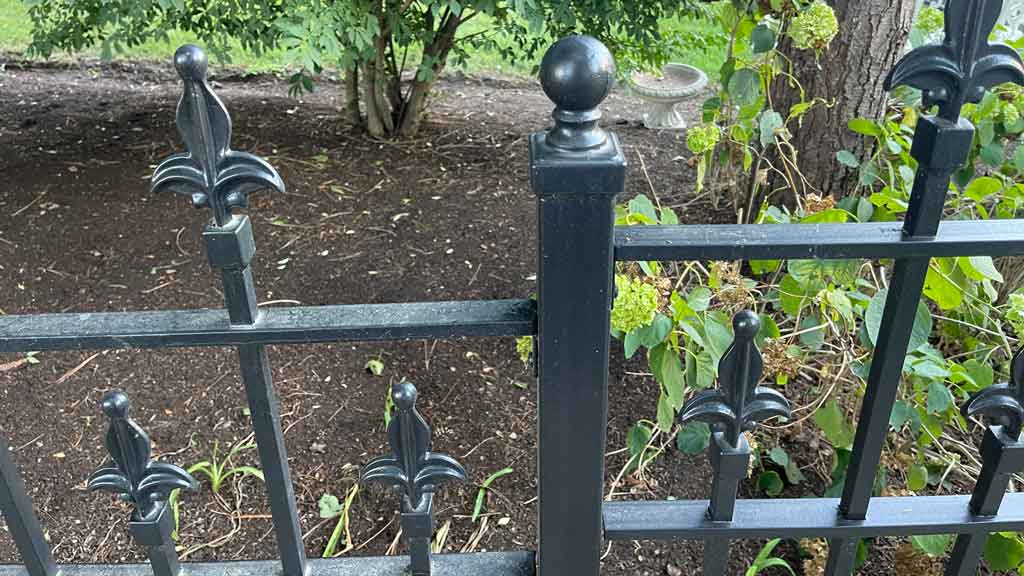 Fence posts support the panels. Iron fence posts, just like the panels are really strong. This is because of the inner wall thickness of each post. Iron posts have thicker wall thickness dimensions when compared to posts of aluminum or steel. As a result, making them stronger than other posts of the same outside dimension. The thicker wall also allows for welding the iron fence panels to the posts. As a result, the panels cannot be removed. This is the most secure method of attaching the panels to the post. However, sometimes removable panels are a must. In this situation, iron tabs are welded to the posts even with the rails of the panels. The panels then bolt to the tabs allowing for easy removal. While not as secure as welding the panels to the posts, it is still an accepted method of attaching the panels to the posts.
Post caps are available in many designs. Caps prevent water from entering the inside of the posts. Leading to potential rust from within. A four sided pyramid cap and ball caps are the most common. However, manufactures offer a variety of other choices. Anything from horse heads, to pineapples, to finials and acorns are available. To prevent theft in public areas such as parking lots and along sidewalks, have the post caps welded to the posts.
Iron Fence Gates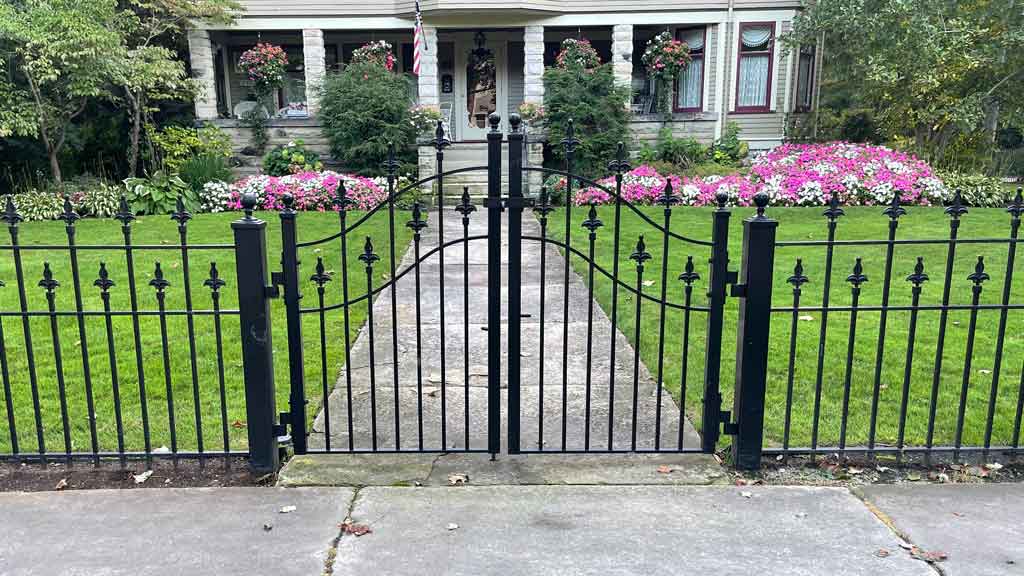 Gates provide access to fenced in areas. Iron fence gates are the strongest and most secure. Built from the same solid iron as the panels, they are extremely durable and are almost impossible to damage. Therefore, providing maximum security.
Iron gates come in two main designs. Single leaf gates and double leaf gates. Single leaf gates are usually narrower in width. Commonly used for allowing pedestrian traffic. However, larger single leaf gates are available for use across narrower driveways. Double leaf gates cover wider spans and openings. Often used for driveway gates or anywhere larger openings are required. Many times, iron fence gates will arch or scallop in the center. Adding adornments also creates a custom look.
Because of how heavy iron fence gates are, they need a good foundation to support them. Gate posts are larger than the rest of the posts. Sometimes posts won't support larger gates. Therefore, masonry piers or columns provide extra strength needed to support them. Brick or stone piers are common at the entrances of driveways, supporting large estate gates.
Iron Fence Cost
Iron fence costs more than any other type of fence. The materials cost more. The labor to hand craft all of the components costs more. The labor to install a fence that will last for decades costs more. A simple residential iron fence design can start at $100 per linear foot. The height of the fence, the grade and how intricate the design is will also effect the pricing of iron fence. Gates are the most expensive part of any fence. The same holds true here. With so many variables, there is no way to provide an estimated cost per foot. However, here are few things to have figured out searching for iron fence quotes.
Things to Know Before Getting Quotes
Total Footage – if possible, know how many linear feet of fence you will need. A per foot price for the same fence style can change drastically based on footage. Setup costs and materials costs are reduced for larger fence jobs. A job with 24′ of fence will not have the same per foot cost as a job with 224′ of the same fence.
How many Gates? – Gates add to the per foot cost of a fence. Know how many gates you need, not want. Eliminate gates that won't used often or at all. Check with your landscaper on the width required to fit commercial mowers. Purchasing a wider gate upfront is much cheaper then having a wider one installed at a later date.
Know the Height – Will your fence be used to prevent access to an in-ground swimming pool? Do you have a homeowners association with height requirements? Save the fence contractor wasted time figuring incorrect quotes because of height restrictions. Contact the building or zoning departments before choosing the height of the fence.
Know what Grade – The grade of the iron fence will effect the price drastically. If your fence is keeping deer from entering a garden, then residential grade is fine. If it is securing the employee parking lot in the inner city, a heavier grade will be required for security. Don't overkill it. As mentioned before, even residential grade iron fence is stronger then most steel and aluminum industrial grade fences.
Conclusion
Iron fence isn't for everyone. It won't fit into everyones budget. Even if it does, it may not be the wisest choice for your fence application. Shop around! Get fence quotes from multiple shops if possible. Weigh the pros and cons between the other styles of fence like ornamental steel and aluminum fence. Then make an educated decision as to which one best suits your needs.