Wood farm fence is a must for any farm or ranch. Used for tasks such as creating and separating pastures and paddocks, to establishing property lines.
However, the type of farm or ranch you have and the type of animals contained will determine the style of wood farm fence to install. There are many designs to choose from.
This guide will educate you on the the different wood farm fence designs, the types of lumber used, and installation ideas.
Wood Farm Fence Designs
Farm and ranch fence comes in many designs. However, four designs are the most popular.
Split rail fence, round rail fence, post and rail fence, and cross buck fence. Each one with it's own unique look and feel.
Let's take a look at each style and how they are constructed.
Split Rail Wood Farm Fence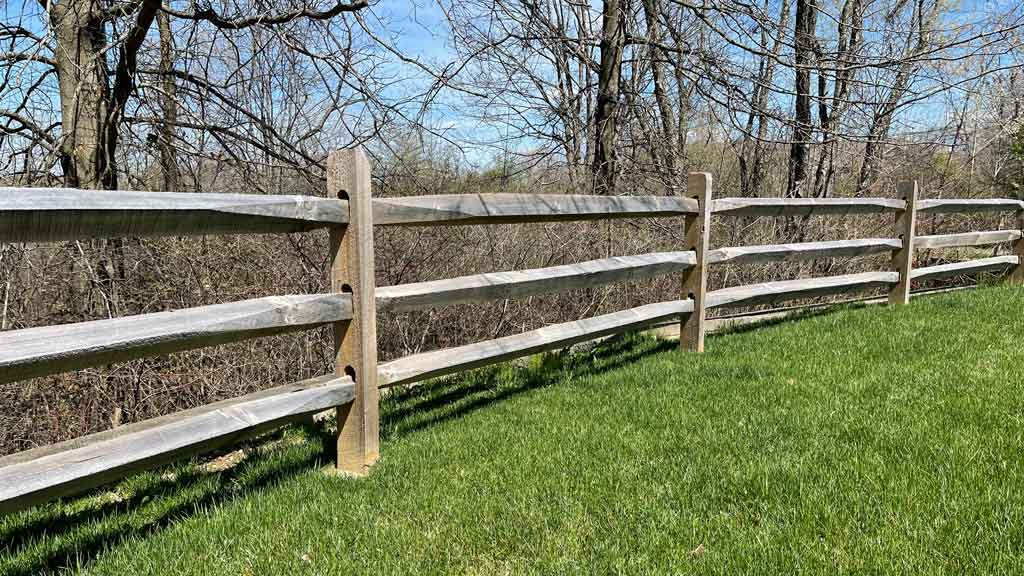 Split rail fence is a rustic looking wood farm fence design. Posts are rectangular in shape. However, a post can have a rounded side from some manufactures.
Full length logs, split lengthwise, make the rails. As a result, the part of the log the rail comes from, will determine the shape of the rail. They will either have a rounded face on one side or have a diamond shape.
The rails overlap each other, fitted through holes drilled through the posts. The length of the rail will determine posts spacing. 10′ long is standard with some manufactures offering an 8′ long rail.
The number of rails on a split rail fence will also determine the height of the fence. 2 rail, 3 rail, and 4 rail options are all standard.
Round Rail Wood Farm Fence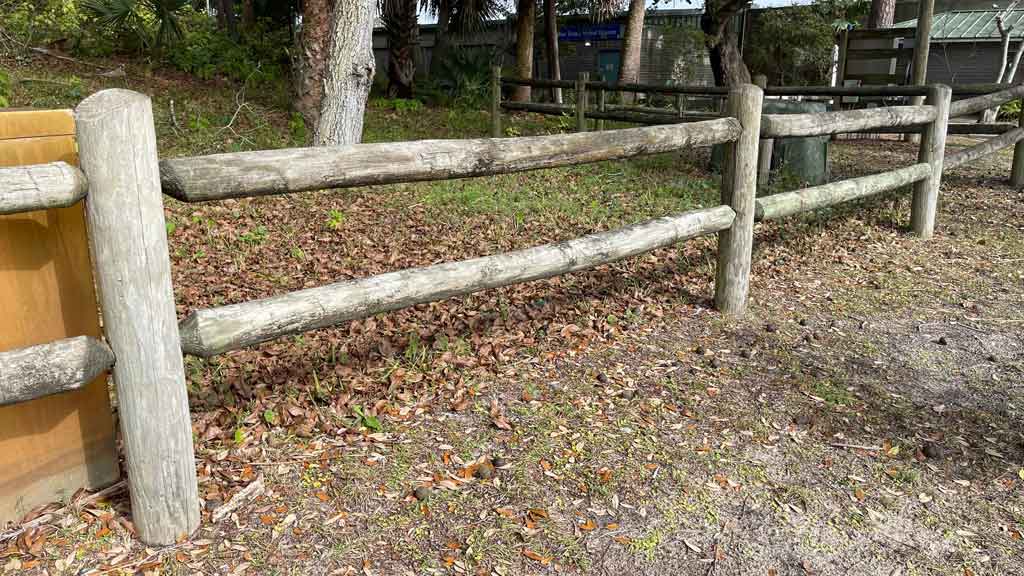 Round rail fence has a unique look used for many farms and ranches. Both the posts and rails are round. The rails taper down at the ends and fit into holes drilled into the post.
Just like split rail fence, 2, 3, and 4 rail options are standard. Round rail fence looks the same from both sides.
The spacing for the posts is 8′ on center. However, shorter sections are available by cutting the rails. Then using a special tool to taper the end of the cut rail.
Post and Rail Wood Farm Fence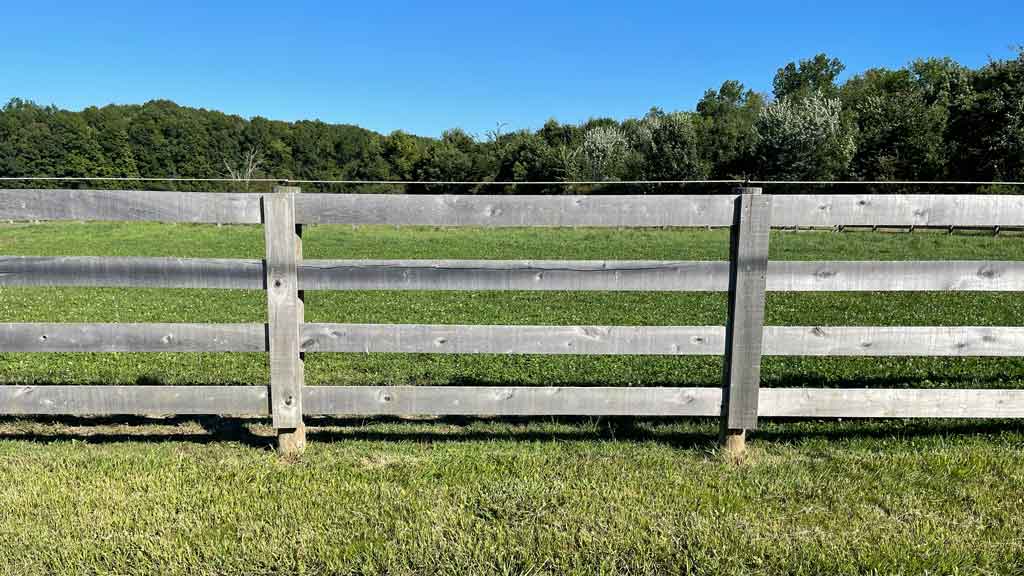 Post and rail wood farm fence is the most popular design. It has the classic look associated with farms and ranches. Furthermore, the design allows the fence to flow nicely in long lines over rolling terrain.
Common designs have 2, 3, and 4 rails. The number of rails, the width of the rails and the space between the rails will determine the overall height of post and rail fence.
Posts spacing of 8′ or 10′ on center is normal. The closer spacing will result in a stronger fence.
A common mistake is nailing the boards used for the rails on the outside of the fence.
Over time, horses or livestock rub against the fence and push on the fasteners used to attach the rails. This results in boards popping off.
However, boards attached to the inside of the posts will prevent this from happening.
Crossbuck Wood Farm FenceFence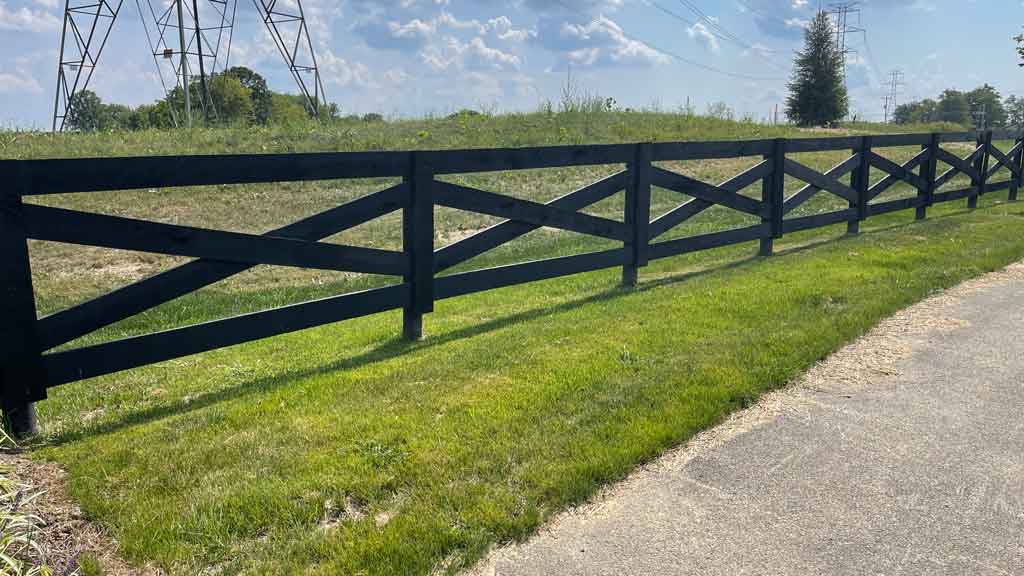 Crossbuck wood farm fence is a post and rail fence design where there is an "X" in each section. Two rails, attach diagonally to the posts and overlap to create the cross.
However, post spacing is important when installing cross buck fence. The diagonal measurement will require longer boards. Therefore, setting posts slightly closer on center than your horizontal board length is a must.
Consequently, cutting the horizontal boards to fit the shorter measurement between posts is a must.
Wood Farm Fence with Wire Fabric
Adding wire to wood farm fence gives it the ability to keep smaller animals contained. It also allows for using less rails with larger spaces between them.
There are three styles of wire fabric that work well with wood farm fence.
Welded Wire Fence Fabric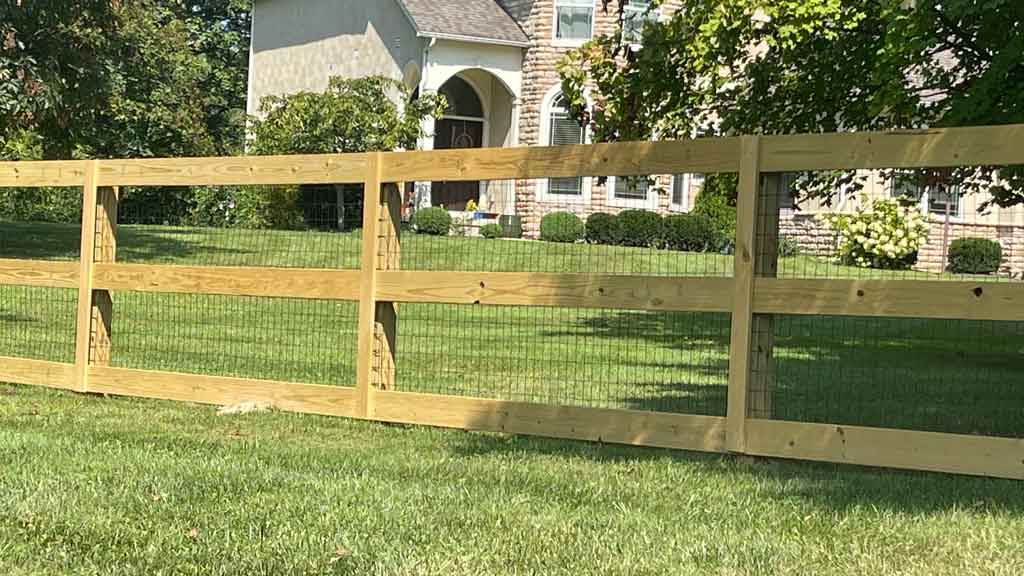 Welded wire fence has horizontal and vertical strands of wire, welded together where they intersect. While this sounds strong, the gauge of the wire used is very thin.
As a result, making welded wire the weakest option of the three. However, it is also the least expensive. Welded wire comes galvanized or vinyl coated in black, brown or green.
The spacing of the holes are either 2″x3″ or 2″ x 4″ in size. Disadvantages of welded wire are it cannot be stretched very tight without breaking and it does not flow over rolling terrain well.
Woven Wire Fence Fabric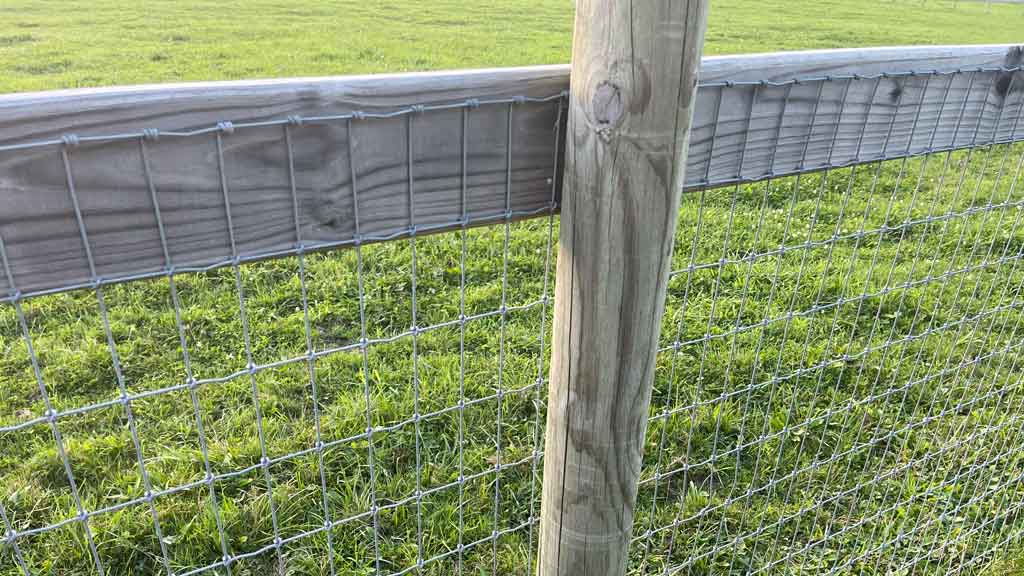 Adding woven wire fence fabric to wood farm fence is very popular. Woven wire fence uses heavier gauge strands of wire, therefore making it stronger. It can be stretched tightly and follows uneven terrain nicely.
Mesh sizes are available in many configurations. Options range from large rectangular holes used to keep livestock contained, to a special "No-Climb" mesh that prevents a horses hooves from getting tangled in the mesh.
There are even graduated options that have smaller holes at the bottom of the fence that gradually get larger at higher heights.
Chain Link Wire Fabric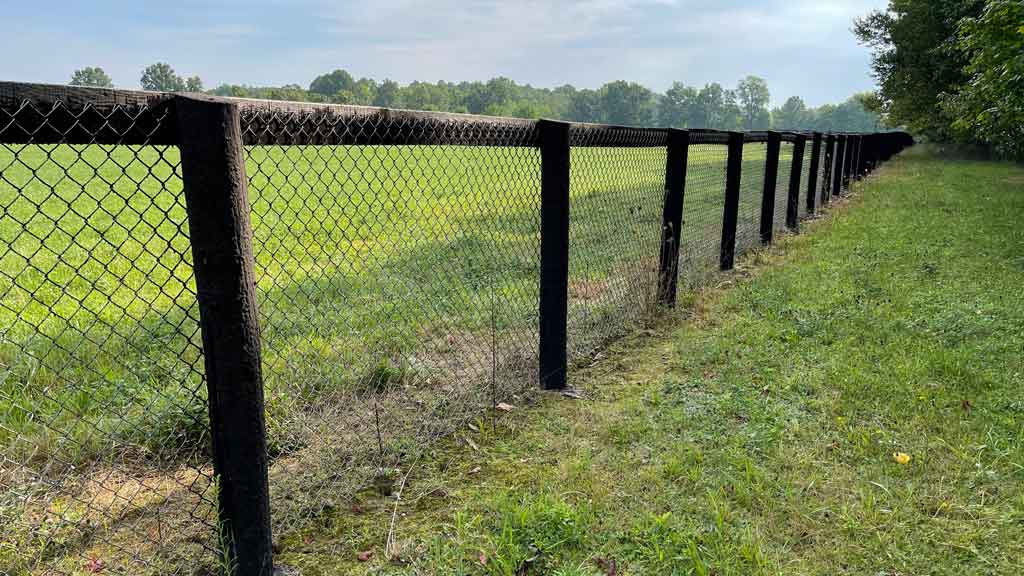 Chain link wire fabric is often used as a mesh backing to post and rail fences. Vinyl coated colors come in green, black and brown. Therefore, allowing the chain link mesh to blend in better.
Chain link fabric can be stretched tightly and flows over uneven ground well. Different gauges are available to provide a range of strength options.
Types of Lumber for Wood Farm Fence
Many kinds of lumber is used to build farm fence. The design you choose will affect the lumber choices available to you.
However, only certain types are available from some manufacturers. Post and rail fence will have the most options.
Let's take a look at the different types of lumber used for wood farm fence.
Split Rail Fence Lumber Types
Split rail fence has two options of lumber. Pressure treated pine and cedar. Cedar has natural oils in the grain that help fight the elements and insects.
Treated lumber has a chemical pressurized into that helps prevent rot and decay. As a result, treated lumber is better in wet or damp conditions. Cedar works better in dryer conditions.
Round Rail Fence Lumber Types
To the best of my knowledge, round rail wood farm fence is only offered in pressure treated yellow pine.
Post and Rail and Crossbuck Lumber Types
These types of wood farm fence can have many choices of lumber. However, three are commonly used. Pressure treated yellow pine, poplar and oak.
Pressure Treated Yellow Pine Rails
A popular choice for farms and ranches is pressure treat lumber. It is strong enough for most applications and is readily available. It has good life expectancy with most manufacturers guaranteeing 15 years against rot or decay.
1×6 boards are standard. However, more strength is gained when using 2×6 rails. Horses like to chew and eat wood farm fence boards. As a result of pine being a softer lumber, horses destroy pressure treated boards easily.
Poplar Rails
Poplar is a good choice of lumber for those farmers and ranchers wanting a board without foreign chemicals.
However, horses will still chew on poplar boards. Poplar boards are stronger than pressure treated boards. Mainly because they are ruff sawn cut to a thicker dimension.
Poplar boards also stay straighter then pine boards.
Oak Rails
If you're looking for the strongest most reliable board for a rail fence, then oak is the answer. Oak is a dense hardwood.
As a result, horses don't like to chew on them. However, when they dry they can warp and become wavy looking. In return, they provide strength and longevity.
A wood farm fence built from oak will last years without any maintenance.
Gates for Wood Farm Fence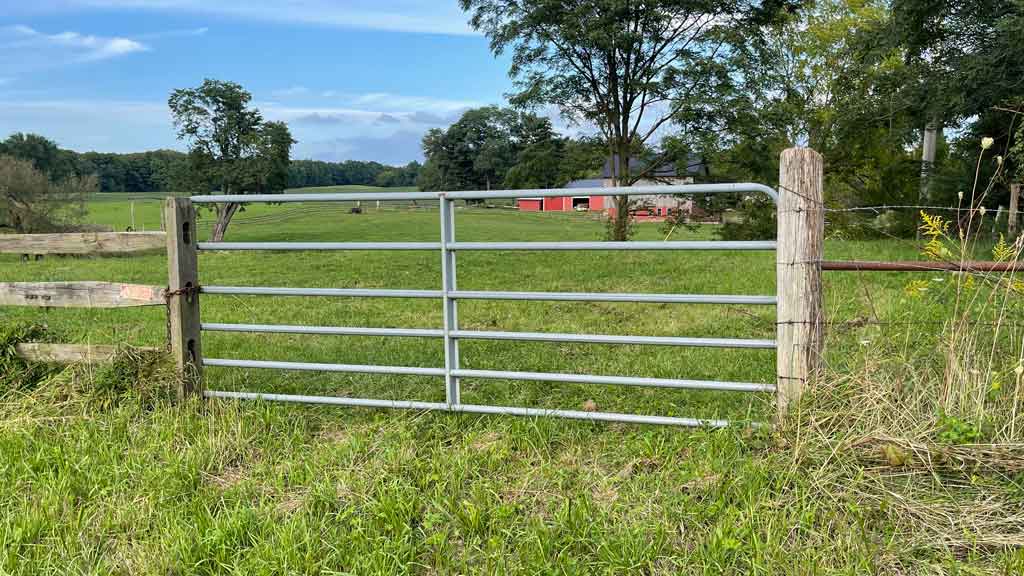 Chances are you're going to need a gate in your fence. Each type of wood farm fence discussed in this article can have a gate built to match the fence design you choose. However, I wouldn't suggest it.
Wood gates are heavy. Wood gates for farms and ranchers tend to be wide. As a result, the extra weight puts stress on gate posts.
Heavy gates tend to sag over time. Unless they are steel framed wood gates. Furthermore, they are cumbersome to operate. That is why we recommend the pipe style farm gates.
Pipe style farm gates are cheap and practical. No, they won't match your fence, but they work. They are easy to install and come in a variety of sizes.
Moreover, they are lightweight and do not put a lot of stress on the hinge post of the fence. Some pipe gates have wire mesh welded to them in order to keep smaller animals contained.
After 25 years of experience, my suggestion would be to use pipe gates.
Conclusion
Choose the style of wood farm fence that suits your needs the best. There is no one perfect style of fence that meets all needs.
The task you are asking your fence to accomplish will determine the style for you. Pricing also comes into play. The total amount of fence required will influence the overall cost.
For larger farms and ranches, there are more affordable options. View our articles on Cattle panel fence or other types of wire fence .