There are many reasons one may want a chain link fence gate. The most obvious would be to allow for easy access to a fenced in area. Knowing what type and size of chain link gate you will need takes a little planning ahead.
Determining how much access, what you'll need to get through the gate and how often you'll use it are all factors that should be taken into consideration. The grade of the land where the gate will be and how much room you have to open it are also important.
In this article, we'll take a look at the different styles of chain link fence gates and how they work. We'll also give you some examples of when and where to use them.
Types of Chain Link Fence Gates
Chain link fence gates come in three main styles. Swing gates, cantilever gates and rolling gates. The swing gates are offered in a single leaf design or a double leaf design.
The width of the opening you are trying to cover along with location will determine which gate is the correct one for the job.
Let's take a look at the three options of chain link fence gates and discuss when and where each one should be used.
Single Leaf Swing Gates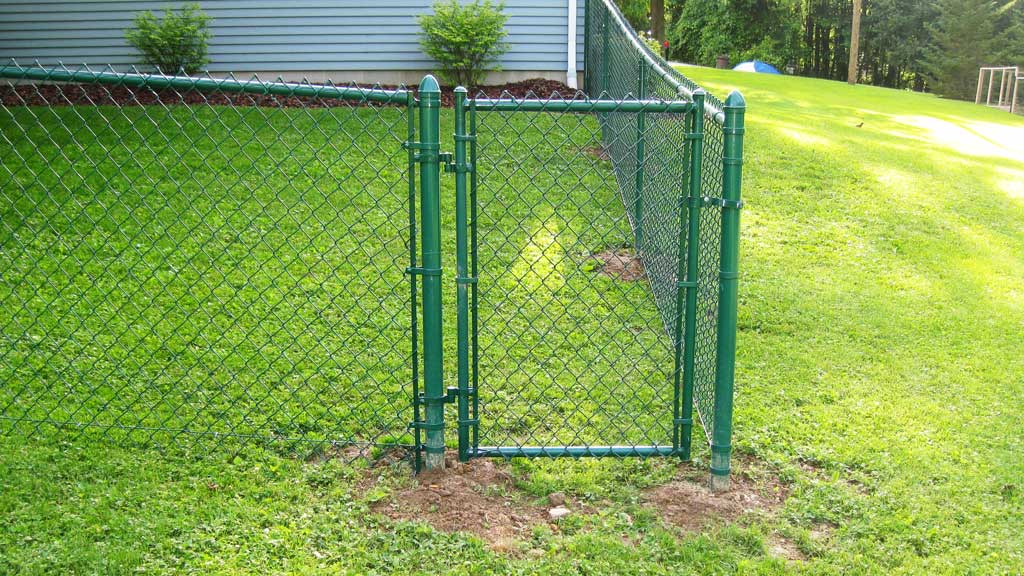 Often referred to as man gates or walk gates, a single leaf chain link fence gate has one gate leaf. Normal widths of single leaf gates are 3′,4′ and 5, wide. However, single leaf gates if built correctly can cover spans of up tp 20.
In residential applications they are used for pedestrian access, or in areas where there isn't enough room for a double gate. Most anything a homeowner would want to fit into the backyard will fit through a single gate of 5′ wide.
However, larger lawn tractors or small trailers will require larger openings. If the gate is going to be used frequently, a double leaf chain link gate is recommended. If the gate will only receive use a few times a year, a larger single leaf gate will work.
In commercial applications, single leaf gates, constructed from heavier components can cover much larger openings. Walk gates of smaller widths are still popular for businesses and public areas with foot traffic.
Wider single leaf commercial grade gates can be used to cover smaller driveways or to allow access to athletic fields periodically. Extra room will be required to swing a larger single leaf chain link fence gate.
A good way to make sure you have an ample amount of space is to extend a measuring tape to the width of your gate opening and pivot it from one side of the opening to at least 90 degrees. This arcing motion will mimic the swing of the gate.
Double Leaf Swing Gates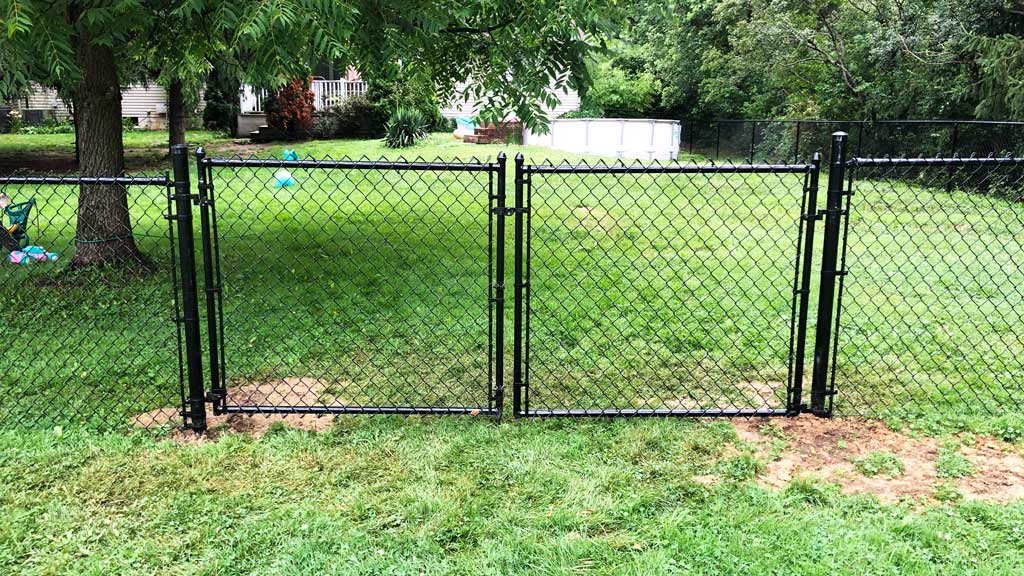 A double leaf chain link swing gate is often referred to as a double drive gate. This is true even if it doesn't cross a driveway at all. Double drive gates are essentially two single leaf gates that meet in the middle, without the need of a supporting post.
When both gate leafs are opened, double gates provide much more clearance than single leaf gates. For residential properties, double drive gate widths will be determined by the width of your driveway. If a double drive chain link fence gate is required to gain access to a backyard, normal widths are 8′ and 10′ wide.
Most vehicles, trailers, and lawn equipment will have no problem fitting through a 10′ wide opening. However, larger double drive gates are common as well if required.
Double drive chain link fence gates are found commercially everywhere you look. They are used to cover driveways, for dumpster enclosures, cell tower fences, storage yard access, and just about anywhere else you look.
Double drive gates provide large enough openings to get big equipment through and or truck and trailers in construction site fencing. Some double drive gates can cover openings of up tp 40′ wide. However, the larger the opening, the larger each gate leaf will be.
Consideration should be taken as to how much room the gates will need to open.
Be Aware of Grade Changes
Changes in grade can become an issue when dealing with wider openings. Chain link fence swing gates need to hang level. As a result, if there is a substantial drop in grade from one side of the opening to the other, a gap will occur under the gate.
A level grade the width of the gate opening is desirable in order to maintain a level looking gate that is close enough to the ground while at the same time providing security.
Cantilever Chain Link Gates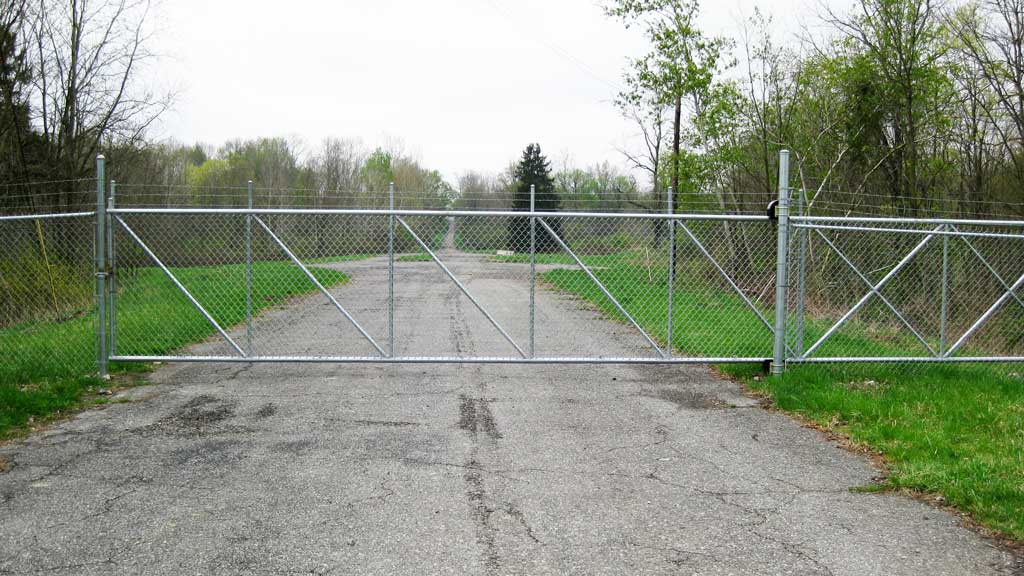 Cantilever gates are a type of gate that slide instead of swinging. This style of gate is found primarily on commercial and industrial fence applications.
What sets them apart from the swing gates is that they roll or slide open, parallel to an existing fence line. Requiring very little room in front or behind the gate to operate. Some cantilever chain link fence gates, when constructed properly can cover single spans up 40′ wide.
Cantilever gates are popular for businesses and corporations with secure parking areas. When controlled by a gate operator, they open faster than swing gates. This is important when a line of cars may be waiting to enter or exit a property.
However, they can be operated manually. Cantilever gates don't require a wheel at the front of the gate for support. A counter balance at the tail end of the gate supports the gate while closed.
Rolling Chain Link Gates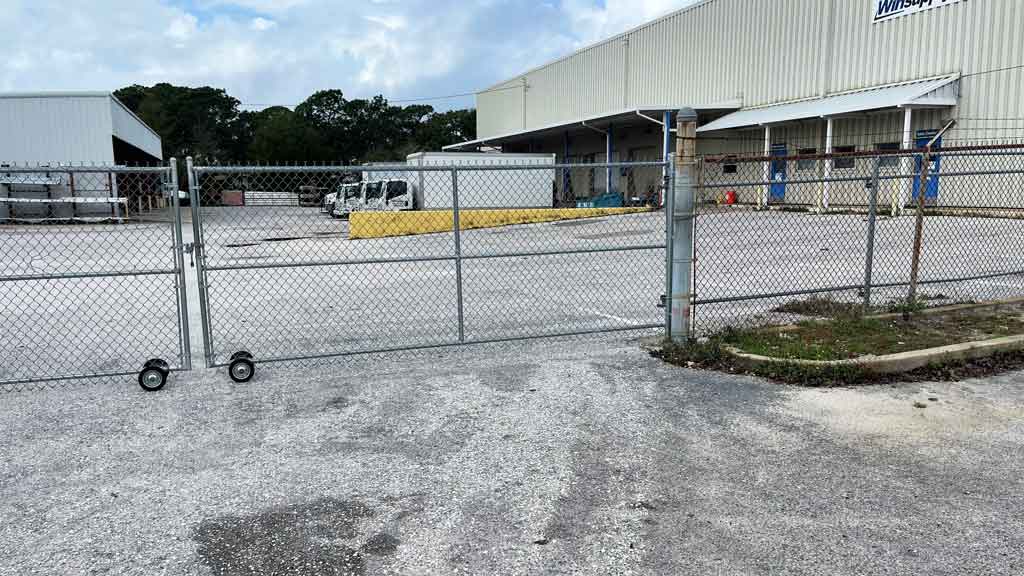 Rolling gates for chain link fences are like cantilever gates, in the sense they also slide parallel to the fence line. However, there are two major differences. Rolling gates require a wheel at the front edge of the gate to prevent it from dragging.
Also, framework bolted to the fence guides a rolling chain link gate as it opens and closes. The ground under the front wheels must be smooth. As a result, rolling gates are found in areas where the fence is mounted to a concrete pad.
For example around fuel tanks or silos. Rolling chain link fence gates are also popular choice on indoor fences used for storage and tool cribs.
Gate Posts for Chain Link Fence Gates
No matter the style, the gate on a fence will get used more than any other part of it. As a result, it is strongly recommended to upgrade or overkill the size or length of the gate posts.
The gate posts are the foundation for the gate. As long as they stay plumb and secure, the gate will function correctly for many years. There are two options available when upgrading the gate posts.
The first is the length of the post. The second is the wall thickness of the post. Upgrading both will yield the best results and will be worth any extra investment you may occur.
Set Gate Posts Deeper
Purchasing a longer gate post will allow it to be set deeper into the ground. Regardless of what your local building code should specify, 36″ deep should be the minimum.
On larger gates or commercial and industrial gates, 48″ is recommended. This is especially true in Northern climates where ground freeze is a factor.
Your gates will be constructed to fit an exact measurement. The Hinges and latches will be adjusted to work properly. If for some reason your gate posts should lean, heave, or move, it will effect the operation of your gate.
In order to prevent this movement from happening, set them deeper if possible in a concrete footer. A footer 4 times the diameter of the post is recommend. At the minimum, gate posts should be set below the frost line for your region.
Use Heavier Gate Posts
When speaking of "heavier" gate post for a chain link fence gate, it's not the actual weight of the post. It refers to the wall thickness of the post, the diameter of the post, or both. Chain link fence posts come in different diameters and wall thicknesses.
Gate posts can be larger diameter than the rest of the "terminals", the end and corner posts. However, even if the same diameter, the wall thickness of the post can be upgraded, providing more strength. An SS20 or Schedule 40 wall thickness for gate posts will provide a rock solid platform for your gate to hang from.
The thicker wall of the post will make it stiffer, resulting in less flex. This can be important on wider width gates. An under preforming gate post will have flex and feel springy when the weight of the gate is attached to it.
Chain Link Fence Gate Hinges and Latches
The amount of hinge and latch options available for a chain link fence gate is almost endless. And the combination between the the two is. However, unless a specialized hinge or latch is required, there are industry standards that your gate will probably have installed.
Hydraulic or spring loaded hinges that self close are available. Latching mechanisms with keyed cylinders or panic bars are also available.
But for the average chain link fence gate, there are some industry standards that you fence contractor is more than likely to use.
Hinges for Chain Link Fence Gates
Many hinge options are available for a chain link fence gate. There are hinges that will close a gate after passing through. There are hinges that will allow a gate to swing in either direction. Hinges that allow a gate to open 180 degrees from its closed position.
There are hinges that are adjustable if the gate needs an adjustment. There are hinges………you get the point. You have options. But some hinges are staples of the industry. They've been around for decades and they aren't going anywhere. The reason being……they work!
Residential Hinges for Chain Link Gates
The most widely used and most effective hinge for residential gates is the male and female hinge set. Simply put, one half of the hinge has a post sticking out (the male) and the other a hole to accept the post (the female).
This is the industry standard. It allows the gate to hang in the closed positing and swing almost 180 degrees open in either direction. Cheap to produce yet strong and effective. Unless requested otherwise, this is most certainly the hinge your gates will have.
Commercial Hinges for Chain Link Gates
Commercial gate hinges have just as many options as residential gates do. However, other than a more robust version of the male and female hinge discussed above, there are two common types.
The box hinge or bulldog hinge is a type of heavy duty hinge used to support commercial and industrial chain link fence gates. They are easy to install and adjust. Sometime called a "butt hinge" they simply bolt onto the gate post and use a metal strap to secure over the upright of the gate frame.
There is no adjustment in or out. The hinge will allow a swing gate to open in either direction to a point. Like the residential male and female hinges, almost 180 degree, but not quite.
For gates needing to open a full 180 degrees, or a hinge required that has a small amount of lateral adjustment, the 180 degree hinge is a popular choice. Just as its name states, this hinge allows for a gate to swing from its closed position all the way open and lay flat against the fence line. However, only in one direction.
These hinges are popular for construction site and anywhere heavy equipment might be passing through. Creating the most clearance helps avoid accidental contact with the gates which can result in a damaged gate. Or even worse, needing to replace it.
Latches for Chain Link Gates
Chain link fence gate latches, just like hinges have countless options. And just like hinges, there are some that have proven themselves over decades of use. While others specialize in a particular function, like self latching or self locking.
Some styles are simple to use and others make it difficult to open a gate. These types of latches frequently used around swimming pools where small children should not have unsupervised access. But for most, the standard latches work just fine.
Residential Latches for Chain Link Gates
The standard fork latch is the most common residential latch used for chain link fence gates. Having a simple rounded "U" shape that wraps around the latch post (or other gate frame on double gates) when in the latched position. Nothing fancy here. No need to overdo a secure latch on a 4′ chain link fence.
Anything more secure and anybody wanting in the fence would just jump it. Fork latches do have a hole to allow for a pad lock or combination lock.
For those worried that a dog may accidental unlatch this style of gate latch, simply put a snap hook (like the ones found at the end of a dog leash) through the hole and it will stay secure. This way a key or combination isn't required every time you use the gate.
For homeowners wanting something a little more secure than the fork latch. You have options. There are all sorts of manufacturers making chain link fence gate latches. Some are more secure. Some are heavier duty. Others meet pool codes in regards to the height they should be installed at.
The options are countless. If a specialized latch is desired, speak to your local fence professional. They will most certainly have a solution.
Commercial Latches for Chain Link Gates
The fork latch is a standard for commercial chain link walk gates too. However, they are cast or pressed from heavier gauge steel to provide more security. A strong arm latch is a type of fork latch made from 1/4″ plate steel. It provides an excellent strength for both single and double drive gates.
Drop rods with fork latches incorporated into them are also popular for commercial grade double drive gates. Once locking in the closed position, they prevent the gates from being opened while the drop rod keeps them in place.
However, in some scenarios, a good old fashion chain is still the best way to lock up commercial gates. Just like the residential latches, if you are looking for it to provide a specific function, it is out there. Consulting a fence professional will get you pointed in the right direction.